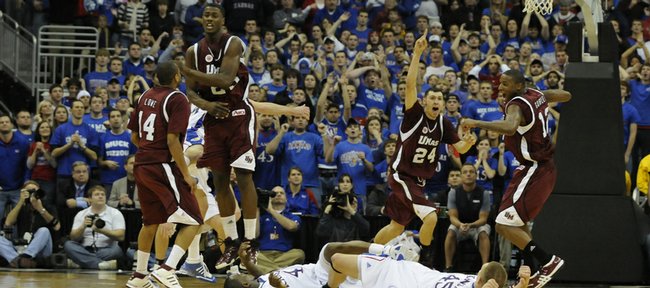 Kansas City, Mo. — Sherron Collins lay face down on the Sprint Center floor, overcome by the agony of defeat after Kansas University's 61-60 loss to UMass on Saturday afternoon in KU basketball's home-away-from- home.
KU's 5-foot-11 junior go-to guy, who misfired on a tough, possible game-winning six-foot left-handed shot in the lane with six seconds left, definitely took this loss harder than the Jayhawks' only other setback — an overtime decision to Syracuse on Nov. 25 in the same building.
"Real frustrating," Collins said after missing 15 of 21 shots, including six of seven threes. "We weren't ready to play from the start. We didn't lose this game on any last shot, any last possession. We lost it at the start of the game.
"We didn't come ready to play," added Collins, who finished with 19 points, four assists and a turnover in 38 minutes while playing with flu-like symptoms.
True, the last possession had nothing to do with KU falling behind the unranked Minutemen (3-6) by 14 points (34-20) with 2:35 left in the first half. But it did prevent the Jayhawks (7-2) from salvaging a victory at the buzzer.
"It got up there. I thought it was in. It came out," Collins said of his well guarded attempt.
The shot — which was partially blocked by Tony Gaffney (six blocks, 13 rebounds, six points) — caromed to Conner Teahan with 4.9 ticks left. Teahan, who scored five points with five rebounds while playing 17 minutes on a day the Morris twins were ineffective, elected not to go up for a stickback try that would have been challenged by Gaffney and Chris Lowe.
Instead, he tried to fire the ball to the top of the key. Tyrel Reed wound up with the batted ball, too late to attempt a shot before the clock struck zero.
"Right when I caught it, I thought I was going to go right back up with it," said Teahan, who had perhaps the play of the game — a basket and foul shot following a strong move to the hoop that helped narrow UMass' 14-point lead to six by halftime.
"Honestly, I hesitated too much. That's when … I don't know if somebody grabbed my arm or the ball or something … it just kind of came out," Teahan added. "Looking back, I should have at least got another attempt up, especially with that much time we had. It was definitely a mistake on my part. I guess it's something you've got to learn from."
KU coach Bill Self — he steered blame to himself for picking up a technical foul with 5:45 left; UMass hit two free throws to go up by three — was not enamored with KU's final possession.
It followed two Chris Lowe free-throw misses with 20.4 seconds left.
"The whole deal was 'drive it,' no doubt about it," Self said, confident in Collins, who buried a clutch three with :27.8 remaining to cut a four-point deficit to 61-60. "We had a play set up where we had a fade screen and a read screen. It looked to me we didn't give ourselves a chance to score. It had no chance to go in from my perspective. I didn't think we executed. I didn't think it was good judgment on the last play."
As for Teahan's offensive rebound ...
"I wish he'd tried to score because he's right under the basket," Self said. "He didn't feel like he could get it up there. We had numerous opportunities to not make it where it came down to one possession."
Self used basically six players — Collins, Reed, Teahan, Brady Morningstar, Cole Aldrich and Tyshawn Taylor the first 10 minutes of the second half — leaving the Morris twins (combined four points, six rebounds, 25 minutes) out, as well as Quintrell Thomas and Travis Releford, who played two and four minutes the first half.
"Whenever you give up 16 points in the first half because of scouting report, it means you are probably not as ready as you should be," Self said, not identifying those who gave up those points. "It's our job to get them ready. We have some young kids who have played better than that. They did not have their best game today."
The Jayhawks hit 33.9 percent of their shots and missed 18 of 23 threes.
"UMass contributed to us not playing well. But this is how we practice," Self said. "There's times in practice, 30 minutes into practice, (I say) 'OK, let's start again.' The same way to start this game. We've just got to come more ready."
Like Collins, Self took this loss harder than the one to undefeated, No. 13-ranked Syracuse.
"You've got to see progress. You've got to take steps in a positive direction, and we have not done that since the Kent State game (Dec. 1), in my opinion," Self said. "We've just kind of been laboring around."
The Jayhawks, who begin final exams Monday, next meet Temple at 1:30 p.m. Saturday in Allen Fieldhouse. Temple beat No. 8 Tennessee, 88-72, on Saturday.
"I am not discouraged with our team. I think we can be a good team. I don't like the way we're playing now, though," Self said.