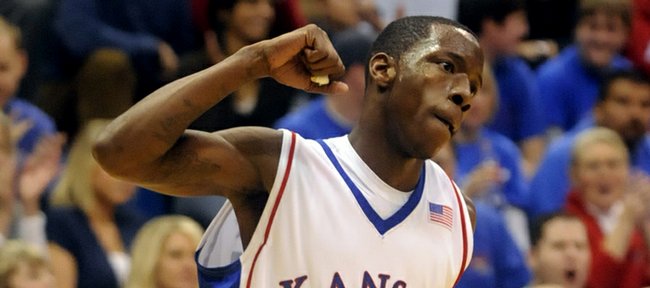 KU vs. New Mexico State
Tyshawn Taylor figured he'd hear it from his Kansas University basketball teammates after missing a dunk — and getting hung up on the rim — in Monday's rout of Kent State in Allen Fieldhouse.
He figured right.
Who ribbed him the most?
"Everybody," Taylor exclaimed. "Coach (Danny) Manning was teasing me. Coach (Joe) Dooley. Coach T (Kurtis Townsend). All my teammates.
"Mario … he just kept teasing me," Taylor added of junior Mario Little. "He was giving me a little crap at practice telling me I couldn't dunk it. I said I'd show him today."
The 6-foot-3 freshman indeed proved he could slam Wednesday — ripping home his first three dunks of the season en route to scoring a career-high 23 points in an 100-79 rout of New Mexico State in Allen Fieldhouse.
Taylor downed a two-handed slam just four seconds into the game on a driving layup off the opening tap. He had another two-hander to make it 77-57 with 7:08 left.
His finest dunk was a vicious one-hander following an in-bounds pass from Sherron Collins to make it 85-63 at 3:43.
"I felt I had to prove myself today because of what happened the other day," said Taylor, who made sure to point in the direction of Little, who was grinning on the KU bench, after his second jam.
Taylor's roommate — Quintrell Thomas, who also had a big game with a career-high 10 points and a career-high-tying seven rebounds — smiled when asked how much grief Taylor had taken since Monday.
"A lot. That one looked bad. We all know he can jump. Anybody who gets hung on the top of the rim ... not cool," said Thomas, who had two dunks of his own.
Taylor hit eight of 14 shots and seven of eight free throws and surpassed his previous collegiate high of 17 points attained in the Jayhawks' overtime loss to Syracuse on Nov. 25. He once had 21 points playing at St. Anthony High in Jersey City, N.J.
"I thought Tyshawn played very, very well," said KU coach Bill Self, not thrilled with the Jayhawks' defense allowing 79 points, which tied for fourth most allowed in a home game in his six seasons at KU.
"If you want to nitpick, he has to have more than three assists in a game where we score 100 points. When your 2-guard (Sherron Collins) has 11 assists and point guard has three assists ... he has to be able to get Sherron and Cole (Aldrich, 13 points, 13 rebounds) shots. We can watch film to help him with that."
Collins finished with a career-high number of assists to go with 15 points in notching his first career double-double.
Also, Tyrel Reed hit four of six threes and scored 12 points. He and Collins each hit a three and Thomas two off a dunk as KU scored eight straight points in a one-minute span out of a timeout, expanding a 58-51 lead to 66-51 with 11:19 left.
"Tyrel got in a nice rhythm the second half," Self said, noting the performance should help the sophomore guard's confidence.
KU won going away on a night Aldrich picked up his second foul with 13:20 left in the half and Marcus Morris his second with 9:30 left in the half. Markieff Morris was called for an intentional foul, his second, with 8:34 left in the half.
"If I was playing us, I'd say I'd try to get Cole out of the game," Self said. "His first one was a late hedge on a ball screen. He has to let it go. The second one, somebody else didn't pay attention to the scouting report and put him in harm's way. We've got to figure a way to get another big guy to play next to him that doesn't do that. I don't think we've gotten the importance yet of having Cole in the game. We're so much better with him in the game. We are all guilty, all our big guys."
KU next will meet Jackson State at 1 p.m. Saturday in Allen.