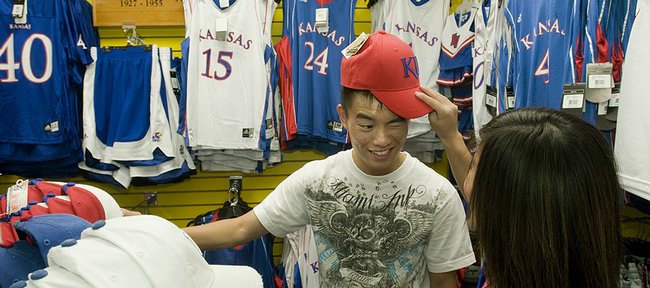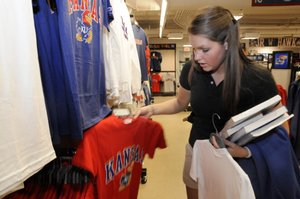 Kansas has beaten North Carolina again, this time when it comes to proceeds from sales of officially licensed merchandise.
Sales of T-shirts, flags, mousepads and all other items connected to the 2008 national basketball championship generated $626,000 in licensing royalties for the Jayhawks through the end of June, topping the previous championship record set by North Carolina in 2005.
The Tar Heels' championship tally - $543,000, according to Sports Business Journal - fell 15 percentage points short of KU's record royalties score.
Some would say it's fitting. The 2007-2008 Jayhawks raced to a 40-12 lead in eliminating Roy Williams' Heels in the national basketball semifinals, 84-66, before topping Memphis in overtime for the NCAA Championship.
Collegiate Licensing Co. reported this week that the Jayhawks were unmatched in cashing in on a men's hoops title. The Atlanta-based company represents nearly 200 colleges, universities and related operations, and never before has any client soared to such financial heights from a men's basketball championship.
"It's good to beat Carolina, and everybody else - all the other national champions," said Jim Marchiony, an associate athletics director at KU. "That says something for the passion of our fans. We're happy about that."
Another reason for the crimson-and-blue crowd to be pleased: In all, Kansas Athletics Inc. received $2.55 million in royalties from sales of licensed items in 2007-2008, a full $1.55 million more than the department had budgeted, Marchiony said.
Of the royalty revenues, about $700,000 will go toward KU's overall scholarship programs, benefiting students across campus, he said. The remainder will be used to help finance athletics scholarships, an expense that already has consumed $7 million for this coming academic year.
KU also recorded the biggest year-over-year improvement in royalties revenues -110 percent - among Collegiate Licensing clients. The Jayhawks, with $2.55 million in revenue, ranked No. 14 on the company's list of top 75 universities, up from No. 22 a year ago.
The unexpected leap in royalties came as KU's top two revenue-producing programs achieved plenty of competitive success. KU's football team won the Orange Bowl in January, capping a 12-1 season.
Then Bill Self's hoopsters won a Big 12 championship and, in San Antonio, emerged victorious from a Final Four field fortified by all four No. 1 seeds.
"Our percentage went up more than anyone's," Marchiony said. "Obviously, those two factors made a huge difference in that number. :
"It's terrific."