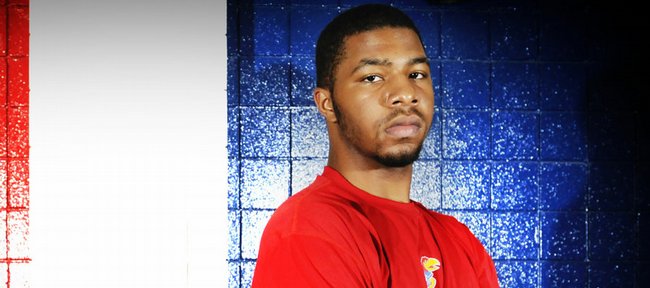 An incoming Kansas University basketball player is accused of shooting an Airsoft rifle BB gun out of his university dorm room, possibly hitting a woman in the courtyard below, the KU Public Safety office said.
Markieff Morris, 18, was issued a notice to appear in court after the incident, which the KU Public Safety office said occurred about 11:15 p.m. Saturday at Jayhawker Towers. According to a report from the KU Public Safety Office, Morris was suspected of using alcohol.
A 47-year-old woman from Mequon, Wis., was shot in the arm with a plastic BB in the courtyard of the building, police said in a report. She received minor injuries.
Morris was found in a nearby building, where he admitted to shooting the BB from the window of his residence at Jayhawker Towers, police said.
Officers seized a 3-foot-long black Airsoft rifle, valued at $100, and a medium-sized plastic bag of BBs, a police report states.
The Kansas University Student Housing Department is conducting its own investigation into the incident, said Jim Marchiony, KU associate athletics director.
"We're not going to have any comment until that process is complete," he said. "The fact-finding is ongoing."
Kansas University spokeswoman Jill Jess said information about the university's investigation would not be made public, in accordance with law.
Police charged Morris with battery, court records indicate, which is defined by city code as "intentionally or recklessly causing bodily harm to another person; or intentionally causing physical contact with another person when done in a rude, insulting or angry manner."
He is scheduled to appear at 1 p.m. Sept. 10 in Lawrence Municipal Court. The case was not sent to the Douglas County district attorney for consideration of charges, a spokeswoman said.
On Wednesday night, Kansas men's basketball coach Bill Self addressed the situation:
"We take this matter very seriously. Poor judgment was used by ever bringing an Airsoft gun, (one) that can be purchased at Wal-Mart, on campus that can shoot plastic BBs," he said.
Self also addressed the possibility of alcohol being involved.
"I would say concerning any alcoholic consumption, we do not condone that either. I am still gathering information to see if that actually occurred."
As far as possible disciplinary action against Morris, Self said, "This matter will be handled in-house."
Markieff Morris and his twin brother, Marcus Morris, known as "The Twins," came to KU from Philadelphia in late June. As of Wednesday night, the NCAA hadn't determined if they are academically eligible to play basketball this season.
Self said, if eligibility is granted, the twins would be at practice Thursday when KU begins preparing for its exhibition trip to Canada over the Labor Day Weekend.