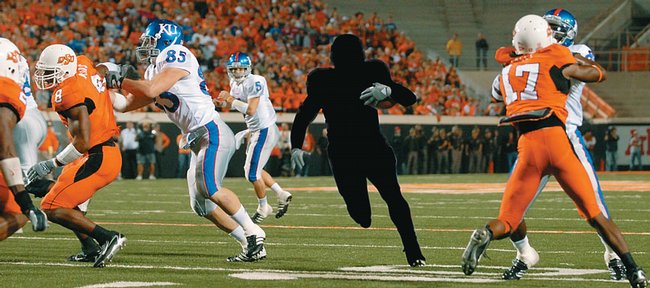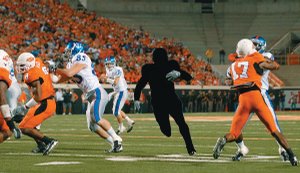 Replacing B-Mac: the candidates
Jake Sharp5-foot-10190 poundsJr.Last year: 147 carries, 821 yards, 7 TDs
Angus Quigley6-2222Jr.Last year: 17 carries, 98 yards, 2 TDs
Jocques Crawford6-1230Jr.Last year: Juco player of the year
Rell Lewis5-10199Fr.Last year: red shirt
Kansas University's football team will miss Brandon McAnderson.
Curiously, though, according to the guys whose job it will be to replace him, the nifty numbers McAnderson put up last season - 190 rushes, 1,125 yards, 5.9 per carry, 16 touchdowns, plus another 213 yards receiving - are the least of their worries.
"I don't think it'll hurt anything," said Jake Sharp, one of the top contenders for the starting running-back post McAnderson vacated. "I mean, we'll miss him. I'll miss him as a player and on a personal level. But we have other guys working hard back there. They're no slouches."
"We'll miss his yards," countered third-year junior Angus Quigley, likely the Jayhawks' No. 3 running back. "But I'd say we'll miss his mentorship more. You can get guys who can get the yards, but it's hard to replace the mentor. We're losing a guy who had been in the system five years. He knows everything. He knows the ropes, can play running back, fullback, special teams. He was a big leader."
Jocques Crawford, meanwhile, was even more blunt. Crawford, the reigning junior college player of the year, likely is the popular favorite to take the job and, well, run with it.
"It puts a lot of pressure on me," Crawford said. "You look at the status of the numbers he put up, how he helped the team, I've got big shoes to fill."
Then, after a pause: "But everyone's replaceable."
Truth be told, the Jayhawks - thin though they suddenly are at running back - should be able to weather McAnderson's graduation just fine, at least from a talent standpoint. With the bruising Crawford (6-foot-1, 230 pounds), complemented by the quick Sharp (5-10, 190) and Quigley, the tweener at 6-2, 222, Kansas has a solid rotation. Red-shirt freshman Rell Lewis (5-10, 199) also could be in the mix.
That's why coach Mark Mangino had no problem shrugging off the loss of three running backs in the early going - Carmon Boyd-Anderson and Donte Bean to transfer, and Sean Ransburg, who failed to earn the NCAA Clearinghouse's stamp of eligibility.
KU's seven-member running back corps thus was slashed nearly in half, and Mangino took it in stride.
Easing the transition to the post-B-Mac era, too, is the fact that KU's spread offense spreads the wealth among its backs, meaning no one player will have to shoulder the load.
"It's a spread offense, so as far as any individual running back, we don't want anyone to feel slighted about number of carries," said Sharp, who last season was KU's second-leading rusher with 821 yards on 147 carries and seven TDs. "We spread it around, and I think we have a diverse group with a lot of weapons."
The second piece of the replacing-McAnderson puzzle - the lost leadership - might be a bit more difficult.
"He was a great player," running-backs coach Louie Matsakis said. "It's hard to replace a guy like him because of all he did as a running back and a special-teams player and as a leader. He was a big leader, a coach on the field."
Though Sharp, a wily junior with two letters, might be heir apparent to step into that role, the job instead might fall to the true veteran of the bunch: Quigley.
A junior with a letter and a red-shirt season behind him, Quigley has had trouble staying healthy. He sat out the entire 2006 season with one injury, and he missed the first half of last year with another.
"It was a roller-coaster ride," Quigley said of last season. "There was hype, then the injury bug hit. It came at a real bad time. I was just getting into the rotation, getting the plays down, then, boom, I was out of there. But I kept plugging and got back on the field, got a few carries and my first career touchdown."
He made it back in time to play in six games. He had 17 carries for 98 yards and two TDs, numbers that might have been skewed a bit since many came in mop-up duty. "I wouldn't say I'm the forgotten man. I've been around. I know my way around," Quigley said. "It's crazy. Jake has more game experience than me, but I've been here longer. I know what to do."
What he and the rest of the Jayhawks trying to make everybody forget McAnderson can do remains to be seen.
But to hear Quigley tell it, though KU would love to have B-Mac back, the team should be able to get along just fine without him.
"We're looking strong. We have a bunch of good guys in the rotation. It's going good," Quigley said. "As a group, we're more athletic, the most athletic we've been since I've been here. We're strong."