Originally published August 18, 2008 at 4:50 p.m., updated August 18, 2008 at 8:13 p.m.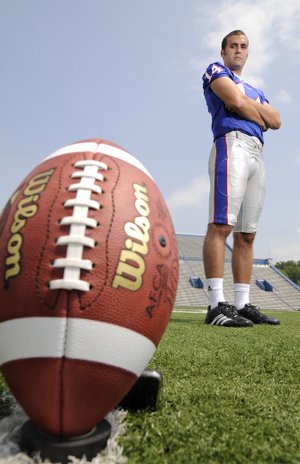 Kansas University redshirt freshman Stephen Hoge, one of three placekickers vying for the Jayhawks' starting job this season, left the team Sunday, according to his father, John Hoge.
"He left to focus on academics and getting into (medical) school," John Hoge said in an e-mail response to the Journal-World on Monday afternoon.
Entering the 2008 season, Hoge was listed as the No. 1 kicker on the team's preseason depth chart. At KU's media day two weeks ago, however, head coach Mark Mangino announced that it was a three-man race among Hoge, sophomore Jacob Branstetter and transfer Grady Fowler.
As a senior at Putnam City North High in 2006, Hoge was named a PrepStar Magazine all-American after connecting on 16-of-16 extra points and 12-of-16 field goal attempts. He also set school records for field goals in a game, season and career.
Meanwhile, Branstetter's father, Gerald Branstetter, confirmed Monday that his son had recently been informed that he could be prohibited from playing this season due to eligibility issues stemming from his transfer from Air Force Academy.
Branstetter, who enrolled in the Academy following his high school graduation in 2006, left two weeks into classes and sat out a semester before enrolling at Kansas in January of '07.
Since then, he has taken classes at KU - including summer school work - and was under the impression he had done everything necessary to gain eligibility for the 2008 season. According to his father, Branstetter had also been told that he was in line to be the team's top kicker this year before it was discovered that he was five credits short of being deemed eligible.
The family is currently in the process of petitioning the NCAA for a waiver that would allow Branstetter to compete for the Jayhawks this season.
"The letter is in the (KU) compliance office and they're supposed to send it into the NCAA (Tuesday)," said Gerald Branstetter, who was first informed of the problem Thursday. "I've heard it could be as quick as 24 hours, or it could be weeks. For Kansas' sake, and Jacob's, I hope it's 24 hours and he gets to play."
If not, it leaves Butler County Community College transfer Grady Fowler as the team's likely kicker entering the season.
As a member of the 2007 national junior college champion Butler County team, Fowler earned honorable mention all-American honors after making eight of 12 field goals and 53 of 55 PATs. He was also a first-team all-state selection as a member of the Chase County High program.
These developments come just a week after it came to light that three of the team's seven running backs would not be with the team in 2008.
Carmon Boyd-Anderson and Donte Bean each announced that they would be leaving the program to pursue transfers, while true freshman Sean Ransburg, a running back out of Harrisonville (Mo.) High, will be forced to miss the 2008 season due to eligibility issues.
Although Boyd-Anderson and Bean were not expected to play much this season, the thinning of the kicking unit could represent a significant challenge to coach Mark Mangino and his staff.