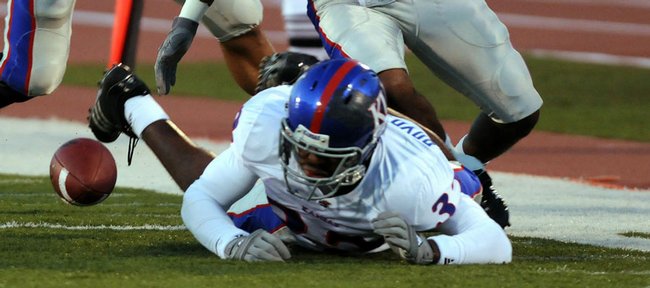 While things atop the Kansas University football team's running-back depth chart appear to be in fine shape, the list of reserves has thinned considerably.
Sunday, sophomore running back Carmon Boyd-Anderson notified Jayhawks coach Mark Mangino of his plans to leave KU and is now waiting to hear from the university whether he'll be released from his scholarship.
"We had a brief meeting today, and I just let him know what my intentions were and how I felt about the situation," Boyd-Anderson said.
Assuming the remaining paperwork goes through, the 6-foot-1, 204-pound Jacksonville, Texas, native intends to move to Bolivar, Mo., in the coming days, where his brother, Welton Boyd, is a freshman football player for Southwest Baptist University. Another brother is a graduate of Southwest Baptist, as well.
Boyd-Anderson said Sunday night that he likely would enroll at a junior college while exploring his options.
"I'm still in a scramble trying to find out what my next step's going to be," he said. "But it's a moment that, once I get settled in and get all the information, it should be a pretty good situation for me."
As a true freshman last season, Boyd-Anderson played in four games, rushing 24 times for 91 yards and a touchdown, compiling a season-high 54 yards in a 62-0 victory over Southeastern Louisiana before sitting out the team's final nine games.
Entering the 2008 season, however, the outlook appeared grim for the former three-star recruit out of Jacksonville High. Juniors Jake Sharp and Jocques Crawford, the national junior-college offensive player of the year in 2007, are expected to garner the majority of the team's carries this season, while fellow junior Angus Quigley was also listed ahead of Boyd-Anderson on the depth chart.
"I've been thinking about it the past year, been discussing it with my parents," Boyd-Anderson said. "It's absolutely nothing against the coaches, they gave me all kinds of reasons to stay. It's nothing against the university - they help you as far as schooling goes; I was getting a good education. It just wasn't really my liking."
Mangino also said that freshman running back Sean Ransburg, a 6-foot-1, 195-pound graduate of Harrisonville (Mo.) High School, will not be in the football program until January at the earliest.
Ransburg was not cleared to play by the NCAA Clearinghouse, although coaches are hopeful that he will be able to join the program in January.
As a high school senior in 2007, Ransburg threw for 2,556 yards and 29 touchdowns while compiling 1,677 yards and 29 touchdowns on the ground, picking up all-state and Class 3A player-of-the-year honors.
He also led Harrisonville to four straight state title games - three of which resulted in Class 3A championships - and was the first player from the Class of 2008 to commit to Kansas.
The two absences leaves the Jayhawks with five players at the running back/tailback position: Crawford, Sharp and Quigley, Donte Bean and the recently repositioned Rell Lewis.