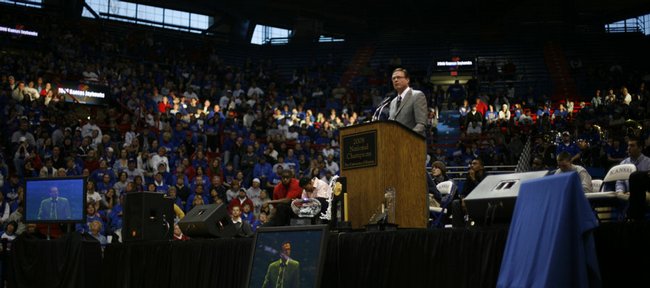 Bill Self and his wife, Cindy, hopped out of a light blue Corvette convertible after the 21â2-mile ride of their lives - down Massachusetts Street, 19th Street and Naismith Drive, with 80,000 or so fans cheering them the whole way.
"We're floating on air right now," Self, Kansas University's fifth-year basketball coach, said upon conclusion of a Sunday afternoon parade honoring the NCAA basketball champions.
"This is absolutely priceless. I don't know if anybody deserves to have this much fun and be treated this well, but we certainly do appreciate it," added Self, who said police told him about 150,000 fans attended the spectacle, the estimate changing by late Sunday night.
Fans not only lined the sidewalks of downtown Lawrence 10 rows deep at the start of the parade, but also stretched from 19th and Naismith all the way to Allen Fieldhouse for the parade's conclusion.
"I've never seen so many people, never shook so many hands, never said hi to so many people. My mouth hurts just from smiling the whole time," KU junior center Matt Kleinmann gasped.
"It was crazy, unbelievable. I never imagined that many people being there. I've never seen anything like that : never," senior Jeremy Case said.
The 3 p.m. parade was just the start of Sunday's lovefest.
More than 10,000 fans showed for the team's annual awards celebration Sunday night in the fieldhouse.
The building shook from thunderous applause during a highlight video that showed extensive stretches of KU's Final Four semifinal victory over North Carolina and a title-game victory over Memphis.
"Today was overwhelming - the interest and those sorts of things. This means an awful lot to an awful lot of people," Self said.
Just one piece of hardware was presented at the ceremony - the Danny Manning/Mr. Jayhawk Award, which goes to the player who according to Self "symbolizes excellence in the classroom, toughness, unselfishness, willingness to sacrifice for the good of others, being a great teammate and representing your university in a first-class way."
Senior Russell Robinson, who won the award the past two years, staked claim to it again. This time, though, he shared it with the squad's other seniors - Case, Darnell Jackson, Sasha Kaun and Rodrick Stewart.
"To be candid, we couldn't decide," Self said of the coaches, who this year voted instead of the players. "It's probably the first time this ever happens, but there's no question our team was only as good as the seniors."
Robinson said he was proud to share the award with his four classmates.
"My vote would have been Darnell, but I think it's very fitting. We all earned it," Robinson said. "It's fitting everybody shared it."
Said fellow senior Case: "It says a lot about our team, how important the senior leaders have been. It's not an individual thing with this team."
Self told the adoring fans the national champions were all about camaraderie.
"How many times have you heard the so-called experts say: 'Do they have a go-to guy? You know who our go-to guy was? The open man," Self said.
After standing ovation after standing ovation, the awards ceremony ended, signaling the conclusion of the 2007-08 season.
"It's time to move forward," Self said. "I mean, we've been patted on the back a lot lately. We've got to get to work (recruiting) and make sure we put a great team on the floor next year."
¢ NBA talk: KU is expected to lose junior Brandon Rush and sophomore Darrell Arthur to the NBA, though neither player has yet declared for the draft. Junior Mario Chalmers also could be an early entrant.
"We said we wouldn't talk about that stuff this week. Maybe we'll have some answers for you relatively soon," said Self, who indicated the players would inform him of their decisions and he'd pass them on to the media.
Arthur's mom, Sandra, said she would likely sit down with her son next weekend to discuss the power forward's future.
¢ Recruiting: KU on Wednesday - the first day of the late signing period - will add a sixth player to the incoming Class of 2008. Tyrone Appleton, a 6-3 sophomore guard from Midland (Texas) CC, will join a recruiting class that includes guards Mario Little and Travis Releford and forwards Marcus Morris, Markieff Morris and Quintrell Thomas.
Self is still looking for another big man in recruiting. Dallas AAU coach Jazzy Hartwell said big man J'Mison Morgan would visit with new LSU coach Trent Johnson, then decide whether he'll remain a future Tiger. If Morgan opts out of his letter of intent, he again would consider KU and UCLA - teams on his original list.
Of recruiting, Self said: "We've always been fairly popular. We've got some guys calling us now. It (winning title) is not a huge benefit now because there's not much left out there (in class of '08). We've got to strike while the iron is hot and have a great fall."
¢ Car talk: "I was just talking to Jeremy (Case). He said we started the season at Late Night in cars. We just ended the season in cars from the parade," Russell Robinson said.
The players hopped out of luxury vehicles onto a red carpet in the south parking lot of Allen Fieldhouse for grand entrances to the 2007 Late Night in the Phog. And they each rode in convertibles at the victory parade.
"I am 22 years old. This probably will be the best moment of my life. I still have a lot of living to do. It's an experience I'll remember a lifetime. Enjoy it. Live it up. Rock Chalk, Jayhawk," Robinson told the fans at the awards banquet.
¢ Message to brother: An emotional Rodrick Stewart told the fans, "I wanted to tell my brother (Allen) who passed away that I love him. I didn't get a chance to do that at Senior Night.
"A lot of tragedies happened this year," Stewart added, also referring to Darnell Jackson's cousin being murdered. "To be honest, it did make us stronger."
¢ Economic boost: "I know our administration caught a lot of crap for moving the Missouri football game to Arrowhead from local merchants and everything," Self said. "If you have 150,000 people downtown, that is a big bonus for a lot of people, a lot of merchants. Today was overwhelming."