Videos
Past parades for the Jayhawks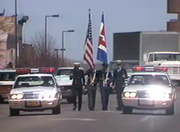 Archival footage from the 1986, 1988, and 1991 parades held for the KU Men's Basketball team.
Past Event
Sunday, April 13, 2008, 3 p.m.
Downtown Lawrence, Lawrence
All ages / Free
Reader poll
Yes.

75%

989 votes

No.

15%

209 votes

Not sure.

8%

111 votes
1309 total votes.
Tune in
Sunday's downtown Lawrence parade for the Kansas University men's basketball team will air live at 3 p.m. Sunday on Sunflower Broadband Channel 6. Replays will be aired at 9 p.m. Sunday, 10:30 a.m. and 7 p.m. Monday and 5 p.m. Tuesday.
The celebration will be available for one week on Sunflower Broadband Video on Demand, which can be accessed through Channel 1.
Feature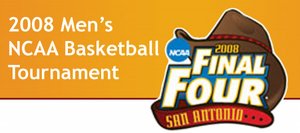 Get your March Madness fix at KUSports.com.
The streets couldn't hold them all.
Perched atop roofs of Massachusetts Street buildings were Kansas University flags that flapped on a bright spring day, balloons that drifted as high as the spirits of a town, and - most importantly - there were Jayhawk fans taking in a sight unlike any they had seen before.
Below, 60,000 of their friends crowded Mass. Street to the point that the main drag was reduced to a wide sidewalk. There was enough room, however, for Cinderella - the real one from Disneyland - to make her way through the masses and introduce Lawrence's newest royalty.
Their names? Well, the town had grown fond of calling them Danny and the Miracles.
It was April 13, 1988 - the last time the town had occasion to put on a National Championship parade.
Downtown restaurant owner Bob Schumm told a television reporter on that day that they were partaking in a historic event. But he threw in a quick addition.
"But," Schumm said, "it will be repeated soon."
Well, he was half-right.
The wait was two decades, but Kansas University and Lawrence will have another National Championship parade on Sunday.
Leaders with the Kansas University athletics department announced Wednesday afternoon that KU's National Champion basketball team will be honored on Sunday at a 3 p.m. parade that will run along Massachusetts Street from Seventh Street to South Park.
At 6 p.m. Sunday, the basketball team also will have an awards ceremony at Allen Fieldhouse. The event is free and open to the public. Doors to the Fieldhouse will open at 5 p.m.
Jim Marchiony, assistant athletics director for KU, said the athletics department decided Wednesday to move ahead with a parade after having time to catch its breath following Monday's National Championship game.
"We started getting some comments last week about a parade," Marchiony said. "We know that there are people out there who would love to see a parade. I think our players and coaches feel the same way."
Chancellor Robert Hemenway also said he had received messages from "a lot of people" asking for a parade.
Jayhawk fans from both near and far were clamoring for a parade earlier Wednesday.
"I don't have the most money in the world," said Mike Hoffman, a 2001 KU graduate living in Chicago. "But I told myself that if they get that National Championship, I'm going to make that trip. I don't care if gas is $7 a gallon. I'm driving to Lawrence for a parade."
Peggy Johnson, a Lawrence financial adviser and former downtown doughnut shop owner, helped organize the 1988 parade. She said the event will help the town revel in the Jayhawks' success.
"It really lets the town be part of the celebration," Johnson said. "The university has its own celebration, and that is great, but the town feels a little bit of a disconnect unless you have something like this."
Larry Cornelius knows the 1988 parade made him feel connected. Back then he bought three gallons of paint - one each of red, blue and yellow - and painted his early 1960s International Harvester truck to look like a Jayhawk.
He parked it on Massachusetts Street - where he owned Fun & Games store - to give him and his 72-year-old mother a good place to watch history.
Somehow his mother got then-head coach Larry Brown to sign a National Championship T-shirt. The newspaper report from that day tells that Brown signed shirts of people up and down the parade route as he traveled in a powder blue Corvette convertible.
Cornelius isn't sure how his mother scored the autograph, but he knows that it created a memory that lasted long past the day.
"That shirt was her pride and joy," Cornelius said. "When she went into a nursing home, she would always wear that shirt to watch the game."
Staff writer Jonathan Kealing contributed to this report.