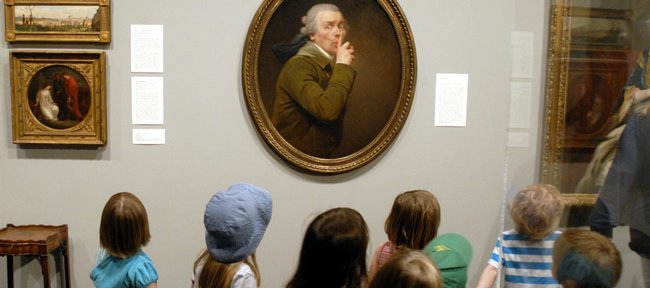 Feature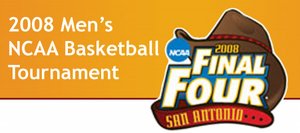 Get your March Madness fix at KUSports.com.
What a college basketball season it's been. The Jayhawks have taken their fans on the most exciting of rides by rolling through Omaha, Detroit and San Antonio to claim the 2008 National Championship.
On Sunday, fans can cheer for their beloved Jayhawks one last time - at a 3 p.m. parade in downtown Lawrence and then again at a 6 p.m. awards ceremony at Allen Fieldhouse.
But - as the saying goes - all good things must come to an end. While the sights and sounds of "One Shining Moment" will live on forever, next season's first game is still seven months away.
So for all of you basketball junkies out there, here's a quick look at some ways to fill your time while you await the Jayhawks' attempt to defend their title:
More than a basketball school
Most would agree that the other athletic seasons at Kansas University don't hold a candle to the thrill and excitement of basketball season, especially this season. But this Saturday, KU football will host the highly anticipated spring game, and less than a week later the starting gun will fire for track and field's Kansas Relays, which run April 17-19. Toss on top of that KU baseball and plenty of KU softball and women's soccer games, and you're staring at a full slate of sports for the next few months. If that's not enough, get your fix by following former Jayhawks Paul Pierce and Scot Pollard (Boston Celtics), Jacque Vaughn (San Antonio Spurs) and Julian Wright (New Orleans Hornets) as they make their runs at an NBA championship. By the time the NBA Finals end in June, it should be time to talk about the 2008-09 KU hoops season again anyway.
Visit a museum
It's a safe bet that Allen Fieldhouse is the most popular landmark on the KU campus, but Mount Oread also is home to a few other shrines worth visiting. The Spencer Museum of Art houses one of the finest collections for a museum its size, and the Museum of Natural History displays a variety of exhibits that chronicle the inhabitants, past and present, of this planet. For those who still need a basketball fix, the Booth Family Hall of Athletics on the east side of the fieldhouse is open year round and provides a thorough look at KU basketball throughout the years. Also, the newly opened College Basketball Experience near the Sprint Center in downtown Kansas City, Mo., is just a short car ride away.
Get outdoors already
One of the best things about the end of the college basketball season is the arrival of spring weather. As temperatures continue to rise each day so does access to the outdoor world. Golf fanatics who have been cooped up all winter will be able to break out their drivers. Those who favor the cheaper alternative can grab their discs and head out to one of Lawrence's Frisbee golf courses. In addition, leisure activities such as bike riding, tennis, skateboarding, bird watching and fishing are kicking into high gear.
A family affair
For die-hards and casual fans alike, the commitment of following your favorite team often interferes with other aspects of life. If social outings to watch KU hoops - or the need to be secluded in a certain room so as not to be disturbed during games - have taken you away from time with friends and family, why not use the offseason to get reacquainted. Dinner and a movie with your spouse is always a good idea. How about taking the kids out for pizza with a few of their friends? What about planning that summer vacation? No matter what you choose, make sure you use the time to rediscover what it is about your companions that makes them an important part of your life. And if you must, hosting a few of these excursions at a sports bar is absolutely acceptable.
Get moving
Lawrence recently was named the most walkable city in Kansas, so why not get on out there? More hours of sunshine provide a great opportunity to go for a walk during the time you previously would have spent rooting on the Jayhawks. Just think, walking for even half of the first half can do wonders for your body and mind. Psychologists say that people who exercise regularly are generally in better moods. If a leisurely walk isn't enough, Lawrence has several gyms and fitness centers you can join and there's always Don Gardner's Red Dog's Dog Days for those looking to establish more of a routine.
Read a book
There's nothing quite as relaxing as taking a good book to a park and flipping through a few pages in the warm sunshine. With the list of literary options stretching into the millions, we won't tell you what to read. But one good option would be Chuck Woodling's book "Against All Odds," which chronicles KU's magical run to the 1988 national championship, led by Danny Manning, now an assistant KU basketball coach. For those more interested in Manning's current exploits, log on to www.store.ljworld.com to pre-order a copy of "An Incredible Year," the Journal-World's soon-to-be-released recap of the Jayhawks' rise to the 2008 national title.
Shopping spree
Few things get the senses going like picking up some new threads, hitting a bookstore or purchasing that one item you've been saving to buy. Lawrence offers unique and popular stores. Don't feel like fighting the crowds? Log onto ljworld.com/marketplace, which provides an alternative for those who would rather do their shopping from the comfort of their air-conditioned abodes.
How about a show?
Although it doesn't always provide the same rush as a last-second jump shot or a big-time block to seal the game, performing arts can help fill the void. Many performances run about the same length as a basketball game and most are filled with similar drama and storylines that are familiar to fans of the hardwood. In Lawrence, both KU and the city programs provide numerous opportunities to take in a show. A variety of shows are offered by the Lied Center, University Theater, and Lawrence Community Theater. In addition, the Lawrence Arts Center and Lawrence Children's Theater also keep full slates.
Into the storm
This idea, perhaps more than any of the others, has the potential to provide the same rush as watching your favorite team charge back from a double-digit deficit. With storm season set to hit the Midwest there's no better time to pick up the hobby of becoming a storm chaser. It's easy to get started. All you need is a video camera, a vehicle, a little curiosity and a lot of bravery. Don't need the thrill of staring a tornado square in the face? Another option is to become a storm spotter, which can satisfy the need to know and provide a valuable service to your community. For more information on the ins and outs of storm chasing, log onto www.stormtrack.org.