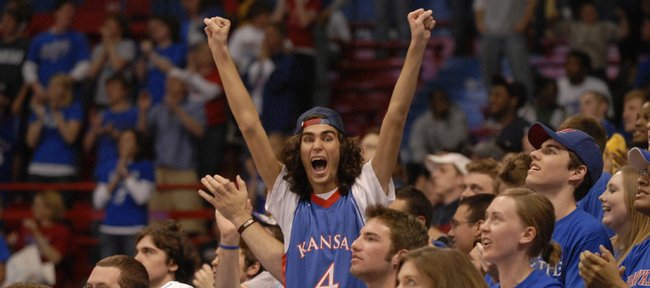 Videos
6News Championship Celebration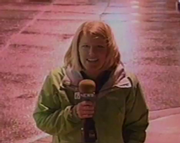 Coverage of the festivities after the Jayhawks became the NCAA National Champions.
Feature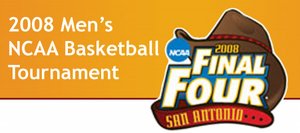 Get your March Madness fix at KUSports.com.
Celebration set
The Big Men on Campus - Kansas University's national champion basketball team - will be back in town today, and they won't have to go to class.
Instead, they'll be taken to Memorial Stadium for a rally expected to start about 3 p.m., rain or shine. The party looks to be reminiscent of the boisterous stadium celebration that welcomed back a different team of Jayhawks 20 years earlier from another national title and drew more than 30,000 people.
This time around, stadium gates will open at 1:30 p.m., and shuttle buses will begin running from KU's Park and Ride lot off Clinton Parkway starting at 12:30 p.m.
Campus parking lots and the garage will be open to public parking.
A U.S. Army UH-60 Blackhawk helicopter may fly over Memorial Stadium as part of the celebration.
While classes are canceled - another nod to the 1988 title's day after, the last time classes were canceled for nonweather reasons - university offices will be open and employees are expected to report to work as usual. The Kansas and Burge unions will be open for regular business operations.
Jessica Greenwood, a Kansas University senior, stood in the middle of Massachusetts Street, under the glow of hundreds of cell-phone snapshots and digital camera flashes, knowing that she needed to capture the moment forever.
These kinds of things - a national championship for her beloved Kansas University, after a 75-68 overtime victory against Memphis - simply don't come along all that often.
Try once in 20 years.
"It's the most intense feeling I've ever experienced in my whole life," she said, posing for a photo with her friend and fellow KU senior Christina Conger. "More than my first steps. More than when I got admitted to KU.
"It's my senior year, and KU won. We're the No. 1 team in the country. We're better than everyone else."
She looked around, a big smile on her face.
"Who else," she laughed, with a dumbfounded giggle, "can say that?"
Try an estimated 40,000 others packing onto Massachusetts Street and tens of thousands more who call themselves Jayhawks - in Lawrence, across the country and anywhere else basketball is followed.
Fieldhouse vibes
Allen Fieldhouse, home of the Jayhawks, was rocking for the game. More than 10,000 fans filed in to watch on the scoreboard screens, hoping to add another victory to their undefeated home schedule - albeit this time via TV from the Alamodome in San Antonio.
Chris Hinton, a sophomore from Overland Park, and his friends did their best to keep the Fieldhouse vibe alive by bringing in dozens of sheets of newspaper.
A tradition during player introductions during live games - rattling the sheets during Memphis introductions, then shredding them for confetti for the Jayhawks' - Hinton said they wanted to re-create the game experience.
"It's tradition - you've got to keep it going, even if the team is gone," Hinton said. "We've been pretty good so far."
The seesaw game saw KU go up by a few, then fall back. And when a Memphis shot banked in from the three-point line with just over four minutes to go, and the shot clock winding down, many KU fans worried that the end was near.
KU may have been down 57-49 - soon changed to 56-49, when replays showed that Derrick Rose's shot indeed was a two-pointer - but KU fan Jeff Brady wasn't the least bit fazed.
"That," he said, above the groans at Fatso's in downtown Lawrence, "was not a championship shot."
Turns out it wasn't. The point shaved from the scoreboard turned out to be as important as all the others scored on this night - and some left behind by the Tigers. Memphis made only one of five free throws in the final 1:12, giving KU an opportunity to work its way back into title contention.
'Miracle 3'
Down 63-60, the Jayhawks' fate fell upon Mario Chalmers, who managed to find just enough space to squeeze off an improbable-but-somehow-inevitable three-pointer, one that would extend the college basketball season by another five minutes.
Now safely into overtime, Scott Hoffman knew things would be OK.
He just knew his team had already won - and he'd be able to help sell some of the 260 T-shirts with "Kansas" and "National Champions" on the front, and "PARTY LIKE IT'S 1988!" on the back.
"The 'Miracle 3' wins it," he said, already coining a moniker for Chalmers' emphatic three, the most important of his 18 points on the night. "Now we're partyin', and we're national champions.
"What could be better than that?"
The victory gave KU coach Bill Self his first national championship in his first trip to the Final Four as a Jayhawk, following up on Elite Eight appearances with KU, Illinois and Tulsa.
Nate Saving came all the way to the Fieldhouse from Peoria, Ill., the state where Self coached before taking over on Mount Oread five years ago.
"There's no place I'd rather be," said Saving, who spent a year at KU. "The atmosphere is a lot better than I thought it would be. It's pretty sweet."
Priceless championship
Now, it seems, Oklahoma State and billionaire alum T. Boone Pickens may come calling for Self, an Oklahoma native, former Oklahoma State guard and certified basketball winner. Talk is a 10-year deal for $40 million, plus bonuses.
Byron Watkins, a 2004 KU graduate working as a financial adviser in Wichita, wouldn't advise Self to take the deal.
"Championships," he said, "are worth more than money."
And crimson and blue, on this night, proved more worthwhile than purple for Aaron Pohl, who said he was a Kansas State University student from Atchison and die-hard KU hoops fan.
"My dad was at the last game, in '88, at Kemper," he said, of the previous KU title, an 83-79 victory over Oklahoma. "He said that was the best game he'd ever seen.
"This is the best game I've ever seen. Unbelievable."
More unbelievable: KU officials canceled classes today, just as they did back in 1988. It seems championships are something of a learning experience.
Ringing in the win
Kim Sedberry knows that well. The Dallas senior is among about a dozen students in KU's carillon class, all of whom take lessons from the university's head carillonneur, Elizabeth Berghout.
In exchange for enrolling in the class, they're allowed to check out keys to get into the Campanile.
Sedberry said she checked hers out Monday in hopes that the Jayhawks would win.
"We thought about it Saturday walking back from Mass. Street, but I didn't have my key," Sedberry said Monday night, before the championship game ended. "If we win, I'll go up there and play the Alma Mater."
Play on, Sedberry. KU is the national champion.
Staff writer Jonathan Kealing contributed to this story.