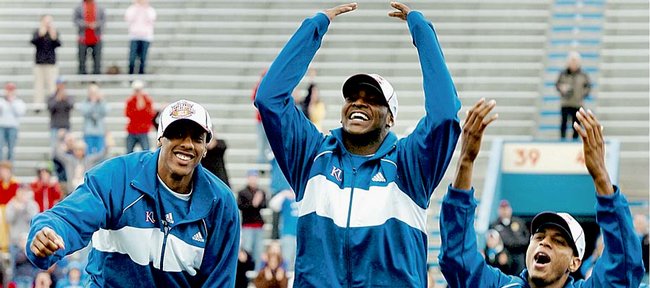 Videos
NCAA Champion Jayhawks return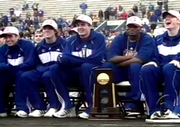 KU, the 2008 NCAA Men's Basketball Tournament champions, were greeted by fans in Topeka and then celebrated at Memorial Stadium in Lawrence. Kansas head coach Bill Self, assistant coach Danny Manning, and several Jayhawk players address the crowd.
Videos
6News Championship Celebration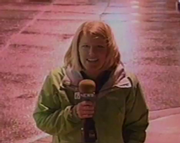 Coverage of the festivities after the Jayhawks became the NCAA National Champions.
On the street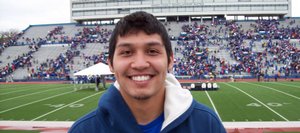 Feature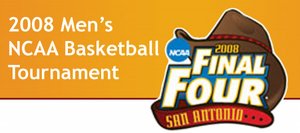 Get your March Madness fix at KUSports.com.
Despite the rain, despite the cold and despite a party that did not end until 2 or 3 in the morning, about 25,000 Jayhawk fans poured into Memorial Stadium on Tuesday afternoon to fete their national champion basketball team.
After watching a replay of the title game, coach Bill Self and his Jayhawk team - fresh off the plane from San Antonio and with national championship trophy in tow - came onto a stage at the center of the football field to a rousing round of applause. All the players and coaches were introduced with the loudest, most sustained applause given for Monday night's hero: Mario Chalmers, who hit the shot that forced the game to overtime.
"Over the years, these moments become mythic and legendary," Kansas University Chancellor Robert Hemenway told the crowd. "2008 means Super Mario and the overtime."
Kansas Gov. Kathleen Sebelius and KU Athletic Director Lew Perkins also spoke. Perkins said the national title represented the end of the restoration of Kansas Athletics.
"Back in 2003, I said we needed to do some things and we needed to do them with a swagger," Perkins said. "In January 2008, I said we were almost there. Well last night, we got our swagger back."
While former Jayhawk radio voice Max Falkenstien emceed the beginning of the festivities, Self took over and lavished praise on his players and the fans.
"I think I speak for our team that this is totally overwhelming," he said. "You are the most loyal, best fans. I can't imagine there's any place that's better to coach or play at than right here."
As he introduced the players and gave them an opportunity to address the crowd, most thanked the fans, coaches and teammates for all they'd done this season. Most, that is, except for senior forward Darnell Jackson.
Jackson faced several tragedies - including the midseason death of a cousin - this season.
"I'm happy I stuck it out. I think everyone here knows I almost gave it up," Jackson said. "And now we're national champions."
See it again
Replays of the welcome back ceremony for the Kansas University basketball team will be at 10:30 a.m. and 9 p.m. today (River City Weekly will be joined in progress), and at 10:30 a.m. and 11 p.m. Thursday on Channel 6. The program will also be available for one week on Video on Demand.