Feature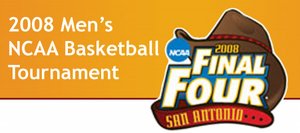 Get your March Madness fix at KUSports.com.
Fans after the Final Four
Police watched over an even larger downtown crowd Monday following the championship game than had turned out to celebrate Saturday's Final Four victory against North Carolina.
Nearly 40,000 people came out to celebrate the historic victory.
"It does seems like the crowd is a little more active tonight than it was on Saturday night," Lawrence Police Sgt. Paul Fellers said.
Fans were on foot, and they were in cars, honking their horns in celebration of the victory.
By midnight, police had made at least three arrests, he said. One disorderly fan was arrested before the game's end at Abe and Jake's Landing, 8 E. Sixth St. Two other people were arrested for criminal damage after the game, Fellers said.
Within seconds of the game's end, fans watching the game downtown rushed outdoors and onto Massachusetts Street. Some kneeled down in the middle of the street with relief. One fan climbed up a light pole before a law enforcement officer called him down.
The throng of thousands walked, ran and rode on shoulders down the street.
Fellers said police had to tell people to come down from light and traffic poles that they were attempting to climb. He said he had heard of a few fights breaking out.
One officer was overheard telling fans to use plastic cups for their beverages. Fellers said law enforcement was focused on keeping people safe.
"Primarily we're focused on taking care of circumstances that we see people getting into that can cause themselves or other people harm," he said.
He said officers were asking fans to get rid of cans or bottles, but policing booze was not the top priority.
"In terms of what's in a plastic cup, when you've got that many people down there, I'm not sure that that's a priority," he said.
About midnight, there was a report of one fan unable to walk after getting hit with a bottle at the intersection of Ninth and Vermont streets.
Fellers said a few small fires were reported in the Oread neighborhood, and reports had indicated that at least one couch had been set on fire
KU Police Capt. Schuyler Bailey reported heavy vehicle and pedestrian traffic on campus, but no major incidents following the game.
"Lots of cars, lots of pedestrians - all headed eastbound" toward downtown, Bailey said around midnight. "All of the issues right now are just traffic. ... We're very proud of our students at this point and how they're reacting."
More than 200 law enforcement officers were on duty. Lawrence police had support from more than a half-dozen law enforcement and emergency management agencies, including the Kansas Highway Patrol, the Ottawa, Olathe, and Overland Park police departments, and the Douglas County and Franklin County sheriff's offices.