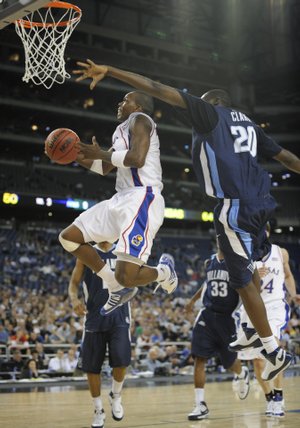 Final Four point guards at a glance
Derrick Rose, Memphis: 14.6 Ppg, 4.4 Reb., 4.7 Asst., 1.2 St, 48.1 FG%, 34.7 3pt FG%Ty Lawson, North Carolina: 12.8 Ppg, 2.7 Reb., 5.3 Asst., 1.6 St, 52.3 FG%, 35.8 3pt FG% Darren Collison, UCLA: 14.8 Ppg, 2.6 Reb., 3.8 Asst., 1.8 St, 49.1 FG%, 45.2 3pt FG% Russell Robinson, Kansas: 7.4 Ppg, 2.8 Reb., 4.1 Asst., 2.0 St, 40.7 FG%, 32.5 3pt FG%
His position, point guard, is called in basketball parlance a "1." He wears No. 3. Perhaps No. 5 would be more appropriate. If Kansas University senior Russell Robinson were to write an autobiography based on his basketball approach, he could call it, "I am Fifth."
Robinson's role is to apply pressure to the opposing ballhandler and relieve pressure from teammates at both ends of the floor. He embraces that complementary role, knows how important it is and doesn't need to see numbers that justify his value. No such insecurities dog him.
Robinson has a tendency to perform at his best in clutch situations, as he demonstrated in a victory against Texas A&M;, when he had the winning drive. A look at how it was that he ended up making the big play opens a window into his view of his role.
"I gave everybody an opportunity to make a play, and by the time it got to me, I figured it was time for something to happen," Robinson said. "The main thing is you have to faith, you have to have faith in what you do and that you can pull it out. It worked out for me, and hopefully it will again."
Asked what he takes most pride in as a player, Robinson said, "I think the team management part. Just basically being that facilitator out there on the court. Keeping everybody's head into it. Getting guys the ball when they need it, where they need it. Taking a lot of pressure off my teammates on the court as far as defensive assignments and stuff."
Given that Robinson takes care of his need to score only after the other four options have been explored, it's not surprising Robinson isn't offended at being viewed as the fourth best starting point guard in this Final Four. Instead, he sees the advantage to that tag.
"I think the difference between me and those guys is, I don't have to score for me to play well and to win, as is obvious in the Texas game and the Davidson game," said Robinson, scoreless in both of those games. "For those guys, there's a lot more pressure on them. They have to perform well and score for their teams to win, and that's not the case for me."
Draftexpress.com projects Derrick Rose of Memphis to be chosen with the second overall pick in the NBA Draft and has UCLA's Darren Collison going 13th, North Carolina's Ty Lawson 17th. Robinson, a 6-foot-1 senior from New York, (louder) New York, does not project as an NBA Draft choice.
"The thing about it is, if he's considered the fourth, that isn't a knock because the other three are high first-round picks, I would think," KU coach Bill Self said.
Kansas has the best claim to the underdog role in this Final Four, and at no position is it more obvious than at point guard, not that Self considers that a cause for concern.
"Russell has played against other good guards his entire career," Self said. "Russell's good. He doesn't have the fanfare and things like that of these other guys, but Russell can play with anybody. He's not going to score as many points as a lot of them and this and that, but he knows how to win, and to me, that's about as important a quality as you can have."
Rose, a super-strong and ultra-quick 6-3, 205-pound freshman from Chicago, is the best of the bunch. He started the season as an out-of-control talent and is finishing his quick college career as a point guard running the show so efficiently.
"He's a great player," Texas point guard D.J. Augustin said of Rose after Memphis knocked the Longhorns out of the tournament in the South regional final. "He controls the ball. He controls the game, and he controls the team."
Lawson, a 5-11, 195-pound sophomore, is the key to North Carolina playing at as fast a pace as any team in the country.
"He's definitely the quickest I've seen all year as far as running coast to coast," Robinson said. "D.J. Augustin's quick, but Texas doesn't run nearly as fast as North Carolina does. It's going to be a great challenge, but with every new team comes new challenges, and you just have to play harder."
UCLA's Collison, a 6-foot, 160-pound jet, has the best three-point percentage (.452) of the Final Four point guards, but it's not just the accuracy rate that demoralizes opponents.
Xavier coach Sean Miller marveled at Collison's timing after his team lost to the Bruins in the West regional final.
"As a team, they really had a way about them, as if they had been there before, and they have," Miller said. "Very patient on offense, don't crack easily, don't flinch, really stick to what makes them a good team. Darren Collison, you appreciate him a lot more when you play against him than watching him on TV. At the end of the clock, he just is incredible. He can make a shot himself. He makes his teammates better. And he has that dagger ability: When they need it, bang, he delivers. And he does it with such ease at the end of the clock."
Robinson, a .325 three-point shooter, also has been known to bail out teammates with the shot clock dwindling.
"I would say Russell's our best on-ball defender, and he makes clutch shots," Brandon Rush said. "He always makes the big shots. And he's running our team. He's our leader right now."
Sixth man Sherron Collins has greater physical gifts than Robinson. He jumps higher, is even quicker and has a softer shooting touch. Collins doesn't claim Robinson matches up with the other three starting point guards, tool-for-tool, but he also doesn't consider KU at a great disadvantage.
"I think Russell's the underdog in that category, but Russ plays hard on defense," Collins said. "That's the thing with us. Our guards don't have to be the main scorers, do so much on offense. We've got bigs, and we play through our bigs a lot. Russ' job is different. He goes out and pressures, taking the leading scorers or top guard out of the game sometimes, and that's what we need him to do. That's what Russ takes pride in doing, and I think he'll do it."