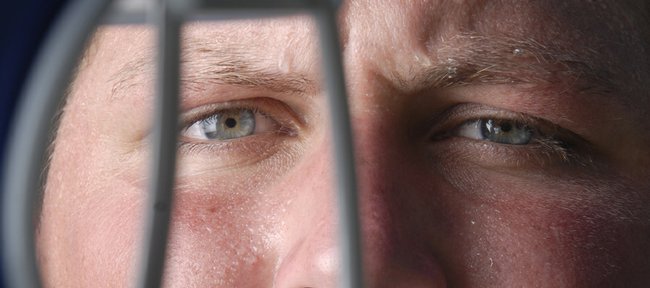 Sometimes, the roots run so deep that they never let you get too far away.
Chet Hartley knows the feeling. A Butler Community College lineman out of small-town Kansas, Hartley was being courted by legendary Florida State football coach Bobby Bowden a year ago. Yet deep down, he knew the tradition-rich Seminoles didn't have much of a chance.
Not over Kansas University.
"The Kansas ties," Hartley said. "That was the most important thing."
Hartley signed with KU last winter over Florida State and Illinois, getting his shot to play Division I football just 21â2 hours from his hometown of Kingman.
Hartley's story is an inspiring one, which continued last week when he started and played the entire game at right guard for the Jayhawks.
His Kingman High team went just 1-8 his senior year, and when Division I coaches combed the country looking for prospects, Hartley wasn't a guy they examined too closely, if at all.
"I wasn't getting a lot of looks, besides jucos," Hartley said. "So that was the way to go."
He chose one of the best in Butler, just an hour or so away from Kingman. There, he played left tackle as a sophomore and even worked some as a center during spring ball.
His versatility and size - 6-foot-4, 310 pounds - made him a great quick-fix option for several schools losing talent on the offensive line.
"At Butler, he really developed as a player," KU coach Mark Mangino said. "He got a lot stronger, got a lot bigger. He took well to the coaching at Butler, and I think they do a good job there.
"Junior college, for him, was a good path to take because it helped him develop. He became a bona fide Division I prospect after a couple of years there."
It fit so perfectly. Hartley comes from a family that rooted for Kansas. The Jayhawks needed immediate offensive-line help after losing center David Ochoa and guards Bob Whitaker, Jake Cox and Travis Dambach to graduation.
Hartley was in Lawrence for the spring with a starting job there for the taking. Though it wasn't all smooth, his spring went well enough to put him atop the depth chart at right guard heading into the summer.
There, he withstood competition from junior Rameses Arceo in August, starting at right guard against Central Michigan with friends and family in attendance.
"I was nervous," Hartley said, "but after getting a couple of snaps, I was good to go."
That's understandable. Hartley's journey to KU was a little longer than many of his teammates, but it still was the destination he had been eyeing for quite some time.
"When we recruited him, we were hoping he'd add some immediate help on our offensive line," Mangino said. "He's doing a good job. He's learning every day. Every day is something new for him to pick up, but he's coming along nicely."
¢
Harper update: KU cornerback Kendrick Harper continues to recover from an undisclosed injury suffered in practice on Aug. 3.
The early timetable was that he would be back for KU's game against Kansas State on Oct. 6. It appears that's still the best guess.
"We don't know for sure," Mangino said. "We feel like he should be ready for conference play. There's a really outside chance for Florida International (Sept. 22), but I'm not sure about that. I'm not sure that he'd be ready."
¢
Quigley battling: KU running back Angus Quigley did not dress for the Central Michigan game and was at Memorial Stadium in street clothes last week.
It was mildly surprising, considering Quigley was thought to be in position to get some snaps along with Brandon McAnderson, Jake Sharp and Carmon Boyd-Anderson.
"He's got to work his way up the depth chart," Mangino said of Quigley. "He just has to get himself back up there."