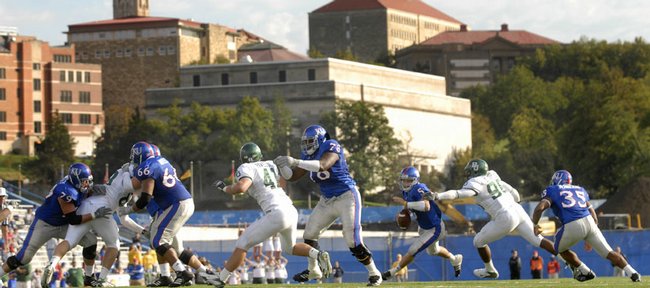 Go figure
48
Baylor's total rushing yards
154, 0
Baylor's passing yards, passing touchdowns
394, 5
Baylor's passing yards, passing touchdowns against KU last season
7-for-7
Kansas' red-zone scoring success against Baylor
1-for-2
Baylor's red-zone scoring success against KU
The thunder rolled. Lightning bolts surrounded Memorial Stadium. Standing water surfaced on a football field with artificial turf. A chilly wind chattered teeth.
Yes, Mother Nature tried everything short of an earthquake to spoil Kansas University's football mojo on Saturday.
Fat chance.
All she really did was wear out her welcome, as KU emerged from two significant weather delays to crush Baylor, 58-10, and improve to 6-0 on the season.
Memorial Stadium emptied out 51â2 hours after the scheduled kickoff, but the Jayhawks prevented going flat and managed to remain fresh throughout. They are now bowl-eligible, which means surprisingly little in mid-October when there's so much more to shoot for.
For now, KU is just happy to survive a weird Saturday in Lawrence.
"It was a long day," quarterback Todd Reesing said. "It's tough to stay focused for that long, but I think we did a pretty good job of staying as focused as we could have."
The Jayhawks (6-0 overall, 2-0 Big 12 Conference) were unable to take the field on time for pregame. A hard rain with plenty of lightning dancing around pushed back the 11:30 a.m. kickoff 30 minutes, then 90 minutes. Finally, a 1:15 p.m. start was targeted after the worst of the weather passed.
Inside the locker room, the players and coaches waited it out.
"We were prepared for the game. We can't do anymore chalk talk," KU coach Mark Mangino said. "The coaches wanted to know what the kids should do. I told them they can nap, listen to your iPod, read. But we're not going to do anything special. Take your pads off and relax."
The game finally started 105 minutes late, and while the Jayhawks weren't particularly sharp in the first quarter, they were superior to the bumbling Bears (3-4, 0-3).
After the teams traded field goals early on, KU junior Marcus Herford delivered the most electric - that's a pun you'll understand shortly - play of the day, returning a kickoff 88 yards up the gut for a crucial special-teams touchdown.
As kicker Scott Webb booted the point-after to put Kansas up 10-3, a tremendous bolt of lightning touched down beyond the Kansas Union southeast of the stadium. The crowd cheered - for Webb's point-after, it was assumed - but the players immediately were sent to the locker room with 4:08 left in the first quarter for another delay.
"It was kind of nice," Mangino said of the second stoppage, which lasted 31 minutes. "We were able to make some adjustments and things like that in the locker room.
"It was kind of like hockey. There were two intermissions."
When play resumed, it was an epic mismatch that soon got as ugly as the weather above. KU's defense made Baylor's vaunted passing attack irrelevant, even awful. BU quarterback Blake Szymanski, who averages 300 yards per game, had just 119 yards and three interceptions against the Jayhawks.
Meanwhile, Reesing kept on keeping on as KU's productive playmaking leader on offense. He had 186 yards and two touchdowns, the first soon after the final stoppage when he found Dezmon Briscoe on an improvised 10-yard strike in the second quarter.
That was the beginning of the end for Baylor. Kansas scored again with 1:30 left in the half on a Jake Sharp run, then tacked on the back-breaker just 47 seconds later. A Chris Harris interception set up great field position for what ended up being a 15-yard scoring run by Brandon McAnderson just before (the second) intermission.
It was 31-3 Kansas at halftime. And there wasn't anything Mother Nature could do to save Baylor at that point.
"I'm not going to fret too much about the game," Reesing said. "Obviously, it wasn't our best game on offense. I think our defense played tremendous."
What does it say about KU's rejuvenated offense when 447 total yards and 50-plus points are considered treading water?
Truth is, the Jayhawks are finding out that the bar doesn't go back down after they raise it. That's why the question seemed almost silly after the game, when Mangino and several players were asked about the feeling of getting to the six-win plateau that ensures bowl-eligibility.
"That's a blessing," defensive tackle James McClinton said, "but we don't want to be bowl-eligible. We want to win the Big 12."
Well, that's a conquest the Jayhawks are in hot pursuit of, too. But at the regular season's halfway point, it's OK to take a look at the first six games and feel a nice sense of accomplishment.
After all, the bottom line for KU right now is pure perfection. Six-and-oh with six to go.
And not even hellacious weather could get in the way.
"It is definitely a great feeling," safety Justin Thornton said. "We have worked really hard for this : we have really put the pieces together and we are very confident. We are playing well out there right now."