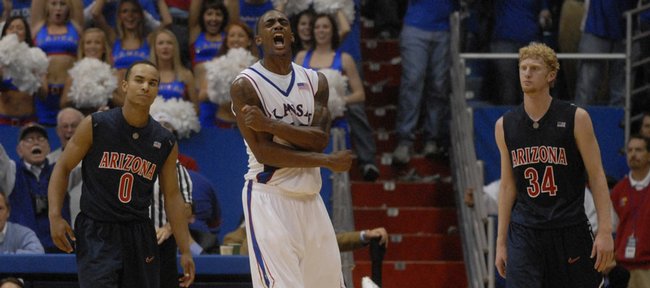 Like most all college basketball players, Kansas University's Brandon Rush tries to hit a halfcourt shot at practice now and then.
"I've thrown in a few like that, not in a game, especially tied going into overtime," said Rush, whose 55-foot shot - that's eight feet behind the midcourt line - kissed softly off the glass and the rim and darn near dropped through the hoop at the final horn of Sunday night's nonconference thriller against Arizona at Allen Fieldhouse.
"I thought it was going in. I was praying it was going to drop right in there. It would have made my year. It would have been the highlight of my year."
Instead, Rush and the No. 4-ranked Jayhawks, who were tied with the unranked Wildcats 62-62 after 40 minutes, had to gut it out five extra minutes to earn a 76-72 overtime victory.
"I thought it had a chance," KU coach Bill Self said of Rush's beyond-halfcourt missile. "Usually when you throw 'em in like that and hit the glass from that far a distance, they usually come off hard, but it was close.
"I'm glad it didn't go in," Self added, "because we needed to play five more competitive minutes like that to kind of execute with the pressure on."
Rush - amazingly he scored 17 points, grabbed eight rebounds and took his turn on Chase Budinger (27 points, six rebounds, five turnovers) while playing a season-high 36 minutes - excelled in the extra session.
He had a steal and breakaway slam and on the ensuing possession caught an alley-oop pass from Russell Robinson for a slam that gave KU a 73-65 lead with 1:36 left in OT.
Earlier, Darrell Arthur hit from 12 feet, then put back a Mario Chalmers miss to open the 8-0 run that busted a 65-all tie.
"It felt good, especially the alley oop," said Rush, who proved he can go high to dunk in his remarkable comeback from June 1 ACL surgery. "I got up on a few of those. The only time I was tired was running around screens. The screens were killing me, and he (Budinger) was getting open and hitting every shot."
Rodrick Stewart (13 points, six rebounds) also guarded Budinger much of the game.
"I'll be honest. He's good, real good," said Stewart, whose driving basket and foul shot opened overtime on a good note for KU.
Budinger finally fouled out with :28.6 seconds left in overtime, sending Rush to the line where he hit one of two free throws to give the Jayhawks a 74-70 lead. Jawann McClellan missed a 3 at :17. Russell Robinson was fouled and hit two free throws at :12 to ice the victory.
McClellan, who Rush knows personally, had six points on a night Budinger and Jerryd Bayless (19 points, seven turnovers) provided most of the Arizona offense.
It was such a tight game - Arizona trailed by as many as 11 the first half and led by four the second - Rush and McClellan joked before the overtime jump ball.
"I guess before the end of the game (regulation), he said, 'Don't make a miracle,''' Rush said. "I told him, 'One almost came through.'
"It's probably good we had overtime. We needed a grind-it-out win."
Self explained his decision to use Rush so much.
"Our game plan was to play him 20 (minutes). Our medical staff kept checking him. When Tyrel (Reed, ankle sprain end of first half) went down and Russell picked up the two foolish fouls to end the half to give him three and then Rod (Stewart) got a touch foul to give him three, we didn't have any bodies.
"I know one thing, (Rush) is getting the day off tomorrow. They all are."
It's not just a reward. Self wasn't pleased with KU's play in much of the game. The Jayhawks were outrebounded 38-29.
"I think it's a toughness thing," Self said. "We need to get Sasha (Kaun, two boards) going. He's just not reacting to the ball. He's got to rebound it. Russell probably had as bad a night tonight as he has had since he was a freshman. He didn't have any games like that the last two years.
"It was one of those nights we were fortunate to win because we didn't play the way we felt we should play and are capable of playing. Rod was really good, Mario (Chalmers, 14 points, seven assists) made some big free throws (four of six) and competed hard, and I thought Brandon, to play that well considering what he's been through, was remarkable."
KU next will meet ex-Jayhawk Rex Walters' Florida Atlantic University team at 7 p.m. Wednesday at Allen.
Go figure
27
Points by UA's Chase Budinger (on 10-of-23 shooting)
30
Points scored by Arizona off 3-pointers
6
Points scored by Kansas off 3-pointers
9
Arizona's rebounding edge (38 to 29)
5-for-6
KU's field-goal shooting in overtime
4-for-5
KU's free-throw shooting in OT
4-for-8
Arizona's field-goal shooting in overtime
1-for-2
UA's free-throw shooting in OT