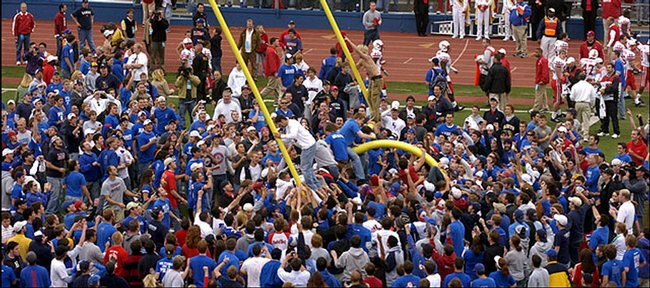 Look up in the sky today
Today's flyover before the Kansas University homecoming football game at Memorial Stadium comes at no cost to the city or the university, said Jim Marchiony, associate athletics director.
He said Air Force ROTC arranges the flyover, which is provided by the Marine All-Weather Fighter Attack Squadron 533, based in Beaufort, S.C.
Just before the 11:30 a.m. game against the University of Nebraska, two F/A-18 fighter jets will fly over the stadium. The jets will be piloted by KU graduates Capts. Noah Marquardt and Michael Barnett.
The undefeated start for the Kansas University football team continues to be the surprise story of the year. The Jayhawks head into this morning's game against Nebraska ranked No. 8 in all four major college football rankings - and KU is favored to win the rivalry matchup.
In 2005, KU upset the Cornhuskers at Memorial Stadium by a score of 40 to 15. The win - the Jayhawks' first against Nebraska since 1968 - sparked a memorable celebration during which fans stormed the field and took down both goal posts.
Two years later, fans who were at the game still remember the fun and excitement of Nov. 5, 2005.
"Nebraska coming in was a huge team, and we just blew them out," said Eric Jury, a KU junior. "Everybody was having a great time that night."
Said Zachary Laufenburger, a KU sophomore who rode on top of one goalpost during the celebration, "It was a little bumpy. Everybody proceeded to jump into the lake afterwards. It was a great time and everybody was just having a blast."
This season marks the first time since 1974 that the Jayhawks have a better record than Nebraska leading into the teams' showdown. So, with Kansas no longer playing the role of underdog, would a victory today by the 8-0 Jayhawks merit festivities similar to those of 2005?
"I don't think so, considering we're doing really good," said Michael Ludwick, a KU freshman. "It's not going to be an upset if we win."
Others say a win over the Cornhuskers would be huge, even if Kansas is favored in today's game, which kicks off at 11:30 a.m.
"It's tradition," said April Keleher, a KU junior, of removing the goalposts. "I'll be there taking them down."
And as if there weren't already enough for KU fans to cheer about, the Kansas men's basketball team is ranked fourth in the AP preseason basketball poll. The team - which came in behind only North Carolina, UCLA and Memphis - defeated Pittsburg State in an exhibition game Thursday at Allen Fieldhouse.
KU sports fans have plenty to be excited about.
"It's definitely a big step up for our athletic program," Jury said. "I can't say anything bad about the athletic program and what they've been doing."
It's a source of pride for Laufenburger.
"I'm wearing my KU gear, and I will continue to do so until I leave here."
6News intern Crispin Lopez can be reached at 832-6335.