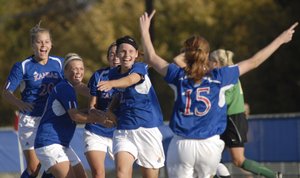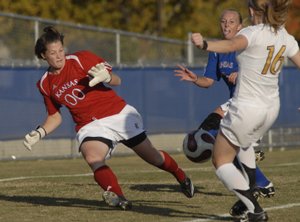 Thanks to freshman defender Katie Williams, the five seniors on the Kansas University soccer squad - Kelsey Archuleta, Nicole Cauzillo, Colleen Quinn, Afton Sauer and Emily Strinden - were able to celebrate their Senior Day on a positive note.
A pair of second-half goals in a four-minute span by the freshman led Kansas to a 2-1 victory over 18th-ranked Missouri on Friday at the Jayhawk Soccer Complex.
"I love them all, and I'm just happy I could do this for them," Williams said. "I'm glad I was able to get that win for them."
Things were looking dicey early for the postgame festivities when the Tigers scored just 13 minutes into the game, while the Jayhawks (7-9-4 overall, 5-2-3 Big 12 Conference) managed just one shot on goal in the first half.
Kansas come out of the half with a sense of urgency, however, becoming more aggressive in the attacking third, which eventually paid dividends.
"It was a little scary in the beginning, but our team had a lot of confidence," Sauer said. "We really, really wanted to win this game - just because it's Missouri, our rival. It was just awesome to come back and be really strong in the second half."
Twenty-five minutes into the second half, Williams was able to tie the game with a header off a corner kick by sophomore Monica Dolinsky. Then 31â2 minutes later, Williams scored with another header on another corner kick, that one from sophomore Shannon McCabe.
"It's weird. I think this year we've had different kids step up at different times," Kansas coach Mark Francis said. "Katie was just aggressive and attacked the ball in the box, and that got the job done, obviously."
Williams actually has accounted for the Jayhawks' last three goals, having scored the lone goal - another header off a corner kick - in KU's 1-0 victory over Iowa State on Sunday.
"I've been playing with Katie all year, and she's really stepped up and done awesome," said Sauer, a fellow defender. "The other game she did the same exact thing. It was just awesome to have that win - especially against Missouri."
The KU defense still had to face an increasingly aggressive Mizzou attack over the final 16 minutes following the go-ahead goal. Fortunately for the Jayhawks, Quinn was able to hold tough in the net to finish the game with eight saves.
"They have an attack where they just kick it down the center and try to run around us," Sauer said. "We had been working on (defending) that, and that really paid off. Coach did a good job of preparing us for that."
The victory propels KU all the way to the No. 3 seed in the Big 12 Conference tournament, which begins Wednesday at Blossom Soccer Stadium in San Antonio. Kansas' first-round opponent will be Oklahoma State.
"I think after the first month of the season, anybody outside of our group, if you would have told them we were going to finish in the top three in the conference, I think they would have laughed at you," Francis said. "But I told the players that I think it's a credit to them that they were able to refocus. Once the conference season started, they really looked at it as a brand-new start and really took advantage of that - which is not easy to do in our conference."