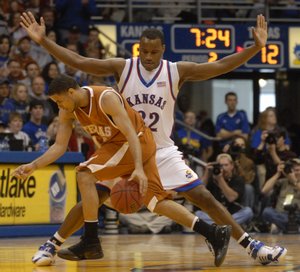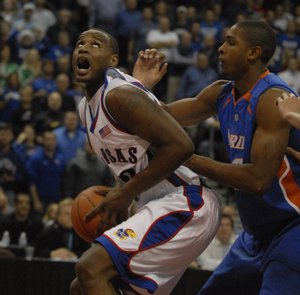 It's hard enough holding onto a basketball when former Kansas University All-American Danny Manning is trying to knock it from your grasp.
Now try it with a 10-pound medicine ball.
Similar to the way baseball players often warm up with a donut or heavy bat, KU big men Darnell Jackson and Darrell Arthur often warm up with a medicine ball.
"It's not new," Jackson said. "But Shady (Arthur) just out of the blue said we needed to start doing it every day."
Baseball players long have held that swinging a heavy bat in the on-deck circle can bolster bat speed when the hitter switches to a regular-weight stick.
Same goes for the heavy ball.
"Before playing, we'll pass it to each other, dunk, drop-step with it," Jackson said. "Coach Manning tries to slap it. That way, when it's time to go out in actual games, the ball feels lighter. It's easier to hang onto."
Jackson's training routine also provides an apt metaphor to his approach to his senior year. Jackson's not about to let his final shot at a national championship slip through his grasp.
"I know I'm never going to get this chance again," he said. "Every year I'm here is a special year. I'm looking forward to making it a great year."
He's coming off a pretty good one.
Jackson, a 6-foot-8, 250-pounder from Oklahoma City, Okla., last year led the Jayhawks in field-goal accuracy (55.0 percent) and was third in rebounding, at 5.1 per game. He started three of the 38 games in which he played and averaged 15.3 minutes per game.
He plays down speculation he's battling fellow senior Sasha Kaun for a starting spot.
"It's always been the same role for me," Jackson said. "I'm going to play hard for my teammates, rebound, try to get loose balls. That's my role."
As a senior, it's also his role to lead both in word and deed.
That point was driven home in the offseason, when he was approached by ballyhooed freshman Cole Aldrich.
The big rookie asked for advice, and Jackson was more than a little surprised.
"When Cole came up to me and asked what he needed to do to help the team, it shocked me a little bit." Jackson said. "I knew he was an All-American. It helped me realize he really wants to get a ring like the rest of us."
One of five scholarship seniors shooting for a fourth straight Big 12 regular-season title, Jackson has set his sights considerably higher this season. But the selfless Jackson - who insists he's content coming off the bench and doesn't lobby for starts or minutes - says he wants to win as much for coach Bill Self as himself.
"We want to get a big win for coach Self before our last go-around. We want to bring something special back to Allen Fieldhouse," Jackson said. "The only thing keeping us from going to a Final Four is ourselves, if we're not on the same page."
Though Jackson is looking forward to his Senior Night, he wants to make sure he focuses on the present.
"Senior Night will be nice. I know I'll get to talk to everybody. But I know I'll never go through this again," he said. "I'm going to miss it."