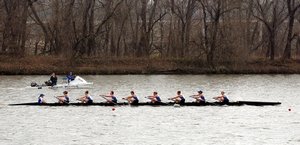 The Kansas University women's rowing team opened its 2007 spring season Saturday with a six-race regatta against Texas and SMU at Burcham Park.
KU's varsity eight boat finished in a time of 7 minutes, 34.5 seconds, 10 seconds behind victorious Texas. The second varsity eight boat finished in 7:51.4, and the varsity four boat crossed the line in 8:55..
KU also raced three novice boats at the regatta. The second novice eight finished in 7:53.2, the first novice eight in 7:55.9, and the novice four in 10:05.2.1.
All six KU boats finished in second place.
The Jayhawks host Drake and Tulsa next Saturday.