It started with a crowd of two.
John Coleman and his friend, Don McCoy, both from Bonner Springs, were the first to arrive at Allen Fieldhouse at about 3:30 a.m. on Sunday morning.
They waited for the recently-defeated Kansas University basketball team to arrive from San Jose, Ca.
"We planned on celebrating the rest of the night, but that didn't work out," Coleman said. "So we've been sulking."
But for McCoy, who had made it an annual tradition to welcome the Jayhawks back to Allen Fieldhouse, said a defeat to UCLA was easier to handle than the first-round exits the team and its fans suffered the last two years.
"In comparison to the last two years, I'll take it," he said. "We lost to a top-5 team...no shame."
Fairly soon, a crowd of about 100 sleep-deprived fans braved the early morning hours to wait outside Allen Fieldhouse and applaud the return of the KU basketball team.
The team rolled into the south parking lot behind Allen Fieldhouse around 4 a.m. after landing at Forbes Field in Topeka.
The decision to come see the Jayhawks arrive back into town was one Karen Suddath and her daughter, Hannah Wallace, made before they knew the outcome of the game.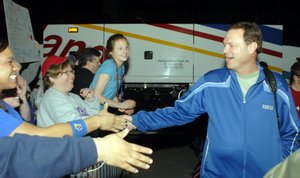 "We decided we would come if they won or not," Suddath said. "Because they had a wonderful year."
The two came early on Saturday from their home in Kansas City and got a hotel room in Lawrence for the night.
After a couple hours of sleep following the game, and a can of Red Bull for Wallace, it was off to Allen Fieldhouse.
Fans waited outside Allen Fieldhouse, as fans weren't allowed inside as they had been in previous years.
Suddath said she expected more fans to show up.
"I thought there would be hundreds of people," she said, glancing around and the slowly forming crowd of well-wishers.
McCoy thought the crowd's size was understandable, given the circumstances of the team's late arrival.
"Then again, it is 4 o'clock," he said.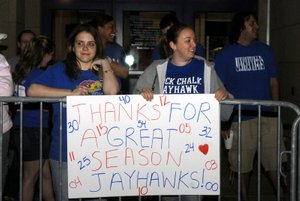 Players and coaches filed off the team's charter bus and made their way straight inside the Fieldhouse. Some exchanged smiles and nods with fans, but did not speak with them on their way into the building.
Stephanie Thompson, a KU freshman from Shawnee who came back to Lawrence from her spring break to watch the team come back to town, said she wasn't miffed that the team wasn't able to talk to fans.
"It's kind of understandable, I guess," she said. "It's probably a lot harder on (the players) than people realize."
Never the less, it was worth the wait for Thompson and her friend, Whitney Worthington.
"I think they really appreciate any kind of support," she said.