East Rutherfoprd, N.J. — Same names, different endings. Unlike father, like son.
Twenty-five years later, Georgetown got even.
In an NCAA tournament full of incredible rallies, it was the Hoyas' turn - against North Carolina, for goodness sakes, the same Tar Heels who won the national title on a Michael Jordan jumper that denied a different Georgetown team led by a coach named Thompson and a player named Ewing a generation ago.
These Hoyas overcame an 11-point deficit in the second half, then ripped off 14 straight points in overtime to stun top-seeded Carolina 96-84 in the East Regional final Sunday for their first trip to the Final Four since 1985.
John Thompson Jr. was the coach then and Patrick Ewing was the franchise. The Hoyas (30-6) did it this time with John Thompson III calling the backdoor plays he learned at Princeton and Patrick Ewing Jr. making key contributions.
"The comparisons to Pop's teams, much like the talk about Big Pat, Little Pat, Big John, Little John, you guys can do that," Little John said.
"For us to figure out how to hold on and pull away with a win, against that team is special."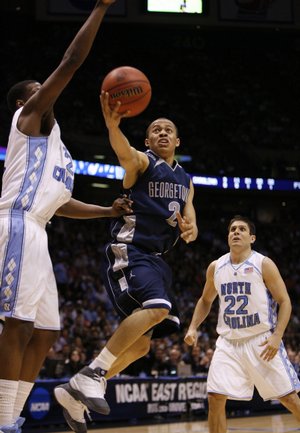 They were helped by an amazing collapse from Carolina (31-7), which made only one of 23 field goal attempts, including its first 12 in overtime, over a 15-minute span after seemingly having the game in hand.
"This is an extremely disappointing time for our team. It's not the way you want your season to end," Tar Heels coach Roy Williams said. "Congratulations to Georgetown and Young John. Young John is like family to me."
It's a family like none other in college basketball, the first father-son duo to coach teams into the Final Four, much less at the same school.
When it was over, Thompson shook hands with Williams and everyone else on the North Carolina side, never showing a smile. Tough game, good game, he told them.
Then it was time to walk across the court - to the biggest bear hug he could imagine.
"You've been complaining about the bus being rickety, but the ride home is going to be good tonight," his dad told him.
"Isn't it?" the son said.
After Georgetown's Jonathan Wallace hit a 3 that tied it at 81 with 31 seconds left in regulation, the Tar Heels had a chance to win it, but freshman Wayne Ellington missed an open jumper from the wing right before the buzzer and Ewing grabbed the rebound, prompting his famous father to high-five everyone near him in the stands.
Georgetown-UNC
There would be no game-winning shot for the Tar Heels a la 1982, when the Jordan legend was born with a 17-foot jumper with 17 seconds left, lifting Carolina over Georgetown 63-62 for the national championship.
The Hoyas waited a long time to avenge that defeat, and when they did, it unleased a celebration a quarter of a century in the making.
Every Georgetown player crossed the court to hug the elder Thompson, who did the national radio broadcast.
Ewing Sr. pulled out his cell phone. He was trying to call Jordan, his old nemesis, to rub it in, he said, "but he wasn't accepting my calls."
"You want the best for your kids. I'm proud of both John and my son," Ewing said. "I'm happy, I'm very proud. I think Georgetown is back."
The Hoyas will play Ohio State (34-3) in the national semifinals next Saturday at the Georgia Dome in Atlanta. UCLA takes on defending champion Florida in the other game.
While the Hoyas celebrated, Williams could only sit in disbelief. In overtime, it was over in a hurry.
Wallace scored inside, freshman DaJuan Summers dunked a minute later, and Jeff Green added a layup to make it 87-81. With Carolina rushing bad shots, Georgetown jammed it inside and got fouled - Summers made four free throws and Jessie Sapp added a pair.
Summers' dunk extended the lead to 95-81 before Ty Lawson broke the streak with a meaningless 3 in the closing seconds and Sapp finished it off with one last free throw.
"We just tried to get an early start on it," Green said. "If we let them get an early start, they would have had the momentum coming in. We got lucky."
The Tar Heels, the 2005 champions, had won seven straight regional finals and were trying to reach their 17th Final Four, which would've tied UCLA's record.
After overcoming a 16-point deficit in the second half to beat Southern California on Friday night, they seemed to be on their way this time, too, leading 69-58 with 12:22 to go and still up 75-65 with 6:02 to play.
That's when Georgetown took over. A foul shot by Green, a layup by Sapp, another layup by Green and a dunk by 7-foot-2 Roy Hibbert, and it was 75-72 - and a game again.
"I think the momentum, it's sort of fleeting. You don't know when it's going, where it's going, when it's going to come back," Williams said.
The Hoyas did an even better job on defense, with an active zone that flummoxed Carolina, and once it went to overtime, it was a bad omen for the Tar Heels. They have now lost seven straight games in overtime since 2000.
Green led Georgetown with 22 points and Summers added 20.
Tyler Hansbrough had 26 points and 11 rebounds for the Tar Heels.
"They have some tough players, and down the stretch they hit shots and we didn't," Hansbrough said through red, swollen eyes.
This was the fifth time Carolina and Georgetown had played since that epic game at the New Orleans Superdome on March 29, 1982.
A day earlier, the Georgetown and North Carolina players tried to brush aside any relevance of the rematch. To Heel with history, they seemed to say, we weren't even born then.
Yet the impact of that game left a visible imprint on every one of them. Both teams came out wearing warmups with the logo of Jordan in mid-flight.
Hansbrough seemed almost possessed, looking much more like the beast his teammates call "Psycho T" for his practice mania than the big guy who's partial to pedicures. It probably helped that he had shucked his plastic mask. The pesky thing protected his broken nose, but clearly bothered him.
Held to a career-low five points in Friday night's 74-64 win over Southern California, he exceeded that total in the first 2 1/2 minutes of this game.
Giving away five inches to Hibbert, Hansbrough still banged away. He even elbowed his own guy during a scramble under the basket. No one on his side minded.
By the end, though, he couldn't save Carolina.
"I mean, shots just weren't falling," Hansbrough said. "You have times where you get a little bump and it throws you off. Just didn't go in the hole late in the game."
Despite their efforts, Georgetown took a 22-17 behind Summers' 3-point shooting.
North Carolina chipped away, then momentum turned when Thompson was whistled for a technical foul as Georgetown walked the ball upcourt. Moments before the sudden call, official Curtis Shaw shouted three times at Thompson to "Get back!" in the coaching box.
When the officials were introduced, Georgetown fans quickly pointed out that the Hoyas had lost five of their last six games with Shaw working. He handles a lot of Big East games, but only once when Georgetown played this season - a home loss to Villanova.
Danny Green made both technical foul shots, tying it at 22, and a pair of baskets by Deon Thompson put the Tar Heels ahead. They eventually stretched their lead to 10.
Carolina led 50-44 at the break, getting its final point when Shaw called a shooting foul with eight-tenths of a second left. The officials checked the video monitor to be sure and then, with Thompson staring from the bench and Ewing Sr. standing in the seats, Alex Stepheson stepped to the line.
Williams earlier got a stern look from Shaw, with the official telling the coach he had heard enough complaining. And when a foul was later called on Carolina, the Hoyas fans chimed in with a Bronx cheer - albeit from across the Hudson River.
After the game, Shaw said the technical was a "bench decorum issue."