Travis Releford couldn't reach Kansas University basketball coach Bill Self by cell phone on Tuesday night.
Self was busy working at his basketball camp; Releford practicing with his Kansas City Pump N Run AAU team.
So Releford did the next best thing.
He left a voice message for Self informing KU's coach he'd decided to become a Jayhawk.
"I said, 'I'm coming to KU,'"Â Releford said Tuesday night.
Releford, a 6-foot-4 blue chip senior-to-be from Roeland Park Miege, on Tuesday orally committed to KU and became the first member of what will be a large Jayhawk recruiting class of 2008.
"It's where I need to be,"Â Releford said of KU, a school that won the recruiting battle over Missouri, Kansas State, Texas, Oklahoma and North Carolina. "They've always been there in the back of my mind. They were at my first practice my freshman year. It's been like that every year. They've always shown the most interest in me."
Releford - who averaged 19.6 points, 6.7 rebounds, 3.0 assists and 3.0 steals a game his junior season - made the decision to end a long recruiting process over the weekend while practicing with the Adidas Nations team in Portland, Ore.
At the camp, he spent some time with power forward Luke Babbitt, who on June 11 committed to Nevada. Hearing the relief in Babbit's voice got Releford to thinking how nice it'd be to end the recruiting ordeal.
"I think the process was wearing on him a bit. In Portland he had a chance to talk to some other players who had committed and decided that he wanted to end
his recruitment as well," said L.J. Goolsby, Releford's coach with Kansas City Pump N Run.
"I (always) thought KU had a good chance, (but) he also had a good relationship with the coaches from other schools. I think it's definitely a good start to the recruiting class.
"I know he was out there with DeAndre Liggins (6-5 guard Chicago's Washington High who is considering KU, Illinois, Kentucky and others), and I'm sure they talked a little bit about possibly playing together."
Releford realizes KU will need to replace five seniors as well as any players who decide to turn pro.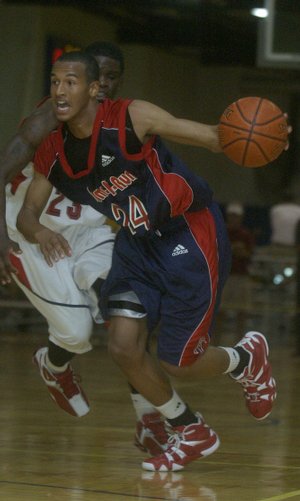 He wasn't thinking about his early commitment kick-starting recruiting Tuesday, however.
"It's true, but I'm not looking at it like that," Releford said. "I just wanted to commit for myself. I'm sure we'll get other good players as well.
"Right now it feels good. I don't have to worry about talking to a lot of coaches, getting texts from other coaches. I'm excited about going to KU."
In Releford, KU gets a scorer known for his ability to drive as well as hit the open jumper. He's regarded as a good passer and somebody who, because of his
ability to slide his feet, is a strong defender as well.
"I will try to do it all," Releford said. "Defend, score, rebound."
Goolsby believes that will happen.
"They (Jayhawks) are getting a winner,"Â Goolsby said. "He's a kid who loves to win. He plays hard. He's an all-around player, defensive, offensive. He's a good fit for KU."
ÂHis decision will please his mom, Venita, who has told recruiting writers that KU is where she'd like her son to go.
"She's happy about it. She'll be able to come to all the games,"Â said Releford. "I have a good relationship with the coaches, and she does as well. That's important to both of us."
Another set of individuals will be happy. That's KU's fans, always ready for good news in recruiting, especially when the roster needs major re-stocking.
"It'll be really exciting. Probably a whole lot of KU fans will come to our games next season," Releford said.
Notes: Releford averaged a tournament-high 22.3 points in last spring's Class 5A state tournament in which Miege placed third. ... Releford, who started his high school career at KC Central, had 27 points off 12-of-15 shooting in the third place game, a 78-53 win over Wichita Kapaun ... Releford is No. 66 rated player nationally by Rivals.com. He is No. 25 rated player by Scout.com.