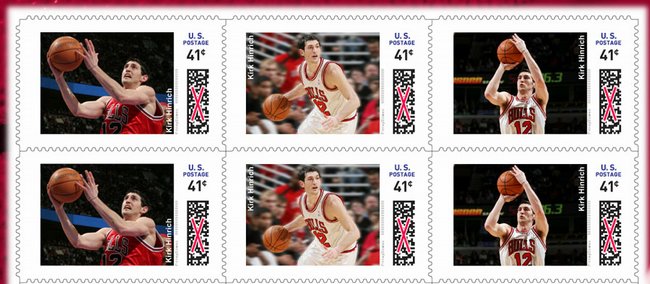 Jeff Lough is a Kansas University basketball fan and a stamp collector.
Leave it to the NBA to bring two of his hobbies together.
His interest piqued by an article in Linn's Stamp News - the world's largest weekly stamp newspaper - Lough purchased a sheet of legally valid postage stamps featuring Kansas University product Kirk Hinrich, now with the Chicago Bulls.
Only 20 players from five NBA teams are involved in the NBA postage collection series. KU is especially well represented; Boston captain Paul Pierce is one of five Celtics to get his own stamp.
"I have a lot of different avocations, and stamp collecting is one of them," said Lough, who lives in McPherson. "I saw a couple of articles and became interested since I happen to be a fan of KU basketball. It's really special to me, since I saw most of the games Hinrich played when he was in Lawrence. Paul Pierce, too, but I haven't bought one for Paul yet."
Folks like Lough are just who Pitney Bowes Inc. had in mind when it pitched the idea for launching the postage collections into an already crowded sports-memorabilia market.
"Our original idea was that this is a unique-enough collectible in that you don't just put it on a wall," said John Harmon, director of retail-channel development for Pitney Bowes. "You can put it on mail, too. The sender and receiver can have great emotional attachment to the images. It brings charm to mail you might not usually have."
In other words, while a sheet of the stamps make nice art, what better way to fly your team's flag than by slapping Hinrich or Pierce on your monthly car-payment envelope?
"It's interesting," Harmon said. "We thought initially this would be a collectible. But we've got 25 to 30 percent of our orders from logo stamps. We haven't offered a player (only) sheet yet, but we intend to. We think people will use this as postage, but the greater interest will be for people who want to buy this as a collectible."
Stamp of approval
The NBA postage collection was conceived in December, when Pitney Bowes pitched the idea to the NBA.
To gauge fan interest, the company produced a limited run of stamps commemorating the all-star game, and the response, Harmon said, was "overwhelmingly positive."
So Pitney Bowes, a Connecticut firm, starting shopping the product to the NBA teams in its area.
The Nets were interested, as were the Celtics.
In April, the teams offered the sheets - which feature 10 41-cent stamps; three each of three different player poses, plus a team logo stamp - online for $19.95.
"In the last couple of weeks of the season, we had great success, I must say," Harmon said. "First of all, we got very good fan interest. Almost overnight, they became the retail favorite in the retail stores, almost the leading seller in their stores."
Bolstered by that success but with the regular season winding down, Pitney Bowes decided to try the program with teams it figured to make the playoffs and approached the Mavericks, Bulls and Wizards.
"Unfortunately, those teams didn't advance past the second round, but we have a very positive response from each team," Harmon said. "Each team had a different fan response, accounting for the fervor of its fan base. The Mavericks just went gangbusters in sales, a little less for the other teams. But the overall response was very positive. A couple of players ordered their own postage. Instead of collecting, they wanted their own pictures on their postage. One player gave a framed poster to his mother for Mother's Day."
'There clearly is an appeal'
In accordance with NBA licensing rules, each team had to have at least three players represented.
"We asked each team to come up with the names," Harmon said. "Some teams picked just three. Some teams wanted the starting five. They also gave their advice on what they wanted to say on the copy and the images, so we worked closely together."
Harmon said Dallas star Dirk Nowitzki was the most popular stamp. Hinrich is the top-selling Bulls lick-and-stick; his sheet currently is on backorder at the Bulls' online store.
The success has caught the folks at Pitney Bowes a bit by surprise.
"It has generated a lot of great press, too," Harmon said. "Newspaper, TV morning shows : there clearly is an appeal here."
There certainly is with Lough.
Though he rates the stamp quality in the "lower to middle range," Lough admits he's pretty selective when it comes to stamps.
"I am pretty picky," he said. "The appearance as a stamp, to someone who has seen stamps from all over the world, isn't much. The U.S. doesn't have stamps as attractive as, say, France. But these are pretty cool. And as a KU alum and a longtime fan : they're pretty neat."