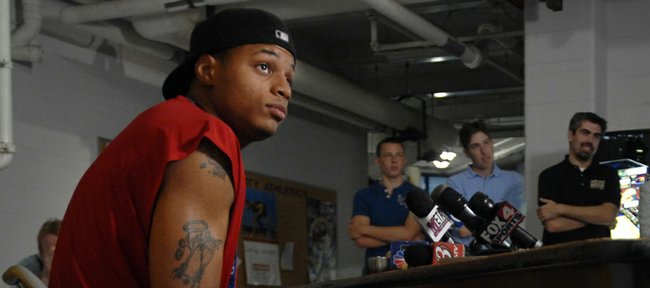 Brandon Rush pushed open a hallway door in the northwest corner of Allen Fieldhouse, and, after glancing to his right, shook his head in utter disbelief.
A whopping seven TV cameramen, as well as a batch of newspaper and radio reporters and print photographers had gathered to visit with Kansas University's junior shooting guard three months before the start of hoops season.
"I didn't expect this. I heard it'd be five or six people. I'm kind of shocked," Rush said.
After all, this wasn't a news conference called to announce any decision to enter the NBA Draft.
It was merely a meeting with media members who'd put in requests to see how Rush was progressing from his June 1 ACL surgery on his right knee.
"It's going well," Rush said of rehab, which includes exercise drills from 9 to 11 a.m., every day, followed by an hour of weights, 45 minutes on the stationary bike, rehab again at 1:30 p.m., with a final rehab session after an afternoon nap.
"We've got a new machine for ACL tears that really focuses on the quad muscles. After surgery I lost a little bit in my quad muscles and hamstring. I'm trying to build that back."
Rush awaits the day his knee is strong enough for him to take the next step in a process that'll have him on the basketball court "by Dec. 1 or a month ahead or behind either way."
"Friday will be the seventh week since I had surgery. At 12 weeks I can start running. " Rush said. "I'm really looking forward to that. I'm not patient at all in rehab. One day I started jumping. My trainer told me to slow it down so I don't hurt myself again."
Rush - he said he's actually lost 10 to 15 pounds of muscle rather than gaining weight during his period of inactivity - has felt more mental than physical anguish since tearing his ACL.
"I can't just sit down and watch a basketball game right now. I'm not depressed. I just can't watch it," Rush said, noting he'd only watched "clips" of NBA summer league action.
It's because he misses playing the game so much.
"I'm looking at dunking on somebody, getting back my hops," he said.
He did watch the live broadcast of the 2007 NBA Draft - a draft he'd planned on entering before coming down wrong on his right foot after making a layup.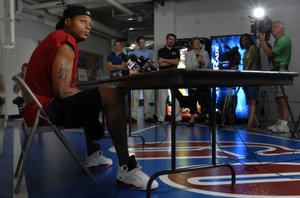 "I watched the whole thing (draft). It was a little bit tough. I had to look at it like, 'That's going to be me next year, I hope,'" Rush said.
"It was a crazy draft. I was pretty surprised at some of the picks.
"Mike Conley definitely caught my eye. I didn't think he'd go that high (No. 4 to Memphis). Al Thornton ... I didn't think he'd go that high (No. 14 to L.A. Clippers). Ronnie Stuckey. ... That was a surprise pick (No. 15, Detroit)."
He wasn't shocked KU's Julian Wright was tapped in the lottery by the New Orleans Hornets.
"Julian is amazing," Rush said. "He did well. He's moved into a house and bought his mom a house in New Orleans. He's living the life right now."
Rush believes that, like Wright, he'd have been selected in Round One.
"I probably would have fell in like the 20 spot, where Daequan Cook was," he said of the Ohio State freshman shooting guard, selected No. 21 by Philadelphia's 76ers.
"My name was in some of that conversation - being on the board with some of those guys. I had to sit there and think, 'I've got to wait another year or two.'"
Acknowledging he'd like to be part of the 2008 NBA Draft, Rush won't discount the possibility of returning to KU for his senior year.
"I can't say anything. I said that last year and ended up back here with a torn ACL. I'm not going to do that again," Rush said.
He admitted it had been tough to get fired up about heading to class his junior season after coming so close to being a wealthy NBA player.
"I had to go back and do all that stuff (enroll). I definitely don't want to go through it again, but I have no choice," Rush said.
His spirits are raised by thoughts of the upcoming season.
"The way we're looking now, we're still going to be very good even if I'm not ready for the first game," Rush said, indicating he's encouraged by incoming scholarship players Cole Aldrich and Tyrel Reed.
"I like Tyrel. He's a great player. I think he'll play a lot of minutes. He's the hardest worker on the team ... other than me, now," Rush said, with a grin.
Yes, Rush still is smiling, despite his current injury situation.
"Brandon is doing pretty good, actually really good," said sophomore forward Darrell Arthur, who is sidelined with a stress fracture. "He's staying positive. He's doing his treatments. He has a great attitude."
"His attitude is good," KU coach Bill Self said. "He's been very, very, very responsible and hard working with his rehab, to the point where the trainers are very pleased and pleasantly surprised with how much effort he's putting in. There's no poor-pitiful-me attitude at all."
That's in part because of support from coaches, players and family members.
"Coach Self told me to keep my head up, keep a good attitude," said Rush, who has used this time to spend dribbling a basketball with his weaker left hand, whether standing or in a chair. He's been energized by the fact "the pain has not been real bad, not bad at all, ever since the scar tissue was broken up.
"My teammates help me, especially my best friend Mario (Chalmers). He's always been there for me, tells me to keep my head up. Things happen for a reason," Rush continued. "That's what my grandmother always told me. There's a reason I'm back at KU."