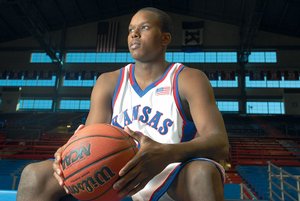 "And at guard, from New York, New York, No. 3, Russell Robinson!"
Kansas University basketball public address announcer Hank Booth always saves the best pre-game player introduction for last at Jayhawk home games.
In what has become a tradition, the long-time Lawrence radio personality with the booming voice bellows the first "New York" during Robinson's entrance, 16,300 fans the second, in one of the most creative displays of audience participation in college sports arenas today.
"I love that they do it. I appreciate it. It definitely gets me ready for every game," said Robinson, a 6-foot-1 junior guard from The Bronx, who has grown fond of the personalized 'intro.'
"I wouldn't call it goosebumps, but I have gotten very excited to the point I feel like crying, maybe. It's one of those 'happy tears' kind of things," he added, noting he's looking forward to hearing it again before today's 8 p.m. tip against Texas A&M; and more importantly, his parents experiencing it for the first time prior to the Texas game on March 3.
"It's good to be part of a new tradition. It's an honor for me for something like that to happen. I'm just thankful I've got something like that going on."
Robinson can't remember the exact game the fans started joining in with Booth, play-by-play announcer of Lawrence High football games the past several decades.
"There's been heavy emphasis on the 'New York' from the very beginning," Booth said of his impromptu introduction of Robinson, who started 32 games his sophomore year and 22 this season.
"When did the crowd start saying it? I'd say the start of the Big 12 season last year. I decided to lower my voice one game. They roared and I never had to say a second 'New York' again."
Audio clips
2006-07 Jan. 31 KU hoops presser
Booth said it's fitting the crowd does something special for Robinson, who coach Bill Self has called the "heart and soul" of the KU team.
"The classiest thing I ever heard from a player, and I've heard a lot of classy things, is when Russell Robinson made the comment he wouldn't 'get in it' with another player - he wouldn't argue with somebody (Iowa State's Curtis Stinson) because it would set a bad example for younger players. I thought it was impressive he realizes he has an influence on young people," Booth said.
Just as 16,300 who chant his hometown have an influence on him.
"I think this is the fans' way of showing their appreciation for me, so I don't take it for granted," Robinson said.
Many fans figured he would pack up and return to New York after a stormy freshman season in which, after a quick start, he scored just one point while playing mop-up minutes in KU's final 17 games.
"Hopefully I can hear it a lot more," Robinson said.
Robinson's teammates believe the former Rice High standout appreciates the attention.
"Russell is pretty quiet. He never has said anything about it, but you can tell it gets him pumped up," junior Jeremy Case said. "I think it's just because New York is a hard place to grow up. He relates to it. He's proud to be from there and to make it out of New York, I guess."
The soft-spoken Robinson, who usually leads by example, can't hide his enthusiasm during introductions.
Nor can his teammates.
"It's good that he's the last starter called. It's how it's been. We're used to it. It's how it should be. It would be kind of weird if he wasn't last," sophomore Julian Wright said. "He runs into the circle and gets all fired up. We know we can look to him for a spark. It's really nice.
"He's a big-city guy out here in Lawrence. He's become a good player out here. It's different, but he's made the adjustment and everybody respects that."
Bob Cousy Award finalist Robinson - he scored a career-high 24 points in an 83-73 win over the Aggies last January in College Station, Texas - figures to play a key role today if the No. 6 Jayhawks (19-3 overall, 6-1 Big 12) are to knock off No. 10 A&M; (18-3, 6-1).
He'll be matched against high-scoring point guard Acie Law, a 6-3 senior who averages 16.6 points and 4.9 assists compared to Robinson's 6.7 points and 4.6 assists.
"Acie is a great guard; a senior. He has nothing to lose. It's his last time in the fieldhouse," Robinson said. "I'm pretty sure he'll come out aggressive, his team as well."
Law has 98 assists to 55 turnovers; Robinson 101 assists, 40 bobbles.
"He's quick, their No. 1 option," Robinson said. "He has the green light (21 of 48 threes for 43.8 percent, compared to Robinson's 15 of 45 for 33.3). We've got to be ready."
If Booth's and the fans' vocal chords hold out ... rest assured Robinson will be ready.
"They have a great team, even better than last year. We have to come out with the right mindset and be ready to go," Robinson declared.