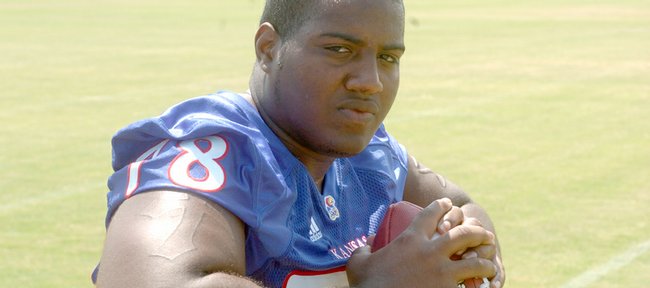 Anthony Collins generally is regarded as one of the Kansas University football team's top NFL prospects.
Not bad for a guy who played a different position a year ago, on the other side of the ball three years ago and with a different kind of ball altogether just over five years ago.
"A.C. came to us having only played one year of football," said KU offensive-line coach John Reagan. "What people don't realize is that even though he's a junior right now, this is only his fifth year of playing football. He was a basketball player. So the strides that he has made are very good. He's pushed himself and had some hard roads, but he's come through those."
Now there's an understatement.
Collins, a 6-foot-5, 310-pound junior from Beaumont, Texas, started all 12 games last season at right tackle and earned honorable mention to the All-Big 12 Conference team.
He moved to left tackle in the spring and was named preseason All-Big 12 this summer.
"That's nothing to me. Preseason, that's nothing to me," Collins said. "I'm waiting for after the season when the real polls come out to see what I did, to see what everybody thinks about me, to see how many wins we got, what bowl we going to and all that. I don't actually think it's an accomplishment until I actually make it, where my name is getting said on a Sunday and I'm getting paid for it and everything."
Looking ahead to the league is a recurring theme with Collins.
For instance, told his name would be uttered often during broadcasts this fall, despite the fact Collins plays on the offensive line, Collins cackled. "That's good. My momma needs to eat. My momma needs a new house."
Asked why he agreed to switch from right to left tackle, Collins shrugged.
"Coach Reagan keeps telling me it's better," he said. "I don't see no difference. They say in the league they make more money, so I like that better."
It wasn't a painless transition.
It's not uncommon for a team's biggest and best linemen to play left tackle. In theory, it provides more protection for a right-handed quarterback's blind side.
"As long as I'm protecting them, I'm fine," Collins said. "Ain't nobody hitting my quarterback."
The switch took some getting used to, though the degree is debatable.
"It was very hard," Collins insisted. "It was so hard, I didn't want to play. I told coach Reagan to keep me on the other side, but he said, 'No, keep working at it, keep working at it and you'll get better.'"
Told that version of events, Reagan chuckles.
"He just about quit? I think he's just having fun with you," Reagan said. "There's no technical difference. There's no mental difference. There's only a physical difference. Obviously, you're playing with a different foot back, and you're seeing things from a different aspect. But technically, you're still doing the same things. You're kick-sliding or power-stepping. The techniques are the same. You're just doing them with opposite feet, so it's more of an athletic difference."
Whether Collins seriously thought about giving up is in question, but there's no doubt he has settled into his new position.
"Spring and summer I had to learn, but by spring it was easy to me," he said. "It's real easy to me now. It's second nature. Once you put two or three months into it, everything's second nature. I was just used to doing the right-side plays - plays that go to the right - to the left side and left-side plays to the right. I was just backwards. But I got used to it and it's all good."
It's not the first time Collins was asked to move for the good of the team.
The first move - from defensive line, the position to which he was recruited and from which he once earned defensive scout-team player of the week during his red-shirt year - was more drastic.
"Every day everybody was telling me it's better for you on the offensive line because later on after you graduate from college, you can probably make some money for your family on the offensive line," he said. "Everybody was telling me I was too slow for the D-line, but I don't think I was too slow. I wasn't too slow. I miss hitting, but, whatever, it's been three years on the offensive line, and it's all good."
Collins is convinced the Jayhawks' offensive line is all good, too, despite the graduation loss of all three interior linemen. Tackles Collins and Cesar Rodriguez, with whom Collins is swapping spots, are the returning starters.
"We lost three good guards and centers last year. They were very, very smart," Collins said. "This year, we're way more athletic. We're hitting harder, we're faster. We're going to be better."
It's an assessment Collins said holds true of the whole team. No wonder he predicts nothing short of a double-digit win total.
"We can win 10 or 11," he said. "It's ridiculous how good we can be this year."