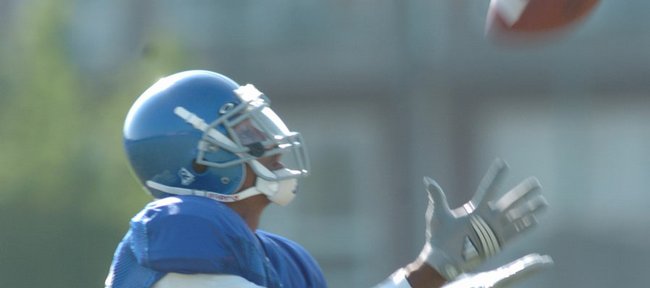 As the Kansas University football program's recruiting efforts advance to higher levels, signing ready-made athletes is becoming more commonplace each year.
Finding a future star, however, is more than just measurements.
For freshman wide receiver Dezmon Briscoe, it's his attitude that will put him on the field right away while others reluctantly red-shirt. At 6-foot-3 and 201 pounds, Briscoe physically is college-ready. What's putting him over the top, though, is a mindset that's way beyond his years.
"Aside from his physical presence and his physical skills he brings to the table, he's a competitor," KU offensive coordinator Ed Warinner said. "When you throw the ball up, there's a good chance he's going to come down with it. He's not the typical freshman that can be intimidated by older veteran guys. There's no fear factor of competing against our best players on defense, and we have some pretty good ones.
"That's what's impressive. The physical skills he has and the fact that he loves to compete. He has great hands, very good speed and just a big physical presence."
Briscoe has parlayed a big bang of a first impression into playing time - and a possible starting assignment - just a few months removed from Cedar Hill (Texas) High. It's significant, considering KU isn't short on big wideouts with 6-4 Marcus Henry, 6-3 Marcus Herford and 6-3 Raymond Brown all in the fold.
Even 6-3 true freshman John Wilson is a strong candidate to skip a red-shirt. Yet Briscoe is wowing enough of the right people to keep his name front and center.
"It's way different than high school," Briscoe said of the college game. "The tempo is faster. But other than that, I think I can come in and do my part."
Briscoe wasn't sure of himself just two months ago. When he moved to Lawrence from the Dallas suburbs, he went through a week of strength coach Chris Dawson's intense workouts and thought he was out of his league.
But the adjustment came quickly, and soon came a goal of getting up to 207 pounds to bring physicality with his height. He's just six pounds away and continues to work at it.
Briscoe has made the biggest splash among a talented group of true freshman receivers, which includes Wilson, Rell Lewis and Free State High graduate Ryan Murphy.
But Briscoe still realizes what's ahead of him. Watching players like Marcus Henry - who also skipped a red-shirt - is a reminder of where he could still go.
"He's really helped me out a lot with his releases off the line and his playmaking ability," Briscoe said. "He really reminds me of me."
Briscoe was part of a sensational state champion team at Cedar Hill, catching 37 balls for 707 yards and 11 touchdowns as a senior. He helped the Longhorns to a 16-0 record, though it was his good friend William Cole, the team's quarterback and now an Oklahoma State freshman, who got most of the headlines.
Still, Briscoe benefited greatly from his time at Cedar Hill. After picking Kansas over Boise State, Iowa, Missouri and Oklahoma State, he arrived in Lawrence, started getting used to the Jayhawks' offense and soon realized it was more familiar to him than he expected.
"They run a spread, and we ran a spread at Cedar Hill," Briscoe said. "With the coaches I had at Cedar Hill, they really helped get me to the next level."
The pleasant surprise is, he's already at that next level. KU coach Mark Mangino praises Briscoe's "tremendous football aptitude" while Warinner said "it wouldn't surprise me a bit" if the freshman played extensively this fall. At KU's most recent open practice, Briscoe was working with the first team alongside Henry and slot receiver Dexton Fields.
Whether he gets significant snaps Sept. 1 against Central Michigan or not, Briscoe considers himself a work in progress. While he's trying to steal playing time from them, Briscoe is watching the older guys around him and taking notes.
Notes he could be putting to use very soon.
"With them being veterans, they know the game way better," Briscoe said. "I can learn a lot from them."