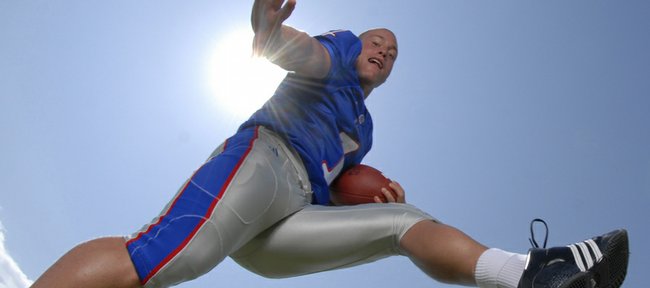 Let the Kansas University running-back battle begin.
No, not that battle, the one where the leading candidates to be The Man who gets all the touches are trying to catch the coaches' eyes.
No, this is about the other battle in the backfield, the escalating war of words that often arises when a group of guys so confident - and different - in their abilities on the field and so comfortable with their relationships off it tend to, well, pop off.
Brandon McAnderson fired the opening salvo.
Told that backfieldmate Jake Sharp described himself as a loner, McAnderson didn't bat an eye.
"He says he's a loner," McAnderson said. "I say he's a weirdo."
When word of that verbal scud made its way back to Sharp, he looked like he'd been smacked with a rolled-up newspaper.
"Who said that?" Sharp said, his eyes darting around the room. "B-Mac? B-Mac?"
Given a chance to riposte, Sharp thought for a minute before blurting out, "I can't really make fun of him. But I'll say this: He may look big with all his pads on, but if we were on the street walking by each other, he'd be afraid."
OK, in the smack talk department, Sharp brought a knife to a gunfight.
But in the battle to carry the load for the Jayhawks' running game, Sharp is considerably better armed.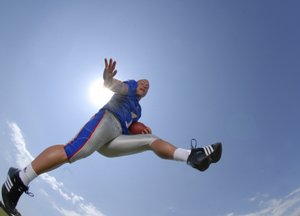 Sharp played in all 12 games as a true freshman, as a running back and on special teams. He had 21 carries for 129 yards, averaging 6.1 yards per carry serving as caddy for Jon Cornish. Sharp also had six catches for 73 yards.
Cornish, who set the school record for single-season yardage (1,457) is gone, leaving in his wake good depth but relative inexperience.
Maybe it comes as no surprise, then, that KU's coaches aren't yet ready to name Sharp as Cornish's heir apparent, and speak instead about running back by committee.
"Running back by whatever - as long as we're winning," said Sharp, a 5-foot-10, 195-pounder from Salina. "I'd like to be the starter. Everybody would like that. But whoever's out on the field being successful, that's going to be fine for all of us."
Sharp and McAnderson, a 6-foot, 235-pound fullback and elder statesman of the group, are the leading candidates. McAnderson rushed for 31 yards on 122 carries and is a wily veteran.
But Angus Quigley (6-2, 220, sophomore), Donte Bean (5-9, 190, red-shirt freshman) and Carmon Boyd-Anderson (6-1, 200, freshman) also could figure in the mix.
"Brandon is a definite bruiser," Sharp assessed. "Angus has speed, and he's a bruiser, too. He'll hit you with velocity and power. Donte Bean will stick you. And Carmon Boyd-Anderson's got the tools. He's smooth. So there's a running back for every type of situation."
And then there's Sharp, a quick, cut-on-a-dime type.
Though KU's coaches might prefer to have one back who has all those traits, they're happy to pick and choose, especially in the early going.
"You have to do whatever works with the personnel you have," said run-game coordinator John Reagan. "We have guys who can do certain things really, really well. But I think all those guys are versatile enough when it comes to game-planning you don't have to worry about people saying, 'This back's in, so they're going to do this.'"
One question that has dogged Sharp in particular concerns his durability.
Because of his relatively small stature, critics have wondered aloud if he can stand up to the grind of a full season.
It's a question Reagan doesn't even entertain.
"Where does that come from? It comes from you guys, the media," he said. "I have no concerns about Jake's size or his durability."
If high school is any indication, it won't be an issue.
Sharp rushed for 6,254 career yards - second most in Kansas State High School Activities Association history - and a state-record 63 touchdowns as Salina Central.
"Everybody's entitled to their opinion," Sharp said. "If people are doubting my abilities, I'll turn the other way and smile. People like to see people succeed, and people like to see people fail. I guess some people want to see us fail."
To put himself among the successes, Sharp worked hard in the offseason in the weight room, putting 15 pounds of lean muscle on his frame. He claims to have lost none of his quickness and, in fact, insists he's faster than before.
"It obviously helps me when I run into a 250-pound linebacker," Sharp said. "My head feels a lot better after the collision than when I weighed 180."