Russell Robinson, who was named the repeat winner of Kansas University's coveted "Mr. Jayhawk" Award at Tuesday's annual basketball banquet, will definitely be back for his senior season.
His return has never been in question.
The 600 fans who packed the Holiday Inn Holidome Convention Center for a chicken pasta meal will be happy to learn three of Robinson's teammates with uncertain futures also will be back on Mount Oread.
They are: Darrell Arthur and Mario Chalmers, who had been pondering a jump to the NBA, as well as Sherron Collins, who has been the subject of irresponsible Internet rumors that had him transferring to DePaul so he could be close to his newborn baby boy.
Those three players announced after the banquet they'd definitely be returning, while sophomore Brandon Rush reiterated what he told the Journal-World on Monday - that he was in no hurry to make a decision, but it "is still kind of open, though." He did indicate Tuesday if he does go pro, he would not hire an agent, thus keeping his options open of withdrawing by June 18.
First things first.
"One hundred percent I'll be back," sophomore combo guard Chalmers stated forcefully. "Me and coach did some looking into it. I think it'll be better for me to come back, have another great season and try to bring more to KU."
Chalmers added, "from what they were saying I'd have been first round (but) I really want to come back."
Arthur all season had been saying he'd "probably be back." On Tuesday the freshman pivot made it official.
"I'm coming back for sure," he said. "I wasn't really thinking about it. I was not thinking about going. My mind has been focused on school. I'll come in and work hard next year, have a good offseason, get in shape and try to do the best I can next year.
"With Julian (Wright) leaving, I guess I'll get some minutes at the 4-spot," he added. "'I'll do whatever I can to help the team."
"People (NBA officials) like 'Shady' a lot," KU coach Bill Self said. "But he's just a freshman. I can't say for sure where Mario would be picked. I don't know where he'd go exactly."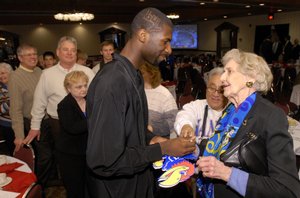 Collins, meanwhile, had been the victim of ill-informed Internet message board posters who insisted he was transferring to DePaul in his hometown of Chicago.
"This is for everybody. I don't know where it came from, but Sherron Collins will not be leaving Kansas. I'll be staying at Kansas throughout my whole career," Collins stated. "I couldn't be with a better group of guys. We'll be great next year."
Collins said assistant Kurtis Townsend asked him about the rumors Tuesday.
"I let him know I don't know where it came from. I said, 'Are you serious?''' said Collins, who also indicated his knee is 90 percent recovered from a severe case of patellar tendinitis. "To have a year like I had with these guys, to leave them, you've got to be crazy."
Self said Collins told him he had 700 messages on his 'Facebook' page dealing with the DePaul rumors.
"People come up with stuff all the time that's not even remotely close to true," Self said, lamenting those who print gossip on the Web.
Rush, meanwhile, has until April 29 to decide whether to enter the draft.
"I'll wait to see who is coming out, get a feel for it," Rush said, indicating his brother Kareem, who is playing overseas, and Self are helping advise him.
"I've got until the 29th. I will take as much time as I possibly can."
He said he probably would turn pro if he's guaranteed top-20 status.
"It doesn't have to be 20, it has to be in that range," he said. "The deeper you go in the first round, the better the team is (that picks you) and you won't get to play."
Asked what he'd do if he had to decide today, Rush said: "I don't know. I haven't given it much thought."
Will Wright's decision to leave influence him? "No, not at all," he indicated. "Julian is his own person and I'll back him, but not at all. I'm relaxing right now, but it'll come to the point I have to make a decision."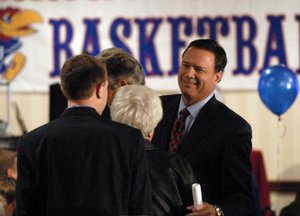 He was asked why he would come back.
"Just to go farther than we did last year. I think we have a great team whether I'll be back or not, but it'd be best for our whole team for us to be together."
Self had the attention of Rush and the crowd when he talked about next year.
"We're going to be good," Self said of the 2007-08 Jayhawks. "We've got another player (Rush) who has to make a decision. Whatever he does I'll be cool with. If you come back," he said to Rush, "I'll line up and play anybody, anywhere, 'cause we're going to be good."
Self said that was not meant to be a plea to Rush. He merely wanted to express optimism about next year, with his wife telling the coach she sensed fans being depressed about Wright's decision to leave.
"There's no full-court press (to keep Rush)," Self said. "If he does come back, we'll be as good as anybody."
¢Walk-on update: Self said he was not sure if sophomore walk-on Brad Witherspoon would return next season. "We have Conner Teahan, Matt (Kleinmann) and Brennan (Bechard)," he said of three walk-ons. "A lot depends (on roster size). I like him a lot, though."
¢Awards: The only award presented this year was the Mr. Jayhawk Award, which goes to the player who best exemplifies what it means to be a Jayhawk.
"I think individual awards are overrated. It's a team that all year long nobody cared who got the credit," Self said. "I didn't see why we should honor guys when everybody was so close in the categories."
Robinson would have been the runaway winner of the assists award, but several players were close in most categories. In fact, the academic award would have been a tie with Sasha Kaun and Matt Kleinmann both set to graduate next December with 3.2 grade point averages.
¢Recruiting update: A new name has emerged in the recruiting Class of 2007. Self last Sunday made a trip to Twin Falls, Idaho, to visit Brad Garrett, a 6-foot-5, 195-pound freshman guard from College of Southern Idaho.
Garrett, who averaged a team-leading 15.8 points and 5.8 rebounds per game for 30-7 Southern Idaho last season, visited Brigham Young last week. The St. George, Utah, native is headed to Oklahoma State this weekend and may make a trip to KU the following weekend. He's also considering Oregon and Southern California.
"Kansas is just one of the schools making a strong push," CSI coach Barrett Peery told rivals.com. "Brad is a bigger kid that can shoot the ball. He is a tremendous shooter. Actually, I would say Brad is a great shooter."