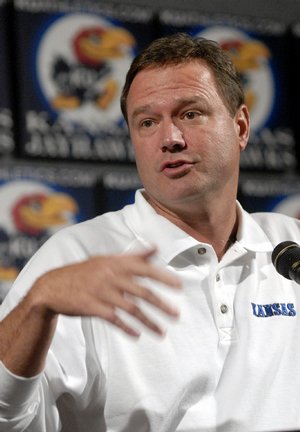 The NCAA's decision to strip Kansas University's men's basketball team of one scholarship for the 2007-08 and '08-09 school years took coach Bill Self by surprise.
"To be candid, we did not anticipate that would occur," Self said after learning booster Don Davis' providing benefits to players Darnell Jackson and J.R. Giddens - and three other boosters providing graduation gifts to departing seniors - resulted in KU's program being allotted 12 scholarships instead of 13 for the next two seasons.
The NCAA also reduced official paid recruiting visits by eight the next two years from the maximum 24. That penalty doesn't figure to impact the program, since Self has brought in just three visitors this year and will likely have the NCAA maximum of 12 campus visits available next recruiting season.
"Fortunately, I think we're in pretty good shape where that won't be a killer," Self said of the reduced roster, "though you never like to put yourself in a position you are at a disadvantage with anybody."
As far as the NCAA deeming it necessary to put KU at a disadvantage, he said: "We talked (after infractions hearing in August) that they may come back (with penalties). But based on how we handled the situation, based on how it was addressed, based on everything we did to correct it ... to be candid, we thought after nine games and repayment we did not feel we would be hit like this."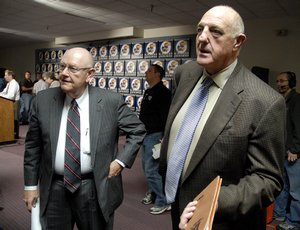 Indeed, after learning Davis provided $5,000 worth of benefits to Jackson, the Jayhawks informed the NCAA of the situation and at the start of last season promptly suspended the player nine games and forced Jackson to repay the money.
The NCAA felt additional penalties were in order, pointing out on its infractions report it was "particularly troubled" Davis drove Jackson to the 2004 Sweet 16 in St. Louis, where KU recruit Jackson and Davis received free tickets from the complimentary pass list of freshman Giddens.
Jackson should have paid for his ticket in accordance with NCAA rules.
It was legal for Giddens to leave Davis a ticket, but had KU monitored the pass list closer it might have been able to uncover Davis' relationship with Jackson and Giddens sooner than it did.
"Somehow that ball was dropped," Self said. "The way it was explained to us at the time (by compliance) is Darnell could be put on J.R.'s ticket list as long as Darnell paid for the ticket. Something happened he ended up getting the ticket comped.
"There was no violation with (Davis) being on the ticket list, but the NCAA feels if we had been monitoring it more consistently and saying, 'OK, I know it's legal for him to have a ticket but tell me about the relationship with this guy,' we may have found out sooner."
Self said monitoring the ticket list "is something we can do a better job of. I don't think the NCAA manual says X person has to monitor the ticket list and sign off on everybody. If we'd done that we might have caught it sooner."
Self said the athletic department won't second guess itself on not self-imposing any sanctions on men's basketball, trying to beat the NCAA to the punch.
"It was in our judgment if they decide to do something to us, they'll do it. Whatever we self-impose might take care of it, but it'd be comparable to what they will hit us with anyway. We talked about it. We didn't feel that was the percentage play," Self said.
As far as the loss of a scholarship, here's how it impacts next season, since Self has decided to not take the NCAA up on its offer to put off the penalty one season:
The oral commitment of Cole Aldrich currently leaves the Jayhawks at 13 players for 2007-08 with no seniors on the current roster. Self is hoping to add one more player, meaning KU would have to lose two players to the pros or transfer to be at 12.
Several Jayhawks are currently on the NBA's radar, including Brandon Rush, likely to leave after his this season.
"I don't think it affects us at all except we'll have 12 to go with instead of 13," Self said. "With the team we have on paper coming back, with the guys we have who could potentially not be back, we've been recruiting the whole time with the idea we could have multiple scholarships next year. The following year we have six seniors. On paper you would say it won't be that difficult to sign five instead of six. I think we'll have ample scholarships next year.
"There is less margin for error. All we have to do the next couple years is make sure instead of going 3-for-5 recruiting, let's go 3-for-4. That's what we have to focus on."
He said he will call recruits with a message.
"To explain exactly what this means because the ticker will say 'Kansas put on probation.' That will be the ticker on the bottom of ESPN," Self said.
"This means because of our indiscretions and lack of monitoring we screwed up. There also was a period of time at the university before we got here that this was even more magnified. We could have done better and we lose a scholarship. That's how it is and we'll lose eight visits over two years and there's no reason to say anything more than that because they (recruits) knew this could potentially happen."
¢ Davis reacts: Booster Don Davis provided the Journal-World with a statement:
"I was informed that my actions as a booster were in part or in whole the cause of these sanctions. I deeply regret any harm I have brought to the University of Kansas, the student-athletes involved or the fans. It is unfortunate that the ill-advised actions of a single person will negatively reflect on so many. I alone am responsible for my actions. I am proud of the University for taking quick and decisive action once this situation was brought to their attention."
¢ No penalty for Roy: Gene Marsh, chair of the infractions committee, said there was no thought of now penalizing former KU coach Roy Williams for approving small cash gifts to graduating seniors.
"There is testimony from the coach who said, 'I believe I checked with compliance (to see if graduating gifts were allowed). It's my understanding this is OK.' There are people in compliance who can't recall the call and so I would say that is more or less where we left it (with) some confusion," Marsh said. "Clearly the former coaches weren't the only ones who had some confusion whether those kind of gifts were permissible. It seems to be a belief that existed in the department among several people who knew that those gifts were being made until the new athletic director came on, spotted those (gift) cards about to go out, pulled them and said, 'What is this about?'"
Audio clip
NCAA Division I committee teleconference on KU's violations
Asked if the present coaching staff was at fault for any violations, Marsh added: "I don't think so, not that I can recall."
¢ Darnell's OK: Self said he is not upset at Jackson.
"Darnell served his penalty last year. I think Darnell will be fine. Nobody needs to jump on him about this. He paid his dues. We all feel bad we put ourselves in this position; we are all human too."
¢ Compliant: Self said his program doesn't "need a wake-up call about compliance at Kansas. I never have felt that way since I've been here. We have taken compliance very seriously since we've been here. Regardless of what you do you can always do more."