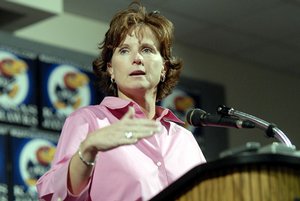 Kansas University's golden geese of football and men's basketball may have received more high-profile penalties, but the NCAA determined the school dealt women's basketball a harsh and unnecessary blow.
As part of KU's self-imposed sanctions, women's basketball lost two scholarships and one less assistant coach could recruit off-campus during the 2005-06 season.
According to the report from the NCAA Division-I Infractions Committee, women's basketball's penalties were deemed as "wholly disproportionate" to secondary infractions.
"Someone's going to perceive this as a misperception that we've treated men's basketball differently than women's basketball," said Overland Park attorney Rick Evrard, hired by KU to be its lead counsel. "The chancellor (Robert Hemenway) was very concerned about that."
Evrard said Marian Washington's coaching staff - perhaps on advice from their lawyers - did not willingly submit to follow-up interviews during the school's own investigation.
"They did not cooperate with our initial requests," Evrard said. "We finished the investigation with that type of information. We didn't have the full picture."
Without a full picture, athletic director Lew Perkins took the high road and made a determination that several violations must have occurred, according to Evrard. When the enforcement staff stepped in, individuals from the previous women's basketball staff agreed to be interviewed.
"At end of the road, when we finally got the cooperation of everyone, we learned there wasn't enough evidence to support violations," Evrard said.
As a result, KU submitted seven violations from Washington's tenure, but the infractions committee only found one illegality. A potential recruit received a car ride from Naismith Hall to a testing facility in Lawrence from an assistant coach.
"Since she was not eligible," KU women's basketball current coach Bonnie Henrickson said, "that's a violation."
Audio clip
NCAA Division I committee teleconference on KU's violations
Henrickson, however, said the self-imposed violations did not destroy the program. Having two assistants (instead of the normal three) able to recruit made for a dicey weekend in the spring. Perkins allowed Henrickson to charter a flight. Otherwise, she would have missed an entire tournament's slate of games.
"It handcuffed us a little bit," Henrickson said, "but didn't kill us."
The good news for women's basketball is that it already has taken its medicine and served its time.
"It's been an educational process for all of us." Henrickson said. "It's time to move on."