AUBURN HILLS, MICH. — There was nary a cloud in the sky in this Detroit suburb early Saturday morning as Kansas University's basketball players filed onto the team bus for the 15-minute drive to the Oakland, Mich., airport.
"Nah, I didn't get much sleep last night," said KU coach Bill Self, his eyes wide open when the sun came up in the East.
Self didn't spend the wee hours watching tape of No. 4-seeded KU's 77-73 first-round NCAA Tournament loss to No. 13 seed Bradley.
That can wait. KU's coach doesn't need the eye in the sky to tell him how his team played.
"Obviously, we played somewhat out of character," said Self, whose Jayhawks had looked extremely sharp in entering the NCAAs with 15 victories in their last 16 tries, including a 12-point victory over Texas in last week's Big 12 tournament finals.
"We did not do a good job of being disciplined on either end. We gave up easy baskets and got hurried up too much offensively.
"We have not played that poorly defensively all year," Self said after Bradley's players hit 11 of 21 three-pointers. "Even at Texas (in a 25-point loss Feb. 25), we were a lot better than we were last night. A lot is we got sped up. We didn't execute on either end, didn't play nearly as well as we had been."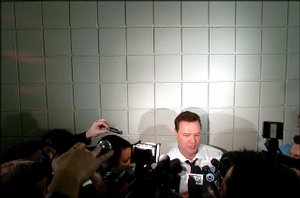 He said the most pivotal stretch was the end of the first half, when Bradley went on an 11-0 run and took a 10-point halftime lead.
"We know how to guard a ball screen and a lot of other things," Self said. "We didn't pressure as much because of foul problems, and depth becomes a factor with foul problems."
Though bitterly disappointed at the abrupt end to the season for a second straight year, Self was able to find a bright spot, mainly in the fact everybody but seniors Jeff Hawkins, Christian Moody and Stephen Vinson will be back next season.
"We return everybody," Self said. "I guess we had 11 points in the game last night (of graduating players). 'Hawk' had 11 and played very well. We'll miss 'Hawk,' Christian, Stephen and Mou (Moulaye Niang, student assistant), but will have everybody else back.
"We'll still be very young next year, still be much more a veteran team than this year. Brandon (Rush, Big 12 frosh of the year) said last night he's coming back. That'd be great, that'll be great."
Freshmen starters Rush, Mario Chalmers and Julian Wright will return as well as sophomore starters Russell Robinson and Sasha Kaun, plus key reserves C.J. Giles and Darnell Jackson. Also back will be sophs Jeremy Case, Rodrick Stewart and Matt Kleinmann.
"The good thing is, these guys have a chance to come back next year and try to make amends as much as we can," Self said.
Two newcomers join the program in Sherron Collins, a McDonald's All-America point guard out of Chicago, plus former Free State High standout combo guard Brady Morningstar. Self envisions both players being able to contribute immediately.
There's the possibility of adding others in recruiting.
"It'd be nice to get a big guy, that would be nice, and maybe a perimeter player. I don't know if we would do both," Self said. "We'll probably do one of two. I don't know (for sure)."
KU is in the mix for Darrell Arthur, a 6-9 McDonald's All-American out of Dallas' South Oak Cliff High who is considering KU, Baylor, SMU and Texas.
The returning players and incoming recruits are talented enough that KU should land a top-five national ranking to begin next season, sure to excite KU's legions of fans.
As far as those fans, Self was asked Saturday if there would be fallout with the team losing in the first round for a second straight year.
"Fans are fans," Self said. "I have said this many times, if I didn't expect there to be fallout when we don't perform well, I shouldn't have taken the job. One thing they should be, they should be proud of this team. They can be upset at the coach or whatever, but should be proud of this team. If they are not, they are not fans. If they are not proud of the team, they are not Kansas fans."
KU athletic director Lew Perkins said he was proud of the team's season.
"People will be very disappointed, as all of us are," he said. "One thing I've learned since we've been here, the people love the Jayhawks and will support their team."
Perkins gave support to Self on Saturday morning. "I think he's one of the best coaches in America, and I told him so this morning," Perkins said.
As far as the squad's other coaches, with a plethora of head-coaching jobs available throughout the country, there's always the chance full-time aides Joe Dooley, Tim Jankovich and/or Kurtis Townsend could move on.
"They are all good," Self said, "If one (job) becomes available they are interested in and feel they are a fit, I hope they have a chance to run their own program. As of now, there's not anything going on."
¢ Late-game blahs: Self refuses to make excuses, but admits he's not a fan of playing the late game on Friday during first-round action. KU lost to Bucknell last season in the late game on Friday and again fizzled at the late hour versus Bradley this season.
"We got 'em out of the hotel twice," Self said of finding things to do to make Friday pass as quickly as possible. "Bradley dealt with the same thing. They probably just handled it better than we did."
¢ Time off: Self said the players could return home if they wished for spring break.
"We'll get back, and they will go their own ways," Self said. "I imagine a lot will stay in town. They hadn't made plans yet to get home (hoping to advance in NCAAs). We won't practice. We could do individual improvement if we wanted."
Self didn't know what he'd do in coming days. "I have no idea," he said. He also said he "had no idea," when asked which of the surviving teams would emerge as 2006 national champion.