Dallas — The Jayhawks would probably rather forget their last meeting with Texas, which ended with Kansas leaving Austin, Texas with a 25-point whipping.
Instead the questions about UT's dominating 80-55 win over KU two weeks ago again will appear in the headlines as Kansas defeated the Cornhuskers for the sixth-straight time, 79-65, in Saturday's Big 12 Tournament semifinals to earn a 2 p.m. tourney title showdown against the conference's co-champions tomorrow at American Airlines Center.
"I don't think we played with the same energy we did last night, but we made shots," said KU coach Bill Self, whose No. 17 squad improved to 24-7 on the season and has won 14 of the last 15 games. "We did what we needed to do.
"I do think it's great that Texas and us get to play one more time and they certainly whipped us the first time, no excuses. We're going to have to play at a lot higher level than we did that time in order to have a chance to play with them."
The top-seeded Longhorns held off Texas A&M;, 74-70, in the first semifinal Saturday thanks in part to Big 12 Conference MVP P.J. Tucker's 26-point, 13-rebound performance.
"Playing Kansas would be fun because they are a great team," Tucker said.
KU players equally welcomed the rematch.
"Yeah, I think it could be a lot different," said Darnell Jackson, who recorded his first double-double when he scored 13 points and grabbed 10 rebounds. "This is going to be a good game tomorrow. Especially for me because when I went down there I was scared because it was a big game. I had the jitters and now tomorrow I am just going to have to play my game, rebound."
Jackson and the Jayhawks certainly did that Saturday, using hot three-point shooting in the first half to establish a comfortable lead after NU jumped out of the gates. The Cornhuskers, which trailed by as much as 21 with 13:46 to go, clawed back in the second half, but never seriously challenged the Jayhawks down the stretch as they never got closer than 12.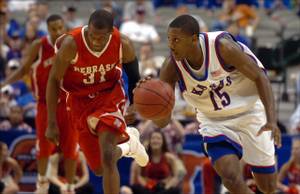 Mario Chalmers led four Kansas players in double digits with 18 points, while Russell Robinson and Jackson each scored 13 points. Jeff Hawkins tallied all 11 of his points in the first half as KU shot 52-percent (30-of-58) in its third victory over NU this season and picked up its 15th win over Nebraska in the last 16 meetings.
Robinson said getting back to the Tourney finals for the first time since 2002 was a big step.
"This is something that we have been looking forward to this whole season, and now we have the chance to go out tomorrow and play with a lot of intensity and do the things that we need to do to win," Robinson said.
Kansas won the first three Big 12 tournament titles from 1997-1999, but didn't get back to the championship game until 2002. This appearance means KU has made the finals five of the league's 10 years.
NU also had four players score in double figures, led by Jason Dourisseau's 16 points, while Wes Wilkinson scored 15. Aleks Maric added 12, while Marcus Perry tallied 10 as NU shot 37.5-percent for the game.
Related content
Kansas outrebounded Nebraska 38-30, and outscored the Cornhuskers 36-26 in the paint.
After the game reporters asked Nebraska coach Barry Collier, who led the Cornhuskers to a 19-13 record in his sixth season, if he believed he would be NU's coach next year.
"As far as I am concerned, I am the coach of Nebraska until I hear different," said Collier, whose team won only four of its last 11 games, but might have made enough run in the Big 12 Tourney with wins over Missouri in the first round, an then upsetting No. 22 Oklahoma in the quarterfinals to make the NIT
"I don't really have much more comment than that."
Second Half Action
Nebraska, much like it did at the start of the game, opened the scoring in the second half when Jason Dourisseau hit a jumper to cut the score to 10.
Sasha Kaun answered with a shot in the lane, but Aleks Maric scored inside.
NU's Wes Wilkinson picked up his fourth foul when he fouled Mario Chalmers on a fastbreak. Chalmers hit one charity for the 41-30 lead.
The KU freshman followed that with a drive to the lane to give him 16 points and KU a 13-point lead.
Russell Robinson hit a shot, then threw an alley-oop to Chalmers who missed, but Julian Wright was there for a putback that gave KU its largest lead at 47-30 with 16:10 to go.
Darnell Jackson converted a traditional three-point play with 15:17 to go to increase the Jayhawks largest lead to 50-32.
Robinson followed with a drive and a foul. The sophomore, who is sporting a bandage over his right eye after receiving seven stitches after Friday's quarterfinal win when he took an elbow from OSU guard JamesOn Curry, hit the free throw to increase KU's lead to 53-32.
NU's Marcus Perry hit a three from the right side after a couple of Cornhusker foul shots to cut the score to 53-38 with 12:16 to go.
Perry hit another triple as the Cornhuskers are on a 9-0 run to cut the score to 53-41.
Robinson stopped KU's short scoring drought with a drive in the lane.
Wilkinson hit a pair of free throws, but Robinson sliced back into the lane for a hoop and Jackson followed with a basket down low to increase KU's lead to 59-43.
Jackson hit a turnaround hook for the 18-point advantage with under 10 minutes to play.
Perry hit a basket for NU to cut the score to 61-48.
Rush scored his first point since a three early in the first half on a free throw. The KU freshman missed his second foul shot, but Jackson rebounded and threw down a two-hand dunk.
With the shot-clock at one, Robinson found Rush on the left wing and KU's leading scorer drilled a three.
Robinson then came up with a steal and elevated for a lay-up to move KU's lead up to 20 again, 69-49, with 6:25 remaining.
Dourisseau scored on a strong move inside for Nebraska.
Wilkinson blocked Kaun, but the KU big man got the ball and dunked it with one-hand.
Chalmers found Wright underneath the rim for a one-hand slam.
Wilkinson hit a three, but Rush came back down court for a soaring dunk in traffic to put KU up 75-58 with 3:41 to go.
KU wound some clock and Chalmers hit a jumper to give him 18 points and KU a 77-60 lead with just over two minutes to go.
Jackson grabbed his 10th rebound on the other end. The KU big man also has 13 points.
Robinson hit a pair of free throws with 1:39 to go, and Kansas emptied its bench as the Jayhawks are heading into tomorrow's finals for a rematch with Texas.
Kansas wins 79-65.
Halftime
Nebraska came out of the gates hot, taking a 5-0 lead, but KU responded with a 9-0 spurt.
The Jayhawks, which hit just 1-of-9 three-pointers in their win over Oklahoma State on Friday and started this game 1-of-5 from outside, hit four treys in a row to take a double digit lead.
But KU, which shot 46-percent from both the field and three-point range, went a little cold and NU clawed back in the contest with a 9-2 run at the end of the half.
Mario Chalmers leads Kansas with 13 points, while Jeff Hawkins, who has three three-pointers, has 11.
NU, which shot just 33-percent, was led by Wes Wilkinson's eight points.
First Half Action
Nebraska won the tip and Wes Wilkinson gave the Cornhuskers a 3-0 lead with a three-pointer from the right side.
Julian Wright misfired on KU's first possession and Wilkinson gave NU a 5-0 advantage on a drive to the lane.
Mario Chalmers scored Kansas' first points with a jumper from the right baseline.
Sasha Kaun missed a shot down low, but Russell Robinson, who is sporting a bandage over his right eye after getting seven stitches Friday night after taking an elbow from OSU guard JamesOn Curry, rebounded and scored.
Wright gave No. 18 KU its first lead when he threw down an alley-oop from Chalmers on a fastbreak.
Chalmers then pumped in a three from the left side for the 9-5 advantage.
Nebraska's Aleks Maric tied the game with a pair of free throws and Jason Dourisseau gave NU the lead again on a drive.
C.J. Giles tied the contest on a shot, then Darnell Jackson put KU ahead 13-11 with under 13 minutes to play with a lay-in.
Dourisseau tied the game with a pair of free throws with 11:40 to go in the first half.
Brandon Rush hit a three from the left corner for KU, while Marcus Perry hit a long jumper.
Jeff Hawkins added a trey and Chalmers responded with a three from the right side, while Wright had a free throw.
Hawkins added another long ball as the Jayhawks, who were just 1-of-9 yesterday from the three-point stripe and started today's game 1-of-5, have hit four three-pointers in a row. A 13-2 run gives Kansas a 26-15 lead.
The Jayhawks have scored 13 points off NU's nine turnovers.
Jamel White hit a floater from Nebraska, but Chalmers, who has 13 points, hit three free throws after he was fouled behind the arc, which put KU ahead 29-17.
Kaun hit a one-and-one and added the bonus charity to give Kansas its biggest lead at 31-17 with just over six minutes left.
Hawkins added his eighth points on a short jumper for the 33-22 lead after NU briefly cut into the Jayhawks' margin.
Charles Richardson Jr. came up with a steal and lay-up to make the score 33-26 with 3:30 to go in the half. Nebraska is on a 9-2 run over the last four minutes.
Jackson muscled in a basket down low for the 35-26 lead with 2:18 to go.
Hawkins hit his third three of the first half and sixth for the Jayhawks (6-of-13) in the final seconds to put KU up 38-26 at halftime at American Airlines Center.
Pregame
Kansas University's men's basketball team will try to make it six straight wins over sixth-seeded Nebraska today in a 3:20 p.m. Big 12 Tourney semifinal game at American Airlines Center.
"We played two of our best games of the year so far against them," said KU coach Bill Self, of his 23-7 squad that beat NU, 96-54, on Jan. 21 in Lawrence and 69-48, on Feb. 8, in Lincoln. "The first game we didn't play as well as the score indicated, but the second time we did play very well up there. You've got to contain (Wes) Wilkinson and (Jamel) White on the perimeter and keep (Aleks) Maric away from the glass. They are playing some great ball here in the tournament. They didn't play their best either time against us, so it'll be an interesting setup tomorrow."
The Cornhuskers, who have lost 14 of the last 15 meetings to KU, surprised No. 3 Oklahoma, 69-63, in the league tournament quarterfinals Friday.
Kansas advanced to the semis with a narrow victory over Oklahoma State in its Friday quarterfinal that featured a lot of blood, a near brawl, but in the end saw Kansas survive for its 10th-straight opening round game in Big 12 history with a 63-62 win over the Cowboys.
Sasha Kaun led the Jayhawks (23-7) with 16 points, while Mario Chalmers added 15 in a contest that saw Russell Robinson bleed profusely from a cut above his right eye and a near fight after OSU foward David Monds gave a hard shove to Jeff Hawkins in the second half.
"I think it was two teams that were playing real hard," KU coach Bill Self said afterwards. "Good game, not well played.
"We worked so hard for it and we have been through a lot of adversity this year with our local media and everything," said NU's Jason Dourisseau, who scored 10 points and grabbed 10 rebounds in NU's win. "It just feels great to get to this point, but we're not satisfied yet. That's one thing we're going to talk about tonight, we have got another one tomorrow."
A win over Nebraska would give the Jayhawks a rematch against Texas in the 2 p.m. championship game tomorrow on ESPN. The top-seeded Longhorns held off Texas A&M;, 74-70, in the first semifinal Saturday. UT, which tied KU as the co-champions of the Big 12 regular season with a 13-3 recorded, whipped Kansas by 25, 80-55, two weeks ago in Austin, Texas.
"Playing Kansas would be fun because they are a great team, but playing Nebraska would be good too because they gave us a pretty good game at home when we played them," said P.J. Tucker, who scored 26 points and grabbed 13 rebounds against the Aggies.
Dourisseau went on to say having already played the Jayhawks twice, he knows KU's young players offer a tough task for the Cornhuskers.
"They are a good team. They are young, but they are extremely talented, and we have another challenge ahead of us (today)," he said.
NU coach Barry Collier said his 19-12 team has plenty of motivation as it has been thumped both times against KU.
"The first game was a nightmare, and the second one was at least a bad dream," Collier said. "They've had their way with us, and they've had a very good team. I had them all over my ballot for postseason honors. It's a tough, tough matchup."
Kansas has won 13 of its last 14 games and is 20-3 since Dec. 10. KU came into the Big 12 Tourney scoring 75.3 points per game and giving up 60.4 for a +14.9 scoring margin, which ranks in the top 10 nationally. Kansas leads the nation in field goal percentage defense at 36.6 percent and its 17.9 assists per game are also in the top 10 nationally.
On Sunday, Brandon Rush was named the Phillips 66 Big 12 Rookie of the Week for the third time this season. He leads the Big 12 freshman class in scoring at 14.1 points per game - 13th overall in the league. Rush leads KU in rebounding and his six per game are 12th in the Big 12. He is also sixth in the Big 12 in field goal percentage at 49.5 percent.
Freshman Mario Chalmers leads the league in steals at 2.79 to go along with his 10.9 scoring average. Chalmers' 3.83 assists per contest are eighth in the league and his 78.1 free throw percentage is fourth. Freshman Julian Wright - 8.5 ppg and 4.5 rpg - has entered the starting lineup since Jan. 25. He is eighth in the Big 12 in blocked shots at 1.24 per game. Sophomore Sasha Kaun is another starter who is averaging eight points per game and shooting 57.6 percent from the field. Sophomore C.J. Giles leads the team in blocked shots with 1.59 per game - sixth in the Big 12.
After the OSU win Rush increased his season scoring total to 414 points to take over sole possession of second place on KU's freshman scoring list. Danny Manning holds the record with 496 points in 1985.
The Jayhawks used just eight players against Oklahoma State which was a season low. It marked just the third time of the season KU used less than 10. KU used only nine in the regular season finale at Kansas State and also against Saint Joseph's on Dec. 6.