It's an odd match - Jayhawk basketball, quilters and shoes for needy kids.
Last year, Barbara Brackman and the Kaw Valley Quilt Guild sold a shoe-motif quilt on the Internet auction site eBay, raising more than $1,000 for a fund that's used to buy new shoes for children in Douglas County.
For this year's fundraiser, Brackman combined the shoe-motif idea with fellow quilter Deb Rowden's love of Kansas University basketball.
"We thought it would make a sports collectible and quilt collectible," Brackman said.
They also decided to solicit autographs from former players and coaches.
"My daughter found a lot of their addresses on the Internet," Rowden said, "and then we sent them a piece of a quilt block and asked them to sign it."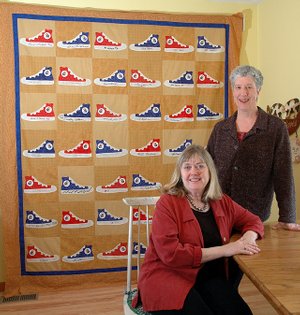 Since late January, 41 players and coaches have responded.
"We didn't hear back from most of the pros," Rowden said. "That's understandable, I guess. But we really wanted to hear from Scot Pollard; he's our favorite."
Wayne Simien found time to reply. Greg Ostertag did, too.
"We sent four to Chapel Hill (N.C.) and all four - Roy Williams, Dean Smith, C.B. McGrath and Jerod Hasse - came back signed," Rowden said.
A neighbor of Rowden's helped snare signatures from Danny Manning and Coach Bill Self.
NCAA regulations thwarted overtures to current players.
Max Falkenstien, the "voice of the Jayhawks" for the past 60 years, is expected to come through.
"I just talked to his wife today, she said it's coming," Rowden said Wednesday. "Everybody has asked about Max."
Plans call for putting the quilt on eBay at 6 p.m. today. Bids will be taken until 6 p.m. March 19.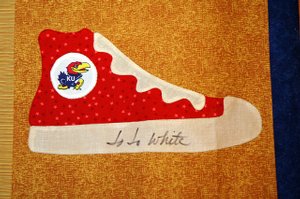 The quilt is 85 inches by 95 inches. "The background is a light tan," Rowden said. "It's meant to look like the floor in Allen Fieldhouse."
The Converse-style shoes are crimson and blue, each has a Jayhawk set in a white circle. The autographs run along the bottom of the shoes.
Proceeds from the sale will be donated to the Social Service League shoe fund.
Families are referred to the fund by teachers, social workers, school nurses and counselors. Parents are given vouchers for shoes at Payless ShoeSource, 3231 Iowa.
Last school year, the fund provided shoes for 95 children.
Autograph signers
Jayhawk players (and their senior years) who donated autographs for the quilt: Otto Schnellbacher, 1948; Jerry Waugh, 1951; Bill Hougland, 1952; Bill Lienhard, 1952; Clyde Lovellette, 1952; Dean Smith, 1953; Al Kelley, 1954; Monte Johnson, 1959; Lynn Kindred, 1959; Al Lopes, 1966; Jo Jo White, 1969; Bud Stallworth, 1972; Dale Greenlee, 1975; Roger Morningstar, 1975; Tommie Smith, 1975; Ken Koenigs, 1978; Donnie Von Moore, 1978; Paul Mokeski, 1979; Darnell Valentine, 1981; Jeff Dishman, 1983; Mark Ewing, 1983; Tad Boyle, 1985; Greg Dreiling, 1986; Mark Turgeon, 1987; Danny Manning, 1988; Milt Newton, 1989; Jeff Gueldner, 1990; Kevin Pritchard, 1990; Mike Maddox, 1991; Mark Randall, 1991; David Johanning, 1992; Rex Walters, 1993; Greg Ostertag, 1995; Jerod Haase, 1997; C.B. McGrath, 1998; Ryan Robertson, 1999; Brett Ballard, 2002; Jeff Boschee, 2002; and Wayne Simien, 2005.
Kansas coaches who donated autographs: Coach Roy Williams, 1988-2003, and Bill Self coach, 2003-present.