It doesn't matter if he's broadcasting in Big 12 arenas on the road or in his favorite basketball palace of all, Allen Fieldhouse.
Wherever Max Falkenstien has worked during this, his farewell season at Kansas University, the legendary radio announcer has been asked the same question over and over again.
"People say, 'Max, will you reconsider? A lot of others have changed their minds. Will you reconsider?''' Falkenstien said.
Though flattered by the heart-felt requests, the answer is always the same.
Nope.
Max Falkenstien's 60th season at KU will definitely be his last, tonight's KU-Colorado game the final home contest of his Hall of Fame career.
Why not stick around a tad bit longer?
"You feel you finally come to a point you should hang it up and let somebody else do it," Falkenstien said. "I'll miss it tremendously, but it's the right thing to do. It wouldn't be fair for the person who replaces me."
Actually, Falkenstien, 81, figures to be back in some capacity next season on the KU broadcasts, perhaps hosting a 'Max historical minute' or something of the sort.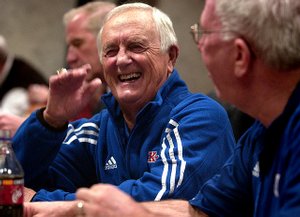 He'll have a lot to offer as a walking encyclopedia regarding KU sports.
"I was thinking about it the other day. I was astonished that I've broadcast every single men's game played in Allen Fieldhouse and then some," Falkenstien said, noting he's probably just missed a "handful or less" of road games because of illness in 60 seasons.
Falkenstien, who has worked with coaches Phog Allen - "we all called him 'Doc'" - as well as Dick Harp, Ted Owens, Larry Brown, Roy Williams and Bill Self, has covered oh so many of the tradition-rich program's standout athletes.
"People ask, 'Who is the greatest player you've seen at Kansas?' To dominate a game it would be Wilt. He was so huge," Falkenstien said of Wilt Chamberlain. "For skill, I'd go with Danny (Manning). He could rebound, score, pass. He made everybody better."
Photo Gallery
Max Falkenstien Retires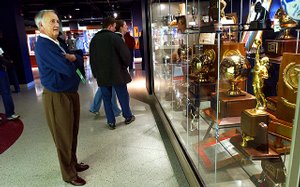 During his 60 years at KU, Max Falkenstien has become the 'Voice of the Jayhawks.'
As far as favorite games, of course he goes with the national title contests of 1952 and '88. But there are others, too.
"When we beat Indiana with Jacque Vaughn hitting a shot at the buzzer; shutting out Big Country (Oklahoma State's Bryant Reeves) at home to win the Big 12 championship; Archie Marshall's last-second shot (the injured player entering in the final minute to hoist a shot against Oklahoma State); Eddie Sutton walking over to KU's bench to congratulate Kirk (Hinrich) and Nick (Collison) on their Senior Day and when Wilt came back to get his jersey retired, those were some memorable games."
Falkenstien has had some unforgettable moments this season on his farewell tour of the Big 12. He received a standing ovation when introduced at Missouri.
"It was highly unexpected and touching," Falkenstien said. "I think they (fans) are astonished any idiot could do it 60 years good or bad.
"Eddie Sutton sending me a personal message at Stillwater two days after his (car) accident; Kelvin Sampson hand delivering a 'To the Max from your friends at Oklahoma' T-shirt; getting an autographed ball at A&M; Texas Tech sending a bottle of wine. Everybody has been so nice to me."
Tonight, the fans will be nice to Max. He'll be speaking to the crowd at halftime to what will undoubtedly be a thunderous ovation.
"It could be real long," Falkenstien said of his speech.
That would be fine with his partner, Bob Davis, who Falkenstien considers "a great friend. We have never had an argument in 22 years."
"We've had no arguments, but have had a lot of laughs," Davis said.
Ditto for KU coach Bill Self, who has worked with Max for three seasons.
"If you stop and think of all the lives he has touched along the way, people in western Kansas who have or have never seen Max but know his voice the first time they turn on the radio, it will be a great night for him," Self said. "I certainly hope our fans pay homage to him in a way that will make this go down as one of the most memorable nights of his life because he deserves it."
¢ This, that: KU has won 22 straight over the Buffs in Allen Fieldhouse. The Jayhawks have also won 22 straight final home games dating to the 1983 season. ... Overall, KU is 110-39 versus CU, including a 55-7 mark in Lawrence and 46-5 mark in Allen Fieldhouse. KU has won 33 of the last 34 in the series dating to 1991. ... KU defeated the Buffs, 75-63, on Jan. 11 in Boulder, Colo. Christian Moody exploded for 18 points off 8-of-11 shooting. Brandon Rush had 17 points. Chris Copeland had 22 points off 8-of-12 shooting and Richard Roby 15 off 6-of-18 marksmanship for the Buffs. KU held Roby to 1 of 6 three-point shooting. CU made nine threes in 22 tries, KU two of 13. ... The Buffs average a Big 12 best 79.5 ppg.