The "best walk-on in the history of college basketball" plays his last game in Allen Fieldhouse tonight.
Humble Kansas University power forward Christian Moody, who was given that tag during last year's Kentucky game by veteran CBS announcer Billy Packer, will bow out on Senior Night with Jeff Hawkins, Stephen Vinson and student assistant Moulaye Niang, who played three years at KU and is sitting out his final campaign because of a chronic back injury.
Tipoff for Kansas-Colorado is 7 tonight in Allen Fieldhouse, with a live telecast on channels 13 and 38 (Sunflower Broadband channels 13, 15) and a replay at 10:30 p.m. on Sunflower Broadband Channel 6.
"Billy Packer is a famous guy, and that's an honor for him to put those words together with my name next to it," said Moody, who tonight will make his 34th career start - not bad for a guy who arrived four years ago at KU as a lightly recruited non-scholarship player from Asheville, N.C. He's on scholarship this season, though.
"It's just an honor to have you ask me that and anybody to say that," added Moody, who, for the record, begs to differ that he tops the all-time walk-on list.
"There's been a lot of great walk-ons."
KU coach Bill Self, who started Moody next to Wayne Simien 25 games during the 2004-05 season, smiled widely when asked if Moody was the finest walk-on in college hoops history.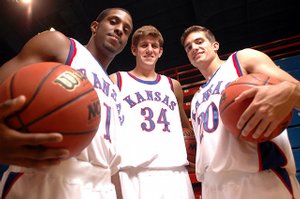 "I don't agree with Billy that often," Self said of Packer. "There are some walk-ons out there pretty good. Hornacek (Jeff, Iowa State) is pretty good.
"When you talk about a guy who goes somewhere with no anticipation of being a scholarship guy or being a starter or guy to impact a program, you'd have to put Christian right at the top of any list. I'd agree with Billy on that."
Coincidentally, Hawkins also arrived as a non-scholarship player. The guard, out of K.C. Sumner High, was on academic scholarship his first year because former KU coach Roy Williams wanted Hawkins to take a red shirt before earning a full ride.
He started the first 11 games of this season, holding down the fort until freshman Mario Chalmers was ready to enter the lineup.
"Here's a guy that comes in and has to play four years behind Aaron Miles," Self said of the Big 12's all-time assist leader. "'Hawk' has kept a positive attitude. I think he's going to leave here a much better man than how he entered the place. He's got personality, he's tough, and has a lot of things going for him."
Hawkins, who said he planned to talk to ESPN's Fran Fraschilla on how to best pursue a career as an announcer, said he wanted to be remembered "just as somebody who gave his all, worked hard and competed every game and practice and wanted to do everything he could to help his team win.
"I've enjoyed myself throughout all my years," Hawkins said. "Some years were tougher than others. This year was a fun year, especially coming in with a group of young guys, being here five years made me seem real old. Being around those guys kept me young. It's been a fun watching the young guys grow."
Niang, a center from Senegal, played a reserve role his first three seasons before deciding to become a student assistant this year. He believes he made the right decision to stop playing games and only occasionally work out with the team.
"I miss it a lot, because basketball is part of my life," Niang said. "But I could not play anymore. I still struggle with my back. Some days, I get up and can't put my shoes on. I can't imagine how it'd feel if I was playing."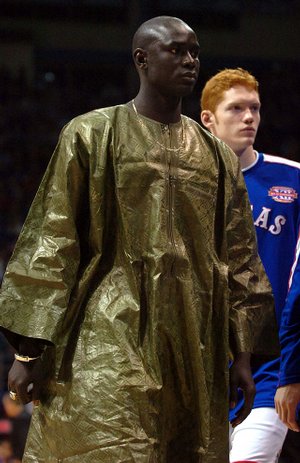 The 6-foot-11 Niang, who played high school ball in the San Diego area, said he had no regrets not attending a smaller school where he likely would have played more.
"If I had to do it all over again, I'd do the same thing," said Niang, who hopes to put his finance degree to good use in the future owning his own business. "It's the best choice I could have made. I've met a lot of different people here. There's life after basketball. That's more important to me than being leading scorer at Cal-State or San Diego State."
Niang said, "everything with Kansas basketball is unforgettable. Going to the Final Four my freshman year, winning Big 12 championships, everything is something you'll never forget. The whole college experience is something you'll never forget in your life."
Self said Niang, "will get into some form of business or sales. He's very people oriented. I think Moulaye will be counting his own or counting someone else's money. He'll do well with that."