Surrounded by applauding co-workers, Cathy Brittain inched her way up alongside Max Falkenstien, poked out her shoulder and opened a Jayhawk blue permanent marker.
"Um," she said. "Can I trouble you for an autograph?"
Falkenstien, Brittain's co-worker for nine years, offered a wide smile before marking Brittain's T-shirt with the signature that's appeared on loan documents, marketing plans and other financial papers since 1972, when he joined Douglas County Bank as a vice president.
"Anybody else want to get in on this deal?" he called out, drawing laughs from the dozens gathered in the bank's upstairs lobby at 300 W. Ninth St.
Tuesday morning's celebration - with tellers, accountants and bank officers all sporting "Thanks Max" T-shirts - was the latest in a monthslong string of events marking Falkenstien's 60-year tenure in the most high-profile of jobs, at least in Lawrence: radio color analyst for Kansas University football and basketball.
Falkenstien will call his last home game tonight, when KU takes the court at Allen Fieldhouse against the Colorado Buffaloes. He will sign off as the full-time "Voice of the Jayhawks" once the basketball season ends.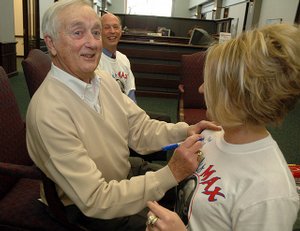 Tuesday's party, with cake and gifts, offered bank employees and officials a chance to congratulate the man who's done more than promote the bank's growth: first as an executive, then on a part-time basis for the last decade.
He's also regaled co-workers with stories, insights and unparalleled access to information about KU athletics and the athletes themselves.
Gina Baun, the bank's senior vice president for loan services, says she can't go to a bank conference without fielding questions about working with Falkenstien.
"Then they tell their stories, how they've listened to Max for years. 'I turn the TV down and listen to Max on the radio' - I can't tell you how many times I've heard that," she said. "It's just innumerable.
"He's a familiar voice in a time of uncertainty for a lot of people. He will be missed, but I hope we won't be missing him. I hope I'll still be seeing him around here for a long time."
Don't worry. Falkenstien says he'll be at the bank once a week.
"I need to have something to do," he said.