The University of Hawaii baseball team isn't about to overpower anybody in the Corvallis, Ore., NCAA regional.
The Rainbows belted a mere 15 home runs this season en route to a 43-win season and a runner-up finish in the Western Athletic Conference.
By contrast, Erik Morrison - who leads Kansas University, UH's first-round regional foe today - had 13 dings by himself, and KU has 68 as a team
Then again, the Rainbows (43-15) allowed just 18 round-trippers.
"Pitching and defense have been our strength," Hawaii coach Mike Trapasso said. "We're not a big, physical team. We play in a huge ballpark on Astroturf, so we have to be balanced as far as athleticism is concerned. We have pretty good team speed. We've done a nice job this year offensively just executing.
"We're not going to get in a slugfest with people. We rely on hitting the ball to all fields. And we have to pitch and play defense."
They've done that well enough.
Hawaii has team earned-run average of 3.61; KU's is 4.65.
The Rainbows have a fielding percentage of .973; Kansas' is .965.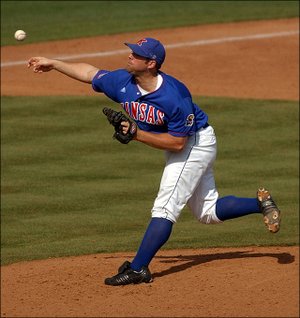 While UH has a team batting average of .296, KU's is .294.
Hawaii has stolen 65 bases to Kansas' 43.
Of course, the numbers won't mean much when the teams meet at 2 p.m. today, when Hawaii makes its first NCAA Tournament appearance since 1993 and KU its first since 1994.
The Rainbows have come a long way.
"When I got here, it was really akin to an expansion team," Trapasso, the Rainbows' fourth-year coach, said. "That first year, we played without any recruits. The previous staff hadn't signed a single guy. We went 16-40 that first year and we kind of dropped a bomb on the program. We had to start over."
UH followed a largely linear progression to the NCAAs.
The next step comes today, and therein lies Trapasso's biggest concern: that the Rainbows will see the NCAAs as the end rather than the means to an even more glorious end.
"For all of us coaches, the goal is to get into the postseason," Trapasso said. "You know that once you're there, your pride is in showing people your ability to compete. The reason you're in the postseason is because you're a good club. You want to continue playing. You want to go out and continue winning, continue doing what got you there in the first place.
"This is just the first stage, and I think the guys understand that. This has been a very stoic group as far as keeping things in perspective. When Hawaii flashed on the TV screen (during the selection show), we were excited, but then it was back to work."
More NCAA Baseball coverage
UH and Hawaii - and fourth-seeded Wright State, for that matter - have no recent NCAA Tournament experience on which to draw. Host OSU, on the other hand, played in last year's College World Series.
Like KU, Wright State hasn't been in the NCAA's since 1994.
"One nice thing about this regional," WSU coach Rob Cooper said, "is with the exception of Oregon State, unless somebody transferred, for every single one of the players for Kansas, Hawaii and us, it'll all be new to them. It's not like we're the only new team to the regional experience."