Bill Self, on a late-afternoon stroll Wednesday in Allen Fieldhouse, gazed at the building's four new national championship banners hanging high in the north rafters.
"They look great. It certainly does a much better job of paying honor to those respective teams," Self, Kansas University's men's basketball coach, said of the 1988, 1952, 1923 and 1922 title squads, now memorialized with 9-feet-by-13-feet banners situated under a new "Pay Heed, All Who Enter: Beware of the Phog" sign.
"I think it's certainly a big improvement, something to enhance the fieldhouse."
Also, new jersey retirement banners - which have added the years the players competed at KU and years broadcaster Max Falkenstien covered KU - have been hung in the south rafters.
The center rafters now have banners depicting KU's conference titles and Final Fours.
Also, a state of Kansas flag hangs with an American flag and KU flag in the south rafters.
"I know the administration is doing a good job of trying to do things to improve the building," Self said of the newly renovated fieldhouse.
"This is not a huge deal, but certainly one our fans will notice and recruits will notice. Fans will enjoy coming by and taking a look."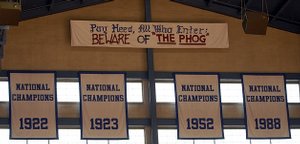 The New England Flag and Banner company was provided a picture of the original "Beware of the Phog" banner and was able to create a homemade look to that particular sign.
"We think the banners do a good job of accentuating the best of the history of Kansas basketball," KU associate athletic director Jim Marchiony said.
"I think the 'Phog' banner updates that banner, makes it easier to read, but also keeps the tradition of the banner. It's what we wanted to do in renovating the fieldhouse itself - make it fresh, but not change it."
Marchiony said he did not know what the athletic department would do with all the old banners, which currently are being stored in the building.
It's possible they could be sold or displayed somewhere in the Booth Family Hall of Athletics.
¢ Fans interfere with recruiting: The University of Kentucky has self-reported a secondary NCAA violation involving UK fans making posts on a recruit's MySpace.com Web page.
UK fans posted comments trying to entice Huntington, W.V., recruit Patrick Patterson to attend Kentucky. Rules prohibit fans from interacting with prospective players.
KU coach Self, like all coaches, is hoping his team's fans will not invade personal Web pages of prospects and commit violations.
"I think fans are great. They certainly want to help for the most part," Self said Wednesday. "They can show their support by supporting their program : by not actually talking to recruits or trying to have correspondence with them. That's totally out of the realm of what fans can do.
"I believe the biggest way fans can help recruit is be so supportive of the program that people can't help but notice that."
¢ More on schedule: KU will play rival Kansas State at 8 p.m., Feb. 19, in Manhattan as part of ESPN's Big Monday. The KU-KSU game at Allen Fieldhouse will be at 8 p.m., Feb. 7, on ESPN-Plus.
¢ Select A Seat week: Pencil in the week of Aug. 21 for the next Select A Seat program at Allen Fieldhouse in which ticket holders will either show up in person or call in to secure their seats for the 2006-07 season.
¢ Bulls-Sonics update: Williams Fund members have received ticket order forms for the Chicago Bulls-Seattle SuperSonics NBA exhibition set for Oct. 15 at Allen Fieldhouse. Prices will be $60, $50, $40 and $25 depending on the location, with parking pass going for $15. Remaining tickets will be put on sale at a date yet to be determined.