Texas' state motto was apparently wrong Saturday night.
Had there just been one Longhorn star, then No. 16 Kansas might have had a chance at the Erwin Center. Instead a quartet of Texas players led No. 7 UT to a lopsided 80-55 victory over Kansas and inching closer to its first Big 12 title in seven years.
"We got beat handily," said KU coach Bill Self, whose (20-7, 11-3 Big 12) squad saw its 10-game win streak end as well as share atop the Big 12 race disappear. "We lost tonight to a team that can win it all. We got off to a bad start. They were awesome."
Indeed the Longhorns shot 55-percent for the game, 61-percent in second half and hit 10-0f-20 three-pointers. UT nailed 16-of-18 free throws and outrebounded KU 36-19.
First it was too much LaMarcus Aldridge, who hit his first eight shots and finished 9-of-10 from the floor with 18 points, while grabbing eight rebounds.
Then KU got caught by surprise by UT guard A.J. Abrams, who hit four first-half three-pointers to keep the 'Horns in front when the Jayhawks were still in the game.
Finally it was P.J. Tucker and Brad Buckman who got in on the fun. Tucker scored 17 of his game-high 19 points in the second half, while grabbing eight boards, and Buckman added 12 for the Longhorns (24-4, 12-2 Big 12), who tied a school record for the most wins in a regular season.
Related Content
"We got a terrific effort from everyone," Texas coach Rick Barnes said. "But we know we've got another week left in the regular season."
After adding up all of Texas' accoclades, then factoring in KU's poor shooting or the fact that leading scorer Brandon Rush was limited to just three points, and what you get is Kansas' worst loss of the season.
"It surprised me," said Rush, who hit just 1-of-9 shots. "I was getting the shots I wanted, I just was missing them. I was getting frustrated, I just couldn't get myself into the game."
The Jayhawks, led once again by Julian Wright, who scored 18 points, took a 17-16 lead on a C.J. Giles jumper on the baseline and seemed to be right in the game despite the slow start.
Instead Texas closed the half with a 15-8 spurt to give the Longhorns all the lead it needed.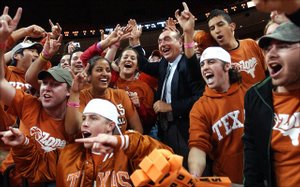 "The turning point was the way we finished the first half. I think that deflated us," Self said.
Abrams hit two of his four three-pointers and Aldridge tipped in a Tucker miss in the final second to send Texas into halftime leading 36-27.
"They were doubling P.J. I got some good looks on kickouts from him," said Abrams, whose production came as a surprise to Self.
"Aldridge, we knew he was going to score," Self said. "Abrams, we didn't count on him coming in and getting 12."
Then Tucker got going in the second half.
He hit his first shot off a drive, then fed Daniel Gibson, who also had a slow start, for a three-pointer.
Back-to-back KU turnovers, and a thunderous trailing putback dunk by Tucker, and another three by Gibson gave UT a 52-35 lead with 14:47 to go.
"If it was going to happen, it was probably good that it happened that way," Self said of the lopsided loss. "It was definitely an eye-opening exeperience."
But one that KU sophomore Russell Robinson said the Jayhawks can learn from.
"I think after a loss like this, there is no where to go but up," said Robinson of the Jayhawks, who will play Colorado on Senior Night on Wednesday. "We just have to use it as a lesson and don't let it carry over. Show some toughess and bounce back."
Second Half Action
Julian Wright committed a turnover on KU's first possession of the second half.
P.J. Tucker was fouled in the lane. The Longhorn hit two free throws to give Texas a 38-27 lead.
Danile Gibson picked up his third foul with 19:19 to go.
Sasha Kaun followed a Brandon Rush miss to make the score 38-29.
LaMarucs Aldridge scored his seventh basket in the lane, and Russell Robinson answered with a drive to the hoop.
Tucker scored off the glass.
Wright hit another jumper to give him 14 points.
Daniel Gibson hit his first basket of the game a three from the left side to put Texas up 12.
Wright committed KU's 10th turnover.
Aldridge hit a hook shot over Wright to put UT up 47-33.
Tucker followed a Paulino miss with a tip dunk.
Robinson scored on a drive.
But Gibson answered with another three to put UT up 52-35 with 14 and a half minutes to go.
Texas' Buckman scored in the lane and was fouled. The UT big man gave Texas its biggest lead at 55-35 with under 14 minutes to go.
Tucker was fouled by Wright, who picked up his fourth foul, on a drive. The Longhorn hit both free throws for the 22-point advantage.
With just over 11 minutes left, Brandon Rush scored his first points when he hit a three-pointer from the right side to cut the score to 59-43.
UT freshman Connor Atchley answered with a trey.
Tucker, who has 10 points in the second half, hit a pair of free throws.
Tucker added another jumper from the top of the circle to give UT its biggest lead of 23.
Wright banked in another shot.
Robinson scored and was fouled with 7:42 to go.
Buckman hit two free throws for the 68-48 lead.
Texas is outrebounding KU 30-17, and has hit 10 more free throws.
Aldridge missed his first shot of the night, but KU committed another turnover.
Chalmers scored on a lay-in.
Buckman hit a shot from the free-throw line to the 70-50 lead.
Wright hit a short jumper, and KU got a charging call against the Longhorns.
Tucker tipped in a ball, and came up with a steal and was rewarded with an alley-oop.
Aldridge added another basket for the 77-52 lead.
Halftime
Kansas expected Texas' LaMarcus Aldridge to have a big game, and he has so far, scoring 12 points on 6-of-6 shooting as the Longhorns hold a 36-27 halftime lead.
But the Jayhawks probably weren't expecting UT to get a dozen points out of guard A.J. Abrams, who has hit four of UT's six three-pointers.
"He's been good all year," UT coach Rick Barnes said of Abrams.
Kansas probably also didn't think leading scorer Brandon Rush would be scoreless at the break.
Julian Wright has kept KU close, tallying 12 points of his own, while C.J. Giles added six.
KU's struggled shooting, hitting just 1-of-8 threes and 11-of-28 field goals. Texas outrebounded KU 20-12.
First Half Action
Kansas won the long tip when Brandon Rush dove for a loose ball. The Jayhawks took an early 2-0 lead when Julian Wright knocked down a jumper at the free-throw line.
Texas missed a long three, and Wright came back with another basket off a leaning drive.
LaMarcus Aldridge drilled a turnaround baseline shot to cut the score in half.
The Jayhawks committed the game's first turnover.
Texas took advantage when Brad Buckman drilled a three.
Mario Chalmers responded with a long jumper and KU got a steal on a fastbreak, but a turnover led to an alley-oop to P.J. Tucker as the Longhorns took a 7-6 lead.
Aldridge added a tip dunk for Texas.
Sasha Kaun scored on a quick turnaround and Chalmers came up with a quick steal but couldn't convert.
Kenton Paulino hit a pair of free throws to put UT up 11-8 with 15:38 to go in the first half.
KU committed its third turnover. Gibson missed a three, but A.J. Abrams hit a long ball for UT.
Jeff Hawkins missed a three, but KU kept possession. Darnell Jackson had a jumper in the lane blocked.
C.J. Giles scored down low off a lob by Russell Robinson to cut the score to 14-10.
Aldridge hit another jumper, while Rush misfired on a shot.
Giles scored a short shot over Buckman.
Texas committed its second straight turnover.
But Hawkins couldn't connect on a three-pointer from the right side.
Texas' Abrams threw the ball away.
Chalmers hit KU's first three to close within one, 16-15 with just under 11 minutes to go.
Tucker missed a shot, but UT had several second chances before throwing the ball away again.
Giles hit a long baseline jumper to give the Jayhawks the lead.
Buckman gave the lead back to the Longhorns with two free throws.
Abrams hit his second three to put Texas up four.
Hawkins missed his third three-point attempt.
Wright threw down a big alley-oop from Robinson to cut the score to 21-19 with a little more than seven minutes to go in the half.
Paulino drilled a trey from the right side.
Wright answered with a spin move and a shot in the lane that bounced in.
Abrams hit his third three and fifth triple for Texas as the Longhorns lead by six.
KU didn't get a shot off on a shot-clock violation.
Aldridge scored on an easy lay-in for the eight-point lead. Texas is hitting 56-percent overall and 5-of-9 three-pointers.
Texas has outrebounded KU 15-7.
Robinson missed a three from the top of the circle.
UT's Tucker was whistled for traveling. KU is just 10-of-23 from the field.
Robinson was fouled on the way to the hoop. Robinson hit KU's first free-throw attempt. The KU sophomore hit both to cut the score to 29-23 with three and a half minutes to go in the half.
Aldridge burried a shot over Giles to give him 10 points, and UT a 31-23 lead.
Wright missed a shot, Buckman got the rebound, fell down, but signaled a timeout.
Abrams pulled-up and hit his fourth three of the game to put the Longhorns up 11, 34-23.
Wright hit a shot in the lane to give him 10 points.
Tucker missed a turnaround shot to KU the ball with under a minute to play.
Robinson missed a one-and-one, got his own rebound. Wright was fouled on his way to the hoop. The KU freshman hit both to cut KU's deficit to 34-27 with 10 seconds to go.
Aldridge tipped in a basket before the buzzer to put UT 36-27.
Kansas started forwards Sasha Kaun, Julian Wright, and Brandon Rush, and guards Mario Chalmers, and Russell Robinson.
Texas countered with forwards LaMarcus Aldridge, Brad Buckman, and P.J. Tucker, and guards Daniel Gibson, and Kenton Paulino.
Pregame
Tonight two teams will walk into the Erwin Center in Austin, Texas as co-leaders atop the conference standings -- but only one team with leave with the Big 12 lead.
"I think it will be a fun game. It's on College GameDay, so a lot of people will be watching. I came to college to play against top competition, to play in games like this," said KU's Brandon Rush.
"It's going to be unbelievable. You live for games like this," Texas junior forward P.J. Tucker said.
Indeed tonight's 8 p.m. Kansas-Texas showdown pits the top two Big 12 teams tied with an 11-2 record against one another, with the winner likely taking a big step ahead in the conference race as each team still has two games to go.
"It's fair to say the winner has a serious leg up on the other team," KU coach Bill Self said. "No doubt the winner of this game ... if you are able to win a home game you are guaranteed at least a piece of it (title). There's not much margin of error coming back from a mistake or blip in the road.
"This is the last five minutes of the game, and certainly anything can happen."
After its 76-61 win against Baylor Tuesday, Kansas' 10-game winning streak is tied for the fourth longest in the nation. The No. 16/18 Jayhawks (20-6, 11-2) are 17-2 since Dec. 10, average 76.5 points per game and are giving up 60.2 ppg. Kansas leads the nation in field goal percentage defense at 36.3 percent and the Big 12 in assists at 18.23 per game.
Brandon Rush continues to lead the Big 12 freshman class in scoring with his 14.2 average, good for 12th in the conference. Rush is making 51.1 percent of his field goals, including 51.4 percent of his three-pointers. He also leads KU in rebounding at 6.1 per game - 12th in the league.
Freshman Mario Chalmers is next in scoring at 10.7 ppg and is tied for the Big 12 lead in steals with Iowa State's Curtis Stinson at 2.62 per game. Chalmers and sophomore Russell Robinson are tied for seventh in the league in assists with 3.96 per game as both have 103 dimes.
Robinson is KU's third-leading scorer at 8.7 followed by sophomore Sasha Kaun at 8.5 ppg. Kaun's 5.7 rebounds per game are 15th in the league and he is making 58.4 percent of his field goals. Sophomore C.J. Giles leads the team in blocked shots with 42, followed by freshman Julian Wright's 35.
Wright has started the last nine games, is making 56.2 percent of his field goals and is averaging 8.3 points per game. Off the bench, Kansas features sophomore forward Darnell Jackson (7.1 ppg, 5.2 rpg) and senior guard Jeff Hawkins (4.8 ppg, 2.5 apg). Kansas has nine players who average 13.6 minutes or more.
No. 7 Texas is coming off a 65-64 win at Kansas State Wednesday. The Longhorns (23-4, 11-2) lead the Big 12 in scoring defense (59.8), scoring margin (17.9) and three-point field goal percentage defense (31.6).
"They're good," Self said of the Longhorns despite their close contest with Kansas State, a game that followed an 80-61 loss at Oklahoma State. "Any road win is a good win in this league.
"Every team goes through phases where they don't play as well, especially away from home. We've had numerous games like that. They found a way to win against K-State. It's one of those games you go 'whew' and get ready for Saturday. I don't think either team's recent performances will be much of a bearing Saturday. We played terrible against Baylor. We were flat (in Tuesday's 15-point win)."
Junior forward P.J. Tucker leads the team in scoring at 16.3 ppg, seventh in the Big 12. His 9.2 rebounds per game are second in the conference behind sophomore teammate LaMarcus Aldridge's league-leading 9.3 rpg. Aldridge also leads the Big 12 in field goal percentage at 59.7 percent and his 15.9 scoring average is ninth in the conference.
Sophomore guard Daniel Gibson is 13th in the league in scoring at 14.1 ppg and he leads the team in three-pointers made with 76. Senior Brad Buckman is scoring 10.7 points per game and his seven rebounds per outing are eighth in the conference. Senior Kenton Paulino leads the Longhorns with 92 assists to go along with his 9.8 scoring average.
Kansas leads the overall series with Texas, 11-4, yet the Jayhawks hold a slim 4-3 advantage in the last seven meetings dating back to 2000. The series dates back to 1938 when the teams played back-to-back games on Dec. 16 and 17 in Austin.
Two seasons later they did it again in Lawrence on Dec. 9 and 10. The series is 3-3 in games played in Austin, including a 2-1 UT record against Kansas in the Erwin Center. Last season, No. 6 Kansas defeated No. 13 Texas, 90-65, in Lawrence behind a 27-point effort from Wayne Simien. To show KU's youth, four current Jayhawks scored a combined 16 points in that game.
"In the past few weeks, they very well could be the best team in the league," UT coach Rick Barnes said of the Jayhawks. "An extremely talented team, great defensive team. Their schedule, our schedule. There are no easy games in February, believe me."