No free throws were needed this time.
In fact, by the time that Kansas' Christian Moody -- the Jayhawks' goat, who missed two game-winning free throws in MU's improbable come-from-behind overtime victory in Columbia, Mo., last month -- checked into Round No. 2 of the Border Showdown Saturday at Allen Fieldhouse, the contest was all but over.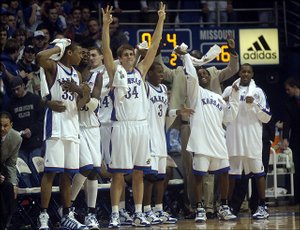 The 22nd-ranked Jayhawks pounded the Tigers 79-46 in a payback game that delighted almost all of the 16,300 fans in the Fieldhouse, especially former Kansas stars Kirk Hinrich and Wayne Simien, who were in attendance because of the NBA's All-Star weekend.
"I don't think they were prepared for today, because we knew in our heads that we were going to kill them," KU's Brandon Rush said.
The Jayhawks (19-6 overall, 10-2 Big 12) pretty much did just that in stretching their season-best win streak to nine games. Kansas jumped out to a 16-2 start, and were ahead 21-4 10 minutes into the contest.
Missouri, which was outrebounded 19-6 the first 20 minutes and trailed 42-23 at halftime, did little to get itself back into the game in the second half after missing 17 straight field goals over a 15-minute span.
Related Content
"I didn't think it would be this easy, but things were just falling our way," continued Rush, who said that some trashing talking by the Tigers after the first game gave the Jayhawks plenty of extra motivation.
Not that KU ever needed it as 11 Jayhawks scored on their way to their most lopsided margin of victory in the rivalry since 1986. Mario Chalmers led the way Saturday scoring 14 points. Rush added 13, while Russell Robinson chipped in 10, Jeff Hawkins hit three three-pointer for nine points and Julian Wright scored eight points and grabbed six rebounds.
"It was a pretty good day for the Jayhawks," said KU coach Bill Self, whose squad has a game against Baylor on Tuesday before a potential Big 12 title showdown with Texas next Saturday."
Missouri (11-12, 4-8 Big 12), which after its win over Kansas on Jan. 16 has lost seven-of-eight contest, shot just 32-percent for the game. The Tigers were again led by Thomas Gardner, but the MU star had no where close to the kind of 40-point performance he had in Columbia as he and guard Jimmy McKinney each tallied 15 points.
McKinney said afterwards that the Tigers, who have lost seven straight in Lawrence, were not going to use Quin Snyder's quitting as an excuse.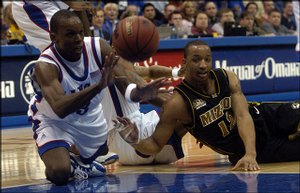 "We are all grown men and it's not an excuse for us to have the effort we had and not to play the basketball we have been practicing," he said. "It's been a tough week -- it's been a tough year. You have those times in life."
Second Half Action
Missouri came out after the break and got on the scoreboared first when Jimmy McKinney knocked down a three-pointer to cut KU's lead to 42-26.
But Mario Chalmers, who started the game with a three, answered with a triple as each team has five three-pointers.
Julian Wright blew by Marshall Brown for a lay-in to give the Jayhawks their biggest lead of the day at 21.
Wright added a nice over-his-shoulder lay-in for the 49-26 lead.
Brandon Rush cut into the lane for a lay-in to put KU ahead 51-36, the Jayhawks' biggest lead of the game.
Missouri has missed seven straight shots as the Tigers have not scored in 4:48 seconds.
C.J. Giles hit a long jumper to put KU up 53-26.
MU ended its scoring drought when McKinney hit the Tigers' first free throw of the game. McKinney hit both with 13:40 left.
Chalmers' hit his third three-pointer of the game.
Giles hit a turnaround to put KU up by 30 with 12:15 to go.
Chalmers hit his fourth three of the game from up top.
With 10:36 to go, KU senior Christian Moody checked in for the first time.
Moody got in on the action with a pass from Giles that he threw down with a one-hand dunk.
Chalmers scored on an unconstested lay-up for the 65-30 lead with 8:32 to go.
While MU is just 1-of-17 from the field in the second half, KU continues to hit on all cylinders as Robinson knocked down a three to put KU up 68-34.
Marshall Brown finally ended the Tigers shooting troubles, knocking down a three with 4:35 to go. Brown's basket was just the second MU field goal of the second half.
Darnell Jackson added a pair of free throws to put KU up 72-40 with 2:10 to go.
McKinney scored on a drive for MU.
Case hit a pair of free throws for the 74-42 lead.
Jackson scored on a lay-in. Stephen Vinson hit a three to put KU up 79-46 as 11 Jayhawks have scored.
Halftime
Kansas players certainly must have had revenge on their minds.
The Jayhawks jumped out to a 16-2 start over Missouri and increased their lead to 21-4 10 minutes in.
KU, led by Brandon Rush's 11 points, shot 57-percent. Jeff Hawkins hit three threes for nine points, and Russell Robinson scored seven.
MU, led by Thomas Gardner's nine points, committed 15 turnovers.
KU outrebounded MU 19-6 and outscored the Tigers 18-4 in the paint, and 15-0 on second chance points.
First Half Action
Kansas won the tip and got on the scoreboard first when KU freshman Mario Chalmers hit a long three-pointer from the top of the circle.
Russell Robinson found freshman Julian Wright under the basket for an easy dunk.
After MU's second straight turnover, KU's other freshman, Brandon Rush, hit a short jumper to put the Jayhawks up 7-0.
Jason Horton finally got the Tigers on the scoreboard with a putback, but Rush answered the other way with another shot for the 9-2 lead with 15:45.
Missouri already has five turnovers in the first five minutes.
A short hook shot by Sasha Kaun put KU up 11-2.
Wright made another good pass and hit a streaking Robinson for an easy lay-in.
MU had a three-second call to give the Tigers seven turnovers.
MU has had 11 possessions, but just one field goal. Thomas Gardner missed his only field goal so far on a deep three-point attempt.
The Tigers had another turnover as Robinson came up with a loose ball.
Gardner missed a baseline jumper, and KU's Jeff Hawkins answered with a three-pointer from the right corner to put KU up 16-2.
Kevin Young ended MU's long drought.
Rush nailed a pull-up jumper off the dribble, came up with the loose ball and knocked down a three on the left side to put Kansas up 21-4 with 10:39 to play.
C.J. Giles added a big block and Hawkins came down and nailed a three.
MU's Jimmy McKinney answered with a long ball for the Tigers.
With 8:41 to go, McKinney was called for his third foul on an offensive push.
Horton hit a shot in the lane to make the score 24-11.
Robinson answered with a floater in the lane.
Wright threw down a big dunk off another MU turnover.
Rush went into the lane and hit a shot shot to put Kansas up 30-11. Rush has 11 points of his own.
With 5:08 to go in the half, Gardner got his first basket of the day, hitting a three on the right side.
Robinson was bumped, but got the ball back and scored on a putback.
Gardner came back down and hit another three.
Robinson missed the first free throw of the ball game with 4:20 to go, but hit his second charity.
Wright came up with a big block to erase a Missouri lay-up.
Gardner hit another long three to cut the score to 37-20 with under two minutes to go in the half, and Horton came back and knocked down another trey with 1:12 to go.
Rush missed a three, but got his own rebound and hit Hawkins who knocked down a three. KU has outscored MU 15-0 on second chance points.
Case came down on KU's next possession and hit a long jumper to give KU a 42-23 advantage at halftime.
Pregame
Kansas University's basketball team is about as hot as anyone in the nation with its eight-game win streak, but today in Allen Fieldhouse a young Jayhawk team has to be thinking a little about revenge.
After all it was the rival Missouri Tigers that handed KU (18-6, 9-2 Big 12) one of its two conference losses with an improbable 89-86 overtime victory last month in Columbia, Mo., after KU choked away a seven-point lead with 39 seconds to go.
No one felt worse about the setback than KU senior Christian Moody, who missed a pair of free throws that would have won the game at the end of regulation.
"I'd love that opportunity,' Moody said of another shot to step up to the free-throw line. "I think about them every time I step up to the line. "I shot four free throws the other day (making three at Oklahoma State) : when I shot them, I was thinking, 'I've got to get better at this in case I'm ever in that situation again."
It's unlikely that Moody would be in that situation today consider what has happened to both teams since their first meeting.
Kansas has won eight straight to move itself into sole possession of second place in the Big 12 standings. Meanwhile the Tigers have lost six of seven and have been shadowed in controversey after the Tigers coach Quin Snyder quit last week.
"I think it'll be a tough game," said KU freshman Brandon Rush. "They are a wounded animal now, so they'll come out fighting. It was tough to play there, and this game will be tough, too."
Missouri snapped a six-game losing streak with a 74-71 win against Kansas State last Saturday. The Tigers have lost four straight road games and are 1-7 away from Mizzou Arena this season.
Junior guard Thomas Gardner leads the Big 12 in scoring at 19.8 points per game. He also leads the league in three-point field goals made with 3.41 per contest. Senior guard Jimmy McKinney is next in scoring at 12.6 points, good for 19th in the conference. He leads the team in free throw percentage as well at 80 percent.
And KU coach Bill Self said he certainly won't forget Gardner's 40-point game in the win over the Jayhawks.
"We've got to guard Gardner this time," Self said. "The last time he only got about three or four good looks that he made. Other times we were right there. He played unbelievably well."
Senior center Kevin Young's 7.6 rebounds per game are fourth in the Big 12 and he also leads MU with 18 blocked shots this season. Sophomore guard Jason Horton paces the team in assists at 4.48 per game - fourth in the league - and steals with a 1.71 average - ninth in the Big 12. Missouri averages 67.9 points per game and is giving up 70.1. The Tigers are celebrating their 100th year of men's basketball in 2005-06.
One of the hottest teams in the nation, No. 22 Kansas has won a season-high eight straight games since losing at Missouri, 89-86, in overtime on Jan. 16. More impressive is that the Jayhawks are 15-2 in their last 17 games dating back to Dec. 10. On Monday, KU climbed into the national polls for the first time this season.
Rookie guard Brandon Rush has led the Big 12 freshman class in scoring all season and continues the trend with a 14.3 scoring average, 13th overall in the league. In conference games, Rush's 16.2 points per game rank ninth. Rush also leads KU and is 13th in the Big 12 in rebounding at 6.2 rpg.
On Monday, freshman guard Mario Chalmers became only the second freshman in Big 12 history to be named the Phillips 66 Big 12 Player of the Week. Chalmers is averaging 10.7 points per game and leads the conference in steals at 2.67 per outing. His team-leading 4.13 assists per game are fifth in the league, just ahead of sophomore teammate Russell Robinson's 3.75, which ranks eighth in the conference.
Robinson is scoring 8.6 points per game. Sophomore Sasha Kaun leads the team in field goal percentage at 57.6 to go along with his 8.8 points per game. He is second on the team in rebounding with a 5.8 average, which is 14th in the Big 12. Kansas leads the nation in field goal percentage defense at 36.2 percent and also leads the conference in assists at 18 per game. The Jayhawks are outscoring foes 76.4 to 60.8.
Kansas leads the all-time series with Missouri, 161-93. KU has won four of the last six meetings and nine of the past 12 match ups with MU. Missouri has won the last two meetings (both in Columbia) including 89-86 overtime victory on Jan. 16. Kansas is 81-33 against Missouri in Lawrence and 35-14 in Allen Fieldhouse. KU has won the last six matchups with Missouri in Allen Fieldhouse. Since the inception of the Big 12, KU holds a 14-8 series advantage - 12-7 in regular-season play and 2-1 in the conference championship. Today will mark the 33rd KU-MU game with one or both of the teams ranked. The Jayhawks lost the first-ever meeting with Missouri, 34-31, on March 11, 1907, in Lawrence.