Kansas players called it a statement.
KU coach Bill Self had a slightly different sentiment.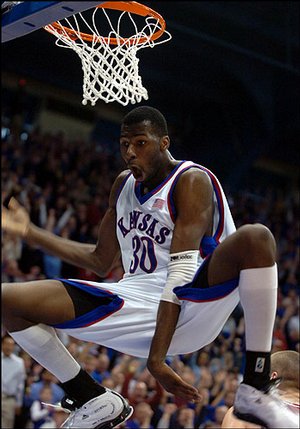 No matter what the tagline, the Jayhawks' 59-58 come-from-behind victory over No. 18 Oklahoma Sooners on Sunday in Allen Fieldhouse offered a new chapter to a season that seems to be just getting started as a young Kansas team finally won a close game.
"It was a great comeback," said Self, whose 15-6 squad has won 12 of its last 14 games and with Sunday's win and an ISU victory over Colorado moved into second place in the Big 12 standings behind Texas with a 6-2 conference mark.
"We played terrible. OU made us play bad, they totally dominated us for 32 minutes," continued Self. "But we played about as well as we can play obviously on both ends of the court the last eight, eight and a half minutes."
Indeed the Jayhawks, which trailed OU 50-34 with 10:22 to go, closed the contest with a 25-8 run -- taking the lead for good when Mario Chalmers hit a runner in the lane with 19 seconds left.
"People on ESPN have been talking; 'Kansas can't win in the close games,'" Chalmers said. "Hopefully, they will get off our backs a little bit. I think we earned a lot of respect by beating one of the toughest teams in the league."
The improbable comeback once again signaled that OU coach Kelvin Sampson cannot steal a victory in the Fielhouse.
"This one is hard to handle because we outplayed them for a long time. They outplayed us in the last six minutes," said Sampson -- who hasn't defeat KU in Lawrence in his 12 seasons, and whose Sooners haven't won at the Fieldhouse since a 80-77 victory on Feb. 17, 1993.
But Oklahoma, which carried a five-game win streak into Lawrence and had beaten KU three of the four previous meetings, seemed to have the victory locked up after going on a 16-4 run early in the second half.
However, Sampson said the Sooners' undoing came down the stretch after a media timeout at the 7:43 mark -- just after OU's David Godbold hit a three to put his team up by 15.
"In the stretch we had three turnovers in four possessions and that's when you get the crowd into it," he said. "We had the crowd out of the game. And then on the offensive end, we had four balls that hung on the rim that did not go in. We just could not handle their crowd."
Self agreed, saying KU faithful made the difference.
"We just told them one possession at a time, there's no 10-point plays out there. We told them the crowd would get into it if we made any run whatsoever," Self said.
Brandon Rush -- who scored 12 of his game-high 18 points in the second half, and was bothered much of the day after getting poked in the eye by OU's Terrell Everett -- knocked down a three.
Rush followed with a lay-up, then C.J. Giles, who was shooting just 43-percent on the season from the charity stripe, hit two big free throws.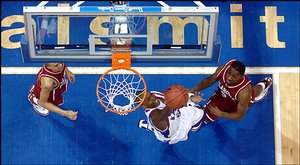 Giles added three blocks and altered several shots in the second half.
"It gives me a lot more confidence about working hard and focusing more on the defensive aspects more than the offensive," Giles said.
KU kept up its hot spurt with a dunk by Julian Wright, who scored 14 points and grabbed eight rebounds, and a lay-up by Chalmers, who had 10 points but also had just four assists to eight turnovers, which cut the score to 53-49 with a timeout at 4:49.
Wright gave Kansas its first lead of the second half with 53 seconds left.
But Sooner Michael Neal hit a three with 26 seconds left to put OU back in front.
Self thought about calling a timeout, but instead allowed Chalmers to charge OU's defense bedore it got completely set and he hit the runner.
"Mario had as rought of an outing as he has had since the Cal game," Self said. "And who makes the shot at the end of the game, Mario Chalmers."
OU had three chances in the final 20 seconds, but the Sooners came up empty on all three shots.
Everett, who led the Sooners with 14 points, while Wichita native Taj Gray scored 13 points and added 12 rebounds, was blocked by Rush on a shot at the top of the key. The OU guard got the ball back but misfired again.
Rush skied for the rebound, but as soon as he came down Neal grabbed for the ball, tying him up and keeping the possession with Oklahoma with 1.6 seconds left.
KU fouled Gray away from the basket, having one foul to give and taking .06 seconds off the clock.
On its final opportunity, OU's Neal missed a long jumper from the right wing that would have won it.
"Anytime Michael Neal is open we get him the ball because when he shoots the ball we feel like it's going in," said OU senior Kevin Bookout, who added 11 points and eight rebounds.
KU's NCAA-best defense limited OU to 34.8-percent, but the nation's top rebounding Sooners claimed a 44-34 advantge on the glass. But Self said the bottom line was that teams have to learn how to win when things don't work out.
"It's got to do wonders for the confidence. The thing about it is as a coach you would rather play good all the time and win, but you know that you're not going to so you have to find a way to win ugly," Self said. "And these guys found a way to win ugly."
Second Half Action
KU's Julian Wright scored the first basket of the second half on a lay-in to cut OU's lead to 29-28.
Austin Johnson scored his first basket on a three from the left side to keep the Sooners in front 32-28.
After Brandon Rush missed an uncontested lay-up, Wright made sure he didn't -- throwing down a big lob from Russell Robinson to cut the contest to cut the score to 34-30 with 15:52 to go.
OU's Michael Neal was fouled on a three-point attempt and hit all three to put the Sooners ahead by seven.
Everett scored again in the lane to match the Sooners' biggest lead at nine.
Rush scored on a reverse and was fouled. The KU freshman missed the free throw, but Hawkins' shot was blocked and OU got the ball back.
Everett nailed a jumper from the key to go up by nine again, but KU's Darnell Jackson gave Kansas its first bench points on a lay-in.
Neal nailed a midrange jumper from the right sideline.
David Godbold hit a pair of free throws to give OU its largest lead at 45-34 as the Sooners are on a 11-4 run.
Austin Johnson hit a leaner for the 13-point margin by OU.
Gray hit a free throw for the 48-34 score with 11:20 to play.
Gray added another basket on a monster tip dunk to put the Sooners up by 16.
Jeremy Case has missed back-to-back three-point attempts as Kansas has missed all nine of its attempts.
Rush finally broke the drought with a long ball at the top of the key with nine and half minutes to go.
Robinson added a free throw to cut the score to 50-38.
OU's David Godbold hit a three to extend the Sooners' lead to 53-38 with under eight minutes to go.
Rush hit a three to cut KU's deficit to a dozen then the KU freshmen got a steal and a lay-up to cut the lead to 10 with 6:24 to go.
C.J. Giles hit a pair of free throws and Wright threw down a thunderous dunk as KU is on a 9-0 run.
Chalmers responded with a finger roll to cut KU's deficit to 53-49 with under five minutes to go.
Giles had a monster block on Gray and Robinson followed with a steal and layup to cut the contest to two.
Everett fired up a off-balance shot that didn't hit the rim and resulted in a shot clock violation.
Rush responded with a jumper to tie the contest at 53 with under three minutes to go. KU came all the way back from 16 points down with a 15-0 run.
Bookout scored easily in the lane to put OU up.
Wright followed his own shot with a putback to tie.
Wright followed a missed lay-in with a tip-dunk with 53 seconds left to give Kansas its first lead of the second half.
Gray missed a shot, but Neal hit a three with 26 seconds left.
Chalmers came right back with a shot in the lane with 19 seconds to give Kansas a 59-58 lead.
Rush blocked Everett's shot, but the OU guard fired up another shot that missed. Rush got the rebound but referees ruled a tie-up to give OU possession with 1.6 left on the clock.
Giles fouled Gray to take six-tenths off the clock.
Neal missed a long jumper and KU held on for the improbable win.
Halftime

The first half offered a game of runs between Kansas and Oklahoma.
While the Jayhawks bounced back from a nearly double-digit deficit with a 10-0 run, OU's Taj Gray hit the last two baskets of the half to put the Sooners up 29-26.
Gray and Terrell Everett each have 10 points for OU, which shot 43.3-percent from the field.
Sasha Kaun led KU with seven points while Mario Chalmers and Brandon Rush each added six for the Jayhawks, which shot 40.7-percent.
Oklahoma outrebounded Kansas 20-13, but had two more turnovers, 9-7.
First Half Action
Kansas, which has won seven straight over the Sooners in Allen Fieldhouse, won the tip, but couldn't score as Russell Robinson missed a shot down low.
OU's David Godbold knocked down a jumper for the game's first score.
Robinson missed a putback off a jumper by Julian Wright, but Sasha Kaun got a rebound, putback and was fouled. His free throw put KU up 3-2.
Taj Gray put Oklahoma back on top. The senior from Wichita, got a steal but turned the ball back over the other way.
Kaun came back with a short jump hook for the lead.
Terrell Everett knocked down a three from the left side to give OU the 7-5 lead.

A ball bounced off Kaun's hands and right into the arms of Brandon Rush, who easily scored to tie the contest at 7-all.
Gray got a tip-in off a missed tip by Kevin Bookout, as Everett missed a long shot as the shot clock expired.
KU committed its fifth early turnover.
Gray scored on another tip-in for the 11-7 lead.
Kansas followed with another turnover.
OU's Michael Neal nailed a three to double up Kansas.
Everett fueled OU's 9-0 run in the last 2:44 with a lay-up that put Oklahoma ahead nine.
The Sooners have hit 7-of-15 shots, while Kansas is just 3-of-10.
Mario Chalmers scored on a drive and was fouled. The KU freshman's free throw cut OU's lead to 16-10.
But Everett followed with his second three of the game to extend the lead back to nine.
Robinson hit a free throw to make the score 19-11 with 8:14 to go.
Julian Wright knocked down a midrange jumper to cut OU's lead to six.
Chalmers cut the contest to three, off a three-point play when he hung in the air to hit an off-balance jumper, then followed with a free throw.
With 5:13 left in the half, Kaun threw down a big dunk that got the crowd back involve and KU to within one, 19-18.
KU is on an 8-0 run over the last 3:44.
Kansas took back the lead on a three-quarter's court pass from Jeff Hawkins to Rush, who finished the play with a reverse lay-in.
OU, which hasn't score in the last seven minutes, committed its eighth turnover.
But Everett put the Sooners back on top on a drive.
Gray found Bookout for an easy bucket.
KU's Wright followed with another jumper.
Bookout added a follow, as did Robinson at the other end.
Wright threw a fancy no-look pass to Rush to put KU up 26-25 with a minute left in the half.
Gray hit another turnaround shot to give him eight points.
Gray added a steal and dunk for the 29-26 halftime lead.
Kansas started the lineup it's been sticking with lately in forwards Sasha Kaun, Julian Wright, and Brandon Rush and guards Mario Chalmers and Russell Robinson.
Oklahoma counterd with big men Kevin Bookout and Taj Gray, and David Godbold, Austin Johnson, and Terrell Everett.
Pregame
The Super Bowl might be later today, but it might be hard to convince a packed Allen Fieldhouse that the annual football extravaganza will be bigger than the Kansas-Oklahoma game.
"It's definitely a big game when it comes to the standings," KU senior forward Christian Moody said. "It's between two teams that match up well. It will come down to defense and toughness and rebounding. The big guys will have to bring a mindset that every ball is ours when it comes to rebounding."
Kansas is 11-2 in its last 13 games after its 86-52 win against Texas Tech on Monday. The Jayhawks (14-6, 5-2) have won four straight games - all in Big 12 play - by an average of 24 points (90 to 66).
KU ranks first nationally in field goal percentage defense at 35.8 percent and has made 50 percent or better from the field each of its last five games. The Jayhawks also lead the league in assists with 18.5 per game. Kansas averages 77.7 points on the season and 82.3 in Big 12 play.
Brandon Rush has led the Big 12 freshmen class in scoring all season, currently at 14.6 points per game. Rush has taken over the team lead in rebounds as well with six boards per game. He is also the team leader in three-point field goals made (31) and three-point field goal percentage at 52.5 percent.
Fellow freshman Mario Chalmers is next in scoring at 9.5 points per game. He is second in the Big 12 in steals with 2.65 per game and his 4.1 assists per game lead KU and are among the top 10 in the conference. Sophomore Sasha Kaun is next in scoring at 9.2 ppg and sophomore Russell Robinson is next at 8.9. Sophomore Darnell Jackson is scoring 8.3 points per game and is second on the team in rebound average at 5.9. Kaun is at 5.8 rebounds per contest.
After losing its first two Big 12 games of the season, Oklahoma has rattled off five straight wins including victories over then-No. 4 Texas (82-72) Jan. 28 and Texas A&M; (71-63) last Wednesday. The Sooners (14-4, 5-2) lead the Big 12 in rebound margin at +12.1. OU opponents are averaging just 25.9 rebounds per contest.
Preseason Big 12 Player of the Year Taj Gray leads the team in scoring at 15.1 points per game - 12th in the Big 12 - and rebounding at 7.8 rpg - fourth in the league. The senior also leads OU in field goal percentage at 60.8 - third in the conference - and blocked shots with 25.
Senior Terrell Everett is next in scoring at 12.1 points per game and he leads the team in assists at 6.33 - second in the league - and steals with 30. Senior Kevin Bookout is next in scoring at 11.8 ppg and is second on the team in rebounding at 7.3 rpg. Junior Michael Neal is also averaging double figures with 11.3 points per game.
"This weekend in Lawrence will be a challenge," said OU coach Kelvin Sampson. "This is the time of year you really want to be playing better. This Kansas team is playing much better right now (than earlier in the season). This could be the toughest game we've played so far."
While KU coach Bill Self wouldn't say if today's Big 12 showdown was bigger than the game later tonight, he said that the Super Bowl certainly would not be a distraction.
"We've actually done this before. At Oral Roberts we played (and defeated) Sacramento State," Self said. "We had 137 people at the game. I think there will be more people here Sunday."