Truth be told, the Kansas University football offense never will be known as the B Mac Attack.
As long as big-play back Jon Cornish is available in the backfield, as long as Angus Quigley and ballyhooed newcomer Jake Sharp are there to push Cornish and as long as for-real gunslinger Kerry Meier is around to put the ball in the air, Brandon McAnderson is bound just to be another bullet in the gun.
But darned if he isn't of a slightly higher caliber this fall.
"It's an opportunity," McAnderson said, "and I have to make sure I make the most of the opportunity."
McAnderson, a 6-foot, 235-pound junior and product of Lawrence High, has played in all of the Jayhawks' games the past two seasons - 23 games, with two starts, at fullback and on special teams.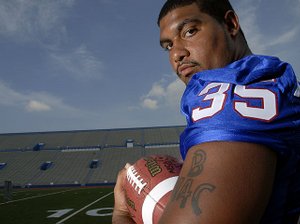 As a red-shirt freshman in 2004, he had three carries for four yards and a TD. Last year, he had 22 carries for 102 net yards and a touchdown.
He also opened up umpteen holes through which the glamour-boy tailbacks scampered.
"Everybody wants more carries," McAnderson said, "but it doesn't make a difference what I do. I'm not into individual stats. There's glory in both people, the one running it and the one blocking. If we get in the end zone, whether it's me or Cornish or Meier, we're in the end zone. We're playing to win. That's all that matters to me."
Go figure
103 Yards gained rushing last season by Brandon McAnderson
1 Yards lost rushing
4.6 Yards per carry last season
3, 40 Catches, receiving yards last year
McAnderson was a standout running back at LHS, an All-Sunflower League pick for coach Dirk Wedd. He rushed for 3,052 yards and 41 touchdowns in three years as a Lion.
He red-shirted in 2003, then made his initial mark on special teams the following season, when, in addition to the whopping three carries, he was credited with seven total tackles.
McAnderson played his way into the starting job last season, and at the year-end awards banquet was named the Jayhawks' most improved offensive player.
Then in the spring, McAnderson started lining up in one-back sets - normally a job for a tailback.
But he didn't make anybody forget Cornish - who led the team in rushing yards (780), rushing touchdowns (nine), average per carry (5.8 yards) and rushing yards per game (65.0).
Audio clips
2006 Kansas football media day
Quigley, a red-shirt freshman, and Sharp, a true yearling who has been so impressive coach Mark Mangino has said he likely won't be fitted for a red shirt, also will compete for touches.
"Angus is in there competing," Mangino said. "Brandon McAnderson also has played single back for us, in the single-back set. Jake Sharp is in there competing. Angus is doing well. I like the way he's coming from day one until now, but he's still a work in progress."
As long as Cornish continues to be used on special teams, though, the Jayhawks likely will need to spread the touches around.
Reader poll
Take a step back from last year.

4%

5 votes

Be about .500, but not make a bowl.

8%

10 votes

Make it to back-to-back bowls for the first time.

87%

104 votes
119 total votes.
Enter McAnderson, who says he's just as content to throw a block as carry the rock.
"My role is to be an upperclassmen, to help the young guys, especially the running backs, to help them learn the offense," he said. "My role is to make sure the football players play KU football. It's exciting to have more opportunities. Every season is exciting. If it's more time on the special teams, you have to be excited to have more time on the special teams. If it's more carries, you have to be excited about more carries."
More from KU Football Media Day