Wichita — Eleven-year-old Austin Bell never had a chance.
Nick Collison came at him from every angle. The former Kansas University standout and Seattle SuperSonics forward playfully bodied the young Bell up, snatched away the basketball and lobbed it toward the rim where future Jayhawk Darrell Arthur threw down one of his many ridiculous dunks last week at Wichita Collegiate High.
The three-on-three drill didn't get any easier for the diminutive camper as Collison swatted away another shot attempt from the young boy (who couldn't catch a break, despite donning a replica Collison KU jersey), before flicking it to KU freshman guard Sherron Collins, who, much like Arthur, ended the possession with a powerful slam.
Despite the dominant disadvantage, Bell had the last laugh - when he swished a jumper over the outstretched arms of the 6-foot-9, 255-pound Collison, which drew an even louder roar from the crowd of 100 campers than either of the Jayhawks' highlight-reel jams.
"That was my highlight," Bell said, with a grin.
No doubt the rest of the campers also got a kick out of Collison's hands-on instruction. That is one of the main reasons camp founder Jeff McEntarfer decided to bring Collison back for the third annual camp in Wichita.
"Nick is just so good to work with. He really makes time for the kids," said McEntarfer, who added he might hold a camp next year in the Kansas City area. "He gets involved in every single session, which is really nice. Every drill that the kids do, he gets involved, instead of just standing there and watching."
Collison remembers not too long ago when he was on the other side as one of the campers and always got a kick when pros worked hand-in-hand with the campers.
"I try to talk to as many kids as I can. I mean, these kids are paying to be at my camp, so I want to do as good a job as I can to make sure these kids have fun, try to show them a few things," Collison said. "A lot of the time these kids just want to mess around with you and have fun. So I have a lot of fun joking around with them, too."
That task probably became a little more important when Collison became a father. Daughter Emma is now five months old.
"I guess I'm getting old now," Collison quipped. "Obviously, my daughter's not of the age that these kids are, but you kind of think of the things you would want her to take away from a camp like this, so you go out there and do a little extra to set a good example."
That fact was not lost on the athletic Arthur, who said Collison's camp, unlike many he's attended, allowed him to befriend the campers a little more.
"This is one of the best camps I've been to," said Arthur, who along with Collins worked all four days after finishing summer school at KU and even went to an amusement park with the kids on Thursday.
"You get to know the kids and establish a good relationship with them."
Collins, who reported to the session sporting a new buzz cut rather than his trademark braids, said Collison led by example - a trait the former Jayhawk tried to quickly pass along to the KU rookies in their brief time together.
"He said there's going to be a lot of pressure and high expectations on us this season," Collins said. "But he said just go into every game and play like it's the last game of the year, but don't forget to have fun because playing basketball at Kansas will be the time of your life."
Collison, who posted 7.5 points per game along with 5.6 rebounds per contest while averaging 21.9 minutes a game last season for Seattle, said he expected bigger and better things in his third full NBA season.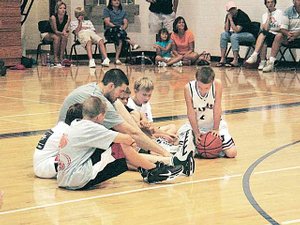 "I played all right. I don't think I had a great year," Collison said. "Hopefully, I'll play better this year.
"My rookie year was a learning experience. Last year I played well at times, didn't play well at other times. I'm just looking for a little more consistency. It was an up-and-down year, but I'm ready to get going again."
But, as Collison pointed out to his young campers, the NBA game is much more difficult than college.
"Trying to guard Shaq is like guarding this wall," said Collison, who displayed a frustrated face as he pretended to push a nearby wall with all his might as he closed down the camp with a question-and-answer session.
"The guys got more than 100 pounds on me. I think I lasted nine minutes before I fouled out. What do you do?"