Nike would lead you to believe better sporting performance comes in a box.
That's the implied promise behind the shoes the corporate giant shills, but it's also the allure of another boxed bit of athletic gear Nike is pitching: MaxSight contact lenses.
MaxSight lenses come in two colors: amber, for fast-moving ball sports like baseball, football, soccer, tennis and rugby, and gray-green, for golf, running and "general training."
Simply put, the lenses - available as corrective or non-corrective - serve as on-the-eye sunglasses. They're designed to eliminate glare and enhance contrast. Blocking the blue part of the spectrum, MaxSight lenses are purported to make details more clear and pop off the background, without the slippage and fogging issues that dog sunglasses.
Thus, a streaking wide receiver better is able to see a football spiraling through a high blue sky, or a runner isn't blinded by road glare.
That's the hype, anyway, but is it only so much hyperbole?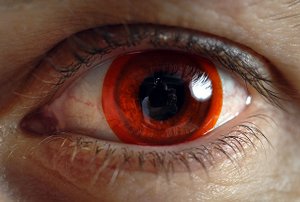 "It's surprising," said Kent Dobbins, a Lawrence optometrist who provides the MaxSights to student-athletes at Kansas University. "It definitely makes things stand out, but it's an individual-type thing. It's something you have to get used to.
"I tell them, 'Make sure you take your other lenses with you if you already wear lenses. If you find the football hitting you in the nose, put the old ones back in.'"
'I like 'em a whole bunch'
Derek Fine knows a thing or two about catching footballs, and he's a MaxSight convert. A junior on the KU football team, Fine was fifth on the team last year with 22 catches. He averaged 11.1 yards per catch and scored a touchdown.
"I like 'em a whole bunch," said Fine, who doesn't require corrective lenses. "They block out a lot of reflections from the sun. It's like wearing sunglasses, but there's no light coming in anywhere. You just get a real good visual in your whole field of vision, especially during the day with the sky being bright and light."
Fine doesn't wear them during night games.
He said the bulk of the wide receivers, running backs, cornerbacks and safeties used the MaxSight lenses last year.
"I think it's really just guys who need to keep up with the ball," Fine said. "It really does help make the ball stand out from the background. It took a little getting used to, but I love 'em now. I love wearing 'em. I feel they help me a whole lot, and I've never heard anybody complain about 'em. Everybody who uses 'em likes wearing 'em."
Well, not everybody.
'I don't feel they : benefited me'
Emily Strinden, a junior midfielder/forward on the KU soccer team, tried the MaxSight lenses last summer and occasionally during the preseason. She never wore them in a game.
"I don't think they really did anything for me," said Striden, who also didn't require vision correction. "Our trainer told us about them and was going to have a couple of us do a trial. Things did seem a little bit sharper, and on a cloudy, gray day, things seemed a lot brighter with them, but I don't feel they really benefited me. The only thing they really benefited was for flighted balls in the air. I could track the ball in the air better when it was toward the sun."
A side effect to the lenses is that they extend beyond the iris, so there's no light leakage as can happen with sunglasses.
They also create a spooky halo effect, with an eerie red or more muted green glow around the iris.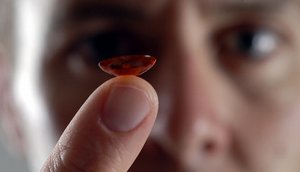 "It is kind of weird," Fine said.
"It's kind of spooky," added Dobbins. "You might pop 'em in just for Halloween. The linebackers like to line up and have those amber eyes looking at you."
But Nike isn't pitching the MaxSight lenses, which it produced along with Bausch & Lomb, as cosmetics. Dobbins said Nike conducted a test with baseball players who played half a season with and half without the lenses. By season's end, the MaxSight users were hitting 35-40 points higher than those without.
Pro-tested
Several pro athletes, like baseball's A.J. Pierzynski and Ken Griffey Jr., golfer Michelle Wie and the U.S. men's soccer team, tested the lenses last year before they were rolled out for general sales.
Dobbins is somewhat reserved in his assessment. He has worn the MaxSights, but they're not practical for his preferred athletic endeavor: triathlons.
"You could put the gray lens on, especially for the swim, and it would enhance the buoys, but most people wear sunglasses on the bike anyway," he said. "You'd have to have other protection on your face for the bike. And when you get in tris, most track runners think they look cooler with sunglasses."
Another drawback as far as Dobbins is concerned? MaxSight's don't come as bifocals.
"My problem is, I'm old and decrepit," Dobbins said with a laugh. "I can't read with them."
MaxSight's cost $60 for a box of six. Worn only on game days, those three pair - with proper handling and cleaning - should last a season or beyond.
Dobbins estimated 50 or so student-athletes at KU used MaxSights.
So far, he hasn't seen much trickle-down to the high school ranks.
"We've had a few high school kids ask about them, but generally speaking, they're not that popular there yet," Dobbins said. "But the University of Texas had all their players in them last year. The more that comes out, the more people that start wearing them, they'll become more popular on down the line."