The NCAA alleges Kansas University demonstrated a lack of institutional control within its athletic department from 1997 to 2003, according to information released by KU on Friday.
Four reasons were cited for the potentially serious allegation:
¢ failure to create an atmosphere for compliance
¢ failure to report violations in a timely manner
¢ failure to provide rules education
¢ and failure to monitor activities of potential student-athletes who lived on the institution's campus.
"It's a very nebulous term," said Rick Evrard, an attorney for the Overland Park law firm that conducted KU's two-year internal investigation. "It is a term that can mean anything from one violation to 100 violations.
"I think there's a wide spectrum."
Athletic director Lew Perkins, though, admitted that "they don't throw that (allegation) around lightly."
Of the four reasons given, the first two took place before Perkins became athletic director in June of 2003.
The third and fourth mostly regard several already-publicized violations committed by the football program.
Academic Fraud
Those violations - which mainly consisted of trying to get junior-college signees eligible for the 2003 season - happened under coach Mark Mangino's watch around the time Perkins was hired. Two of those violations were classified as "academic fraud" by the NCAA, a term KU officials shied away from when first making the violations public last summer.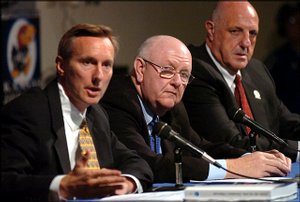 "What happened was, inappropriate aid had been given to somebody in regard to a correspondence course," KU Chancellor Robert Hemenway said. "As it's stated to me, that's academic fraud, and we're not going to tolerate that in any way."
Mangino denies knowing that violations were taking place, although he does take responsibility. Perkins and Evrard supported Mangino's claim, both saying no known evidence existed that Mangino was aware of what was going on.
Mangino and assistant coach Clint Bowen were admonished by KU for their involvement last summer, though neither was mentioned by the NCAA for having been involved with academic fraud.
That allegedly was done by at least one graduate assistant in 2003. The two GA's in '03 were Mitch Running and John Papuchis, neither of whom is at KU anymore.
Nothing official yet
Still, the academic-fraud allegations may pale in comparison to the accusation of lack of institutional control. Evrard said Kansas was in the researching stages to determine whether KU officials feel the allegation is just. Kansas brass, including Hemenway, Perkins and others, will fly to Baltimore on August 13 to meet with the NCAA Committee on Infractions. A final decision, including any additional penalties, likely will come out in October.
One big blow to KU's case was evidence that the athletic department went without an independent compliance auditor in three separate occasions totaling 20 months between 1997 and 2002. Though a compliance director was always in place, an outside auditor monitoring the compliance office wasn't, partially causing the NCAA to conclude that there was a "failure to create and maintain an atmosphere for compliance."
Related Content
"They quote a number of times there was not a compliance person," Hemenway said. ": They were in the process of searching for it. Some of that was money, and some of that was simply being able to conduct a sufficient search process."
New basketball development
The institutional-control allegation was one of 11 handed down by the NCAA, nine of which already were found and made public by KU in the self-report last summer. The other new development involved booster Don Davis and his improper relationship with KU basketball player Darnell Jackson - a violation KU wasn't aware of until after submitting the self-report. It was made public at the beginning of the basketball season.
Jackson already has served his suspension and won't face additional punishment. The basketball program could face more penalties if it's found KU officials were aware of the improper relationship between Davis and Jackson and didn't act on it, of which Evrard said there was no evidence.
Evrard said the Jackson situation came to light the day KU submitted the self-report in June. The NCAA found out about it from an anonymous e-mail and instructed KU to look into it. After an internal investigation, Jackson was suspended for nine games, and, following standard procedure, the violation was mentioned among the NCAA allegations released Friday.
Perkins was aware of many of these violations when he arrived at KU in 2003. He since has added two full-time compliance officers and has budgeted for two more.
"We will play by the rules, we will abide by the rules, and we will follow the rules," Perkins said. "The student-athletes and our fans deserve nothing less."