Kansas University baseball coach Ritch Price will tell you that John Allman has not arrived. At least not yet.
"He's still learning how to be a baseball player," Price said, "and he's still learning how to take the ball the other way."
It seems the sophomore is starting to learn his lessons well, especially after his final at-bat Friday.
With two on and two out in a seventh-inning tie, Allman's opposite-field triple into the corner broke it open for Kansas in an 8-5 victory over Kansas State at Hoglund Ballpark.
"They were pounding the outside corner the whole night, so I figured they should go that way with it," Allman said. "It was a good pitch. I just got lucky, I guess."
If that's the case, the sophomore has been getting lucky an astounding number of times lately, especially against Big 12 Conference competition.
Allman entered the game with a .434 average against conference opponents - a full 85 points higher than second-best teammate Jared Schweitzer.
Allman, a St. Louis native, has continued his damage at the bottom of the order, batting sixth in and leading the team with 14 RBIs in league play.
"It's working," Allman said. "I don't think we should fix it if it's not broken."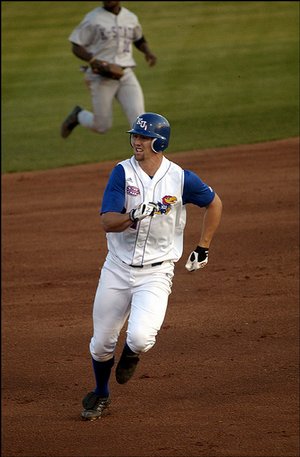 The Jayhawks took advantage of a huge Wildcat miscue to take their lead in the seventh.
With two outs, Schweitzer reached first after K-State second baseman Brett Scott let a grounder pass between his legs. Erik Morrison followed with a walk, and Allman delivered the shot down the first-base line.
Closer Don Czyz was his typical self for Kansas, going two scoreless innings to pick up his NCAA Division I-leading 14th save.
The biggest out for the Jayhawks might have come in the seventh, when reliever Paul Smyth faced Byron Wiley with a runner on third and two out.
"I knew if they were to get a hit," Smyth said, "that would have dug us into a bigger hole."
With fans on their feet, the right-hander delivered three straight changeups to retire Wiley on strikes and keep it tied at 5. His relief work also allowed Kansas to hand the reigns to Czyz in the eighth.
"Whenever you can get to him, it's great," Smyth said. "And you do whatever you can to get to him."
Gus Milner - who celebrated his 22nd birthday Friday - gave Kansas an early advantage in the second.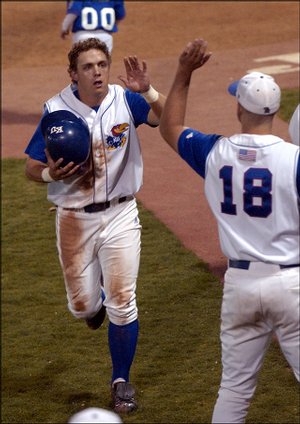 After a Schweitzer walk and Allman single, the senior outfielder painted the left-field line with a two-run double.
The Kansas lead grew to 4-0, but Kansas State answered in the fifth and sixth innings with five runs to take a 5-4 advantage.
Allman's leadoff double in the sixth - also to the opposite field - helped Kansas tie it in the sixth. Preston Land singled him in one batter later.
The Jayhawks were led by Allman, who went 3-for-4 with two runs scored. Land and Brock Simpson each added a pair of hits.
The crowd of 2,020 was the third largest in Hoglund history.
Kansas will finish the three-game series in Manhattan over the weekend. The Jayhawks will send Ricky Fairchild to the mound in today's 2 p.m. matchup at Tointon Stadium.