A speedy visitor from the Caribbean dropped in Thursday at a Lawrence elementary school.
Jamaal James, 17, a middle-distance runner from Trinidad, spoke to fourth-graders at Broken Arrow School about his experiences traveling the world as an athlete. James is in town for this weekend's Kansas Relays, where he will compete against older college students Saturday in the college division of the 800 meters.
"If you're not strong mentally, you won't make it in track," he told students. "I'm just going for the experience, and I hope I can pull off a surprise."
James also was scheduled to eat dinner Thursday night at Sigma Kappa sorority on the Kansas University campus.
His visit to Broken Arrow was arranged by Kent Pennybaker, whose daughter, Attie, is a fifth-grader there. Pennybaker is president of River City Engineering, which does business in Trinidad and Tobago and co-sponsors the country's athletes to come to the Kansas Relays.
James said he was hoping to teach children "that Trinidad exists, and we're a nice place in the Caribbean."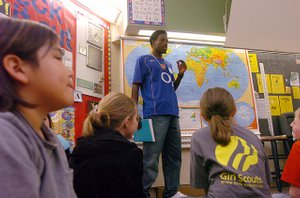 "Some people think we live in trees and stuff. It's not like that," he said. "We have Internet. We have everything. We're developed."
He used a map to point out the Caribbean, as well as Mexico, where he competed recently, and Beijing, where he will go later this year for the World Junior Championships.
He told kids about his favorite food - roti, a traditional curry dish - and about how his brother, Kwame, helped subdue the notorious "shoe bomber" Richard Reid, who tried to light a bomb in his shoe on an American Airlines flight in 2001.
Anna Kleibohmer, 10, said one of her favorite parts of the speech was hearing James talk about getting three personal bests in one place.
"I thought that was really cool," she said.